Best fish tank stand: Six best stands for every style and budget
From basic to cabinet-style, discover the best fish tank stand for your aquarium with our perfect picks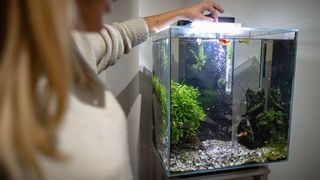 (Image credit: Getty Images)
Looking for the best fish tank stand for your fishy friends? Choosing a stand is likely not the most exciting part of your new aquatic adventure, but it is an essential consideration that ensures your tank is safe and secure.
Before you pick out a stand, take a look at our guide to the best fish tanks. Once you've selected the best size home for your new pets, it's then much easier to find the right stand for your aquarium.
If you have one of the best small fish tanks, consider a basic stand. These are simple four-legged pieces of furniture that are great if your tank is lightweight and you're on a budget. They don't have any internal storage space though, so they're not suitable for larger tanks that require a lot of cabling.
For bigger tanks, like tropical fish tanks, a cabinet is your best option. Available in a variety of sizes, styles, and finishes, cabinets offer plenty of storage space, keeping fish food and equipment neatly tucked away so that your living space looks clean and tidy. They're also more stable than basic stands, giving you peace of mind that your finned friends and your floors will stay safe from spills.
You'll also want to consider what kind of look you're after and how much upkeep you're willing to do on a regular basis to keep it clean. Metal fish tank stands look sharp and require nothing more than a simple wipe down with a damp cloth. Wooden fish tank stands can look stunning, but they need frequent polishing to keep them looking their best.
Now that you know a little bit more about what kind of support structure would be best for your aquarium, let's dive in and check out some fintastic fish tank stand options for every budget.
PetRadar's pick of the best fish tank stands
Best overall fish stand: Fluval Roma Cabinet
Best budget fish tank stand: Wave Coated Wood Cabinet
Best stylish fish tank stand: Tetra Starter Line Cabinet
Best for biorb fish tanks: Biorb Aquarium Stand
Best for storage: Aqua One Aqua Zone 28 Walnut/Black Gloss Cabinet
Best for small fish tanks: Fluval Flex Floor Unit
Fluval Roma Cabinet
Best overall fish tank stand
Color: Walnut | Tank Size: 125L | Storage: Yes | Dimensions: 71.5 x 80 x 35cm
Suitable for large aquariums
Hidden storage
Gorgeous color
A little pricey
Not suitable for tropical tanks
This large Pets at Home fish tank stand is gorgeous and would look great in any home, especially if you want to make your aquarium a feature. Made from sturdy wood, this fish tank stand can hold aquariums up to 125 litres, and it's the perfect height for admiring your fish when sat down.
We love the warm walnut finish that contrasts nicely with a lit-up tank. For an aquarium of this size, you are likely to want lots of accessories to go with it. This fish tank stand has storage space underneath for any products, fish food and accessories, which can be hidden away nicely by the double doors. Overall, this is a quality product that is built to last.
Wave Coated Wood Cabinet
Best budget fish tank stand
Color: Black | Tank Size: 60L | Storage: No | Dimensions: 60 x 32 x 70 cm
Great value for money
Minimalistic design
Fits medium-sized tanks
No storage
Display your fish tank in style without breaking the bank with this modern Wave Coated Wood Cabinet. This is a quality item which will make a welcome addition to any fish lover's home, but with the price tag of a much less impressive looking stand.
This open-plan cabinet measuring 60x32x70 cm is strong enough to take the weight of most medium and large aquariums. It's designed to match up with rectangular 60-liter rectangular aquariums, but reviewers have pointed out that it has supported their 70-litre tanks without any issues. For a perfect marriage you can pair it with aquariums from the Wave Riviera and Basic range, but it's suitable for similar shaped tanks too.
If you are looking for a stand with storage there is a shelf as part of the design, but remember that what you put on it will be in plain view. You may not want to spoil its contemporary look with old packets of opened fish food, but it's there if you need it. Overall, this is a great inexpensive yet attractive stand that will make a great feature in any home.
Tetra Starter Line Cabinet
Best stylish fish tank stand
Color: Black | Tank Size: 80L | Storage: Yes | Dimensions: 36 x 60.5 x 72.5 cm
Discreet storage
Simple, sleek design
Adjustable shelves
May need an anti-slip pad
If you're not looking for anything too comprehensive, then this black fish tank stand from Tetra is simple and reliable. Black suits almost any home decor and this stand is sturdy enough to hold a tank of up to 80 litres.
While it looks fairly small, this fish tank actually has a generous amount of concealed storage in the middle, with height adjustable shelves so you can tailor it to your liking. Here you can discreetly tuck away fish food and other accessories.
Users found this product easy to assemble, but recommend putting some cushioning under this fish tank stand to provide stability and protect your flooring.
Biorb Aquarium Stand
Best for biorb fish tanks
Color: Black/Silver | Tank Size: 60L | Storage: No | Dimensions: 74 x 37.6 x 4.6 cm
Easy to assemble
Compact design
Expensive
Not suitable for humid tanks
This fish tank stand is designed for classic biorb fish tanks, and while it might seem simple, users say the stand is super sturdy and really makes their biorb a feature in their home. It doesn't have any storage space, but this would be the perfect size for supporting your fish tank in smaller spaces such as bedrooms or kitchens.
The stand is made from MDF and users found it easy to assemble. However, this stand may not be suitable for saltwater tanks due to the temperature, which could make the wood damp.
Aqua One Aqua Zone 28 Walnut/Black Gloss Cabinet
Color: Black/walnut | Tank Size: 28L | Storage: Yes | Dimensions: 74 x 38 x 25 cm
Reversible design
Suitable for cold water or tropical tanks
Hidden storage
Only for small tanks
For those with smaller tanks, this is a sleek and stylish cabinet that can make your tank look the part. It looks high quality with its walnut wooden sides and top, and a contrasting black gloss cabinet door.
However, if you prefer to mix it up, the door is reversible so that the entire unit becomes matching walnut. This product comes flat packed and is easy to assemble and will hold a tank of up to 28 liters. It's suitable for coldwater tanks, but if you add a heater to this stand, it can become suitable for tropical fish tanks too.
Fluval Flex Floor Unit
Best for small fish tanks
Color: Black/white | Tank Size: 57L | Storage: Yes | Dimensions: 41.5 x 77 x 42 cm
Compact design
Sturdy, thick materials
Comes in black or white
No hidden storage
The curvy and compact design of this fish tank stand makes it a stylish addition to any room. It has a wide and sturdy top surface with a thickness of 1.5cm. This stand can hold a tank of up to 57 liters, but of course, you can place smaller tanks on this unit too.
The four feet keep it sturdy on any surface and its shelf makes two large open compartments at the front, which can either be used for fish tank storage or any other type of storage. This single unit design would suit smaller rooms and comes in both black and white to suit your style preferences.
How to buy the best fish tank stand
So what do you need to look out for when buying a fish tank stand? Depending on the size of the tank, the material you choose for your fish tank stand is important.
Most stands are made from MDF, plywood or metal. Most wooden stands are ideal for pretty much any size tank, but it's important to check the durability of the material if you have a saltwater fish tank. Some woods may not be suitable, as the humidity in the tank can erode wood over time.
You should also think about the size and height of the fish tank stand depending on where you want to put it. Wider and shorter stands are great for living rooms as the fish will be at eye level when you are sitting down, while taller, narrower stands are great for bedrooms or kitchens where you may be short on space.
If you don't like clutter, we recommend choosing a fish tank stand with plenty of cupboard space beneath for discreet storage options.
Sarah is a freelance writer and marketer, covering a variety of topics from lifestyle and fitness to sustainability and travel. When she's not writing, she can be found relaxing with a cuppa and a cute doggo snoozing on her lap!
Get the best advice, tips and top tech for your beloved Pets
Thank you for signing up to Petsradar. You will receive a verification email shortly.
There was a problem. Please refresh the page and try again.