Best small fish tank: The top aquariums of five gallons and under
By Ian Evenden
For the desktop or the kitchen shelf, these are the best small fish tanks for around the home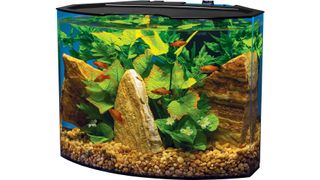 (Image credit: Company name)
Being able to put tropical fish, in one of the best small fish tanks, wherever you want in your house is liberating. They fascinate children, provide talking points for when guests come to stay, and putting one on your desk can reduce work stress. Getting the best fish tank stand to rest it on can create even more stylish effect.
The best small fish tanks, in contrast to the 20-gallon-plus behemoths that are out there, are compact and beautiful, using the small form factor to their advantage and making use of modern materials to bring a touch of classy design to wherever they're placed.
We think portrait tanks – those that are taller then they are wide – look especially good, and a combination of a curved glass front and LED lighting can really show off the beauty of your fish to their absolute best.
Otherwise, the requirements remain the same as for larger tanks. You will need to heat and filter them, populate them with just enough fish, never too many, and of course, feed those fish. Then there's a small amount of maintenance, such as cleaning, changing water and filter cartridges. Fulfil these simple requirements, and a small fish tank can repay its setup costs many times over in terms of satisfaction and enjoyment. When you think you're ready to invest in a bigger tank, check out our guide to the best fish tank overall.
Best Fish Food 2020: the best diet for tank or pond fish
Best fish feeder 2020: keep your fabulous fishies well fed
Best tropical fish tanks 2020: Keep fishes from all around the world
1. MarineLand 5 Gallon Portrait Glass LED Aquarium Kit: Best overall small fish tank
MarineLand 5 Gallon Portrait Glass LED Aquarium Kit
Beautiful and practical, a great small fish tank
Volume: 5gal | Heater capacity: 50W | Weight: 12lbs | Dimensions: 11.8" x 11.6" x 17"
Looks great
Complete kit
Hidden filtration
More expensive than many
Sleek and elegant, MarineLand's upright tank looks great wherever you put it. Five gallons isn't a lot of water, but it's enough for a thriving community of colorful fish as long as you stay on top of filtration and maintenance.
MarineLand's tank contains a three-stage filter that uses replaceable activated carbon cartridges – you'll go through one every month or so – and also comes with a Tetra submersible heater that's pre-set to a suitable temperature.
The pack of three artificial plants that comes in the kit is enough to be starting off with, but you may find you want more to provide a complete-looking display. The back of the tank is black, so a wall of greenery that will push fish forward where you can see them best will look good. Thanks to the height of the tank, it's possible to use taller aquarium plants, which can look especially attractive.
The tank sits on a sturdy plastic base, held in place by its own weight, and the front and sides are made from one piece of seamless glass. Lighting comes from blue and white LEDs, giving a natural shimmering look to the water as it circulates as well as a moonlit appearance if switched on at night.
One reason we like this tank so much is the ease with which the equipment can be accessed – a glass canopy slides toward the rear of the aquarium, opening it up for both feeding and maintenance. The only downside to this is that the filter compartment takes away 2" from an already small tank, and if you're using live plants then debris from these can collect around the filter, becoming hard to remove.
2. Tetra Crescent Acrylic Aquarium Kit 5: Best budget choice
Tetra Crescent Acrylic Aquarium Kit 5
Top tank at a bargain price, but no heater included
Volume: 5gal | Heater capacity: N/A | Weight: 1lbs | Dimensions: 16" x 11.2" x 13.2"
Market-leading brand
Curved front
Lightweight
No heater
With its curved front and bright LED lights, Tetra's Crescent will stand out wherever you place it. Moulded from one piece of acrylic, with a separate lid and base, the curving front enhances the visibility of your fish.
Inside, you get the popular Tetra Whisper power filter, but no heater is included. This is fine if you're only going to keep room-temperature fish, but anyone who dreams of bright, tropical specimens will need to add a heater to bring the temperature up to around 77F.
The slim black cover contains the LED lights that are bright enough to encourage live plants to grow, but plastic plants will be equally at home. Their intensity sets off the colors of fish nicely too. There's also an uncovered oval in the cover for feeding – cautious owners might want to cover this with a mesh panel to avoid jumping fish accidentally using it as an exit.
Filtration media comes in the form of disposable Bio-bags, which can be switched out easily enough from the black, cylindrical filter. They have a dual-sided mesh to catch floating debris, a layer of carbon to remove odors and discoloration, and incorporate Tetra's Water Clarifier to prevent the buildup of particles in the water and on the glass. The Whisper filter is a popular choice, and if properly maintained will do its job with the minimum of noise.
3. Aqueon LED MiniBow Aquarium Starter Kit: Best for Bettas
Aqueon LED MiniBow Aquarium Starter Kit
Get started in fishkeeping with this ideal setup
Volume: 5gal | Heater capacity: N/A | Weight: 1lbs | Dimensions: 15" x 10.7" x 15.4"
Elevated base
Curved front
Power filter
No heater
Easily scratched
Betta fish are a popular choice for emergent fishkeepers, and due to their ability to breathe from the surface using an organ known as the labyrinth. The best-known of the genus is the beautiful Siamese fighting fish – only to be kept on its own or with carefully chosen tank mates – but there are many other bettas that don't display the same level of ferocity.
The popular perception of bettas is that, because of their breathing habits, they can be kept in a small enclosure, but they thrive in five-gallon tanks such as this one. It's worth noting that Bettas, as with many fish, require a water temperature of 76-81F, so if your room is cooler, look into a tank with a heater, or add one to this kit.
The tank itself is acrylic, but in contrast to the scratch-resistant materials available elsewhere this one is easily scratched. This isn't an issue once the tank is set up, but can be during delivery. The tank ships in its own container for protection against scratches, but accidents happen. The curved front looks great once it is filled and lit, and the Aqueon power filter provided takes up little space.
4. Koller Products AquaView 4.5-Gallon: Best for colored lighting
Koller Products AquaView 4.5-Gallon
A simple-but-effective tank that's a good option for kids' bedrooms
Volume: 4.5gal | Heater capacity: N/A | Weight: 1lbs | Dimensions: 14.6" x 10.75" x 13.25"
Impact-resistant acrylic
Seven LED colors
Looks great
No heater
Looking incredible on a shelf or desk, this Koller tank offers seven different colors of LED light and four transitions to show off your fish and really attract attention.
The design of this tank is so simple as to be an immediate winner – a simple rounded rectangle of acrylic, with no seams or sharp corners whatsoever. You can see the fish from any angle, as the power filter only takes up a small amount of space at the top of the tank's rear.
This filter takes simple dual-sided cartridges that wrap activated carbon in a poly-fiber floss that strains out floating particles while the carbon takes care of water discoloration and odors. It's worth noting that the filter is quite powerful, so anyone intending to keep long-fined or weak-swimming species might like to place a piece of mesh over the inlet to prevent fish being sucked inside.
That single-piece construction means the tank is more-or-less leakproof, and with the bright LEDs shining down makes the tank perfect for places where it might get a little knock now and then. As with all tanks, it's not going to put up with repeated pummelling, but anyone considering a tank for a child's room would do well to add this one to their list.
The lights can be changed to seven colors: amber, aqua, blue, green, purple, red, and white. They can be locked to a single shade, or set to cycle.
5. GloFish Aquarium Kit w/ Hood, LED Lights and Whisper Filter
GloFish Aquarium Kit w/ Hood, LED Lights and Whisper Filter
A glowing light in the darkness
Volume: 3gal | Heater capacity: N/A | Weight: 2lbs | Dimensions: 14.6" x 8.8" x 11.2"
Bright colors
Good filter
No heater
Not to everyone's taste
GloFish products may not be to everyone's taste, designed as they are to display the almost garish colors of the company's own line of extra-bright fish (bred with a fluorescence gene, they glow under the right lighting conditions). To this end, you get LED lights that emit the exact shade of blue necessary to set off a colorful display in the right fish, but which may not suit those sourced from elsewhere.
The kit itself is a nice one, however. The tank is a seamless acrylic design with a curved front that should show off its inhabitants to their best. The Tetra Whisper filter included is a popular model that will keep the water clear and is easy to service, dropping a new cartridge in every month or so and disposing of the old one.
GloFish makes plenty of products to accessorize your aquarium too, with plastic plants that will glow under its lights, ornaments, and even colored gravel to add some interest to the bottom of the tank. The lights themselves are neatly hidden in a slim black hood that should help reduce evaporation and protect from the heartbreaking danger of fish jumping to their doom.
Ideal for low-light environments or even as a night-light in a bedroom, the GloFish tanks are a unique experience.
How to choose the best small fish tank
Once full of water, even the smallest fish tank can be surprisingly heavy, so make sure you are sitting it in a position that will be able to take the weight long-term. Tanks smaller than four or five gallons aren't really worth considering, as they will not be able to give your fish the space and turnover of water they will need to live a happy life.
Modern curved-front tanks look great, those that are curved all the way around look even better, and the acrylic that makes these curves possible also means that they're lighter when not filled.
It's important not to over-stock your tanks, even if the water is churned up by a powerful filter, so try to stick to the old rule about having one inch of fish to one gallon of water, excluding tails. So in a five gallon tank, you can have five inch-long fish. Modern filtration may allow you to push this rule to its limit, but the more fish you have, the more important it is that you carry out regular maintenance to keep the water in top condition. Most cartridge-based filters expect you to change the cartridge every month, but this may drop to every two weeks if you've got a lot of messy fish.
Get the best advice, tips and top tech for your beloved Pets
Thank you for signing up to Petsradar. You will receive a verification email shortly.
There was a problem. Please refresh the page and try again.