Best fish tank accessories: Get some aquarium envy from your fellow fish fans
We've picked out some of the coolest fish tank accessories that would be a great addition to any aquarium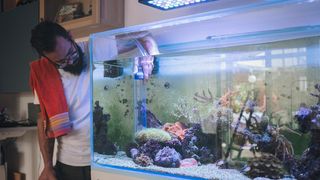 (Image credit: Getty Images)
Shopping for fish tank accessories takes some consideration. Once you've got your aquarium on the best fish tank stand, it's important to make it feel like home to your fishy friends. So you need to fill the tank with items such as ornaments and accessories that they will feel comfortable and happy with.
From underwater plants, to rocks and pebbles, there are plenty of fish tank accessories that you will love too, and will really add the finishing touches to your pet's underwater home. If you want to liven things up, you can even add lights and glowing fish tank accessories that can really turn your fish tank or aquarium into a feature in your home.
Your fish may also appreciate items that they can use to play and swim, such as coves, castles and swim-through rocks. This will add stimulation to their day as well as make them feel like they're in the natural open waters.
We've picked out the top six fish tank accessories that are sure to make your fellow fish fans envious. There's something for tanks of all sizes, budgets and styles.
1. DYRCJ Aquarium Box: Best overall fish tank accessories
This set has everything you need to kit out your fish tank
Type of accessory: Statues, plants | No. of pieces: 5 | Suitable for: Medium-large tanks | Size: 8-11cm tall
Includes 5 items
Non-toxic materials
Colorful
Easy to fall over in tank
A little pricey
This entire set of fish tank accessories is perfect for medium-to-large sized tanks that are in need of a funky makeover. The set features three decorations, including a pineapple house, a cave and a 'fish restaurant' that make your fish tank look like a scene from Spongebob Squarepants. The set also comes with two underwater plants, so this set of fish tank accessories is sure to liven up the party for your fish.
All of the accessories are made from environmentally friendly materials and are non-toxic to your fish's environment. They will not rot or rust, nor will they change the PH of the tank water.
It may seem a little on the pricey side for these items, but when sold separately, they are almost the same price as the set, so it's great value if you want to kit out your tank in one go. They are designed with a smooth, solid base to make them sturdy, but some buyers have said the ornaments are a little light and can sometimes topple over. This may depend on the depth of your tank – larger tanks may not have this issue.
All in all, we love the designs and think you will too! They're colourful and bright and will bring life to any tank.
2. Colored Aquarium Gravel: Best budget fish tank accessory
This fish tank must-have will brighten up any aquarium in an instant
Type of accessory: Gravel | No. of pieces: 50 | Suitable for: All tanks | Size: 2.3cm
All-natural materials
Glow in the dark
Different colors available
Some float
Require sunlight
Gravel or pebbles is one of the first fish tank accessories you'll want to equip your aquarium with and these ones will brighten up any home. These pebbles come in a variety of colours and in bags of 50 or 100 pieces. Made from non-toxic materials they won't harm your fish or mess with the water and each of the stones has been hand crafted and smoothed out so there are no sharp edges that could be dangerous for your fish.
These stones are great for the environment as they are solar-powered, but this does mean your fish tank will need to be near sunlight in order for you to get the full glowing effect. Initially they will need charging for anywhere between four to eight hours and, after that, regular sunlight should keep them topped up. They are said to glow for around three to six hours.
Buyers love the final effect these stones give to their fish tanks, although some have mentioned they get the odd floater from time to time but these can be pinned down if buried by other stones.
If you need a quick fix on a budget to transform your fish tank, then these are a great option for you.
3. NICREW Aquarium Volcano Ornament Kit: Best interactive fish tank accessory
This light up volcano is bound to cause a stir in the tank
Type of accessory: Light up volcano | No. of pieces: 4 | Suitable for: All tanks | Size: 16x9cm
Lights up
Helps oxygenate water
Easy to set up
Air pump not included
Quite pricey
This erupting volcano ornament is super cool and will really light up your tank. The ornament is connected to LED lights, a tube and an air pump in order to create an eruption effect in the tank.
What's cool about this fish tank accessory is that not only does it look pretty, but it works to oxygenate the water too, keeping the tank clean and your fish happy and healthy.
The downside is this product doesn't come with the air pump you need to make it do its cool eruption effect. But this can easily be purchased or you may even have one already. Fish owners found this accessory really easy to set up and find their fishy friends really love it.
For reference, the volcano is about the size of a Coke can, so for smaller tanks it might be a little cramped, particularly if you already have other ornaments in there.
4. Underwater LED lights: Best fish tank accessory lights
Light up their life with these great LED accessories
Type of accessory: Lights | No. of pieces: 10 | Suitable for: All tanks | Size: 30x22mm
Battery powered
Remote control included
Different colours
Battery life not great
This set of ten underwater LED lights are great for brightening up a fish tank, and come with a remote control that allows you to set them to a variety of different colors depending on your mood. You can also control their brightness and speed from up to 10m away.
The lights are super bright and come with batteries already included (however some have mentioned their lifespan isn't brilliant, so you may want to invest in some more), and their waterproof design means they can simply be submerged in your aquarium either on their own or with other fish tank accessories.
As far as fish tank accessories go, these are pretty good value for money and can complement other fish tank accessories to finish off the underwater look you want.
5. Multipack plants: Best stimulation fish tank accessories
These stimulation plants will give your fish tank a natural feel
Type of accessory: plants | No. of pieces: 3 | Suitable for: All tanks | Size: 20 x 3 x 2cm
Realistic look and feel
Good size
Good for shy fish
Need cleaning every now and then
This pack of three underwater plants is perfect for any tank to help fish feel more at home. These are fish tank accessories that mimic plants found in the ocean or river, and they are said to look and feel realistic when in the tank.
Some fish owners purchased these plants to help shy or sad fish, and said they worked a treat to get them swimming about happily and healthily. They come up at around 3cm tall, meaning they are suitable for any sized tank and would work well with other fish tank accessories such as rocks or caves.
The plants will require cleaning every once in a while, but are said to be super easy to clean with warm water and a damp cloth. For the price, these three plants are great value and would make great decorations for minimalist tanks and complimentary to already decorated aquariums.
6. Natural Mix Aquarium Gravel: Best functional fish tank accessory
Keep your tank clean and looking good with this natural gravel
Type of accessory: Gravel | No. of pieces: 1 pack of 2 or 8kg | Suitable for: All tanks | Size: 2kg - 25 x 16 x 7.5cm, 8kg - H42 x W29 x D14cm
Keeps tank clean for longer
Natural look and feel
Good for securing ornaments
Needs a lot of washing beforehand
Gravel is one of the first fish tank accessories you'll need when setting up a new tank. It is not just aesthetically pleasing but it serves an important function in keeping the tank clean. It can stop bacteria from harbouring, meaning you won't need to clean the tank as much as if you leave the bottom clear.
This gravel is white and stone coloured, giving it a natural feel and leaving small tanks looking light and airy (or, watery!). These stones are also a great addition to a tank with lots of ornaments, as it makes for the perfect ground to bury and secure other fish tank accessories, making plants look much more natural to the fish.
Made with a colourfast resin coating, these small stones wont leak colour and they won't affect your water's PH, so they're a safe addition to any tank. You can use these in cold water, tropical and marine fish tanks to build a safe home for your fish.
How to choose the best fish tank accessories
Choosing fish tank accessories is mostly down to personal preference, but it's also important to consider a few things before going ahead and making a purchase.
Firstly, what type of fish do you have? Depending on whether you have cold water fish, tropical fish or marine fish, some accessories may not be suitable for the water in the tank. Be sure to check what each accessory is made of and ensure it's totally non-toxic to the type of fish you have. Most fish tank accessories and ornaments are always safe for all fish, but things like lights may not be.
Secondly, consider the size of your tank. Fish tank accessories are meant to make your fish feel at home, so overcrowding a tank is not ideal. If you only have a small tank, then consider getting two or three items at the most, mixing it up with stones and plants to ensure they get a bit of variety.
If you want to get lights for your tank, then ensure your tank is compatible with the product (such as the LED volcano), and that it has enough space to accommodate them without being too overpowering for your fish.
And finally, consider what your fish might like. While many may not think fish have preferences, as a pet owner, I'm sure you understand that they do. If they're quite chilled out and shy, then plants can create a chilled vibe. If they're quite playful and you have different types of fish in one tank, then something a bit more adventurous may encourage them to swim and explore.
Get the best advice, tips and top tech for your beloved Pets
Thank you for signing up to Petsradar. You will receive a verification email shortly.
There was a problem. Please refresh the page and try again.