Seven tips I picked up from Crufts for a better behaved dog — and anyone can try them!
Want a well-behaved dog? Try these vet-approved obedience tips from Crufts 2023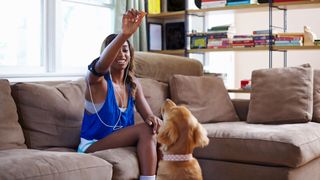 (Image credit: Getty)
It's hard to explain the atmosphere at Crufts to someone who has never been. The air is humming with noise and there are dogs – and their humans – everywhere. Huge stands selling everything from dog food to coats line the aisles, and the stallholders are calling out to passing pet owners in the hope of tempting them to buy their products.
Running along one side of the building is Discover Dogs, where every breed of dog recognized by the Kennel Club is represented and you can find out more about them. Dotted throughout the halls there are various show rings – some are tiny ones where breed judging is taking place, while the largest is the main arena, with over 500 seats. The one I'm heading to is the Obedience ring – it's got tiered seating on four sides and has several competitions running here over the four days of Crufts.
I have to say, I'm impressed. As a vet, I see plenty of well-behaved dogs, but these dogs are at the top of their game. Obedience tests their ability to listen to commands despite the distractions of other dogs and the audience. The closeness of the heel, the synchronization with their team members, and the speed at which they comply are all scored to find the champion.
Of course, these handlers are beyond learning how to stop a dog from jumping up but there are so many tips and tricks we can all use no matter where our training is at. I spoke to a few handlers who really showed me that, even though these dogs are some of the best in the world, they're all trained using some basic tips that anybody could try at home.
1. Get to know your dog first
When it comes to dog training, you need to know what makes your dog tick. "It really does depend on the breed, the dog, and your home" says Hazel Daglish, long-time obedience competitor and judge. Getting to know your dog really well is the first step to training them – you need to know what they'll find rewarding, what's going to distract them, and what they're going to find difficult so you can anticipate how they'll react. Even something as simple as knowing whether they're enjoying a training session is key and a good place to start is learning dog body language cues to understand your pooch better. Some dogs will want a certain toy, while others would prefer to work for food. Others will not enjoy the sport at all! "Find what works for you and your dog", she says.
2. Don't assume learning is beyond your dog's ability
While there are some breeds that traditionally excel at obedience, any dog can compete and learn. In fact, the Kennel Club now runs 'Obreedience', to highlight the huge range of dogs that can take part. One of the teams competing was a Jack Russell team ('The Russellers'), who put my excuses for my dog's bad behavior as being down to her breed to shame. There were Staffies, Cavalier King Charles Spaniels, and even a Pug who was at the very beginning of her obedience journey.
What surprised me the most might be the type of tasks that were on show at Crufts. Dogs were expected to recall, sit, pick up their toy (while ignoring some others), and go to their bed on command. Your dog can probably do many of these tasks already, on a good day. If they can't, don't assume your dog can't be trained because they're a non-traditional breed or they're older.
3. Start small, at home
Every year of Crufts there are hilarious videos showing that even the most well-trained dogs can't always ignore distractions. But most do. There isn't a secret to this level of obedience though, it's just practice. One key tip is to start at home. Hazel said, "it's building things up… first your house, then your garden. If your dogs aren't obeying you there then they're not going to obey you when they're out with all the distractions". When learning any new skill, your dog needs to learn it indoors and then in a quiet space outdoors before being expected to remember their training in a stressful or distracting situation.
4. Have patience – good training takes time!
Apparently, patience is key. "It does take a long time, and a lot of patience," Hazel goes on to explain. "It can depend on the breed of dog and on you, and it can take years. But it does depend on how much work you want to put in. The more you put in, the more you get out." Patience was also mentioned by Jane Barstow, one of the dog handlers in the 'Golden Acorns' Obreedience team, who has been competing in obedience with her dogs for 40 years. She elaborates "patience is the biggest thing. And if it goes wrong, go back to what you started teaching them and build it up again".
5. Recall is the most important skill – it underpins everything else
"Start at the very basics," says Hazel. "Recall every day." This is bad news for me, as my dog's recall is still non-existent. But not only does recall form the basis for much harder skills – like retrieving – it's potentially lifesaving. "It's causing so many problems out there with people who haven't got recall," Hazel elaborates.
6. Rewards are important
Of course, as with all training, obedience dogs are taught using positive reinforcement – that means giving them rewards such as the best dog treats for getting things right. But the rewards you choose are important! As we've already seen, you need to get to know your dog to know what they'll find rewarding. As it turns out, you can have different levels of reward.
When it comes to rewarding recall, Hazel says "Have the best ever reward they can have. Don't just give them some plain old biscuit, it's got to be the best. It could be a lump of steak, the best toy they've ever had…something they never get in any other training". Because recall is so important, this doesn't want to be a boring treat – it needs to be the thing they want most in the world.
7. Remember, training is supposed to be fun!
The top tip Jane and the 'Golden Acorns' team could give for anybody training a dog at home was to "enjoy yourself". And from watching the teams here today, it's clear that – even at the top level – they're having a great time. Hazel reminds us that "there are so many different levels of obedience, so do whatever suits you and your dog so you get the best out of your dog and the most fun with your dog".
The competition is to have the most well-behaved dog, but in my eyes, everyone's a winner here –they've made lifelong friends, got happy dogs who clearly love them to pieces, and the training they're doing is so applicable to daily life. I'm feeling quite inspired to put aside my assumptions about my Jack Russell's trainability and give recall another go!
Want to learn more about this? Our writer Louise shares, 'I trained my border collie to have perfect recall - even though she had no food drive'
Get the best advice, tips and top tech for your beloved Pets
After graduating as a veterinarian from the University of Nottingham, Dr Joanna Woodnutt went on to practice companion animal medicine in the Midlands. She quickly developed a love of consulting and helping clients with medical problems such as dermatology, behaviour and nutrition - anything that involved helping clients understand their pets better. Jo started writing about pet health in 2017, realising that it meant she could help even more pet parents. Since then, she has written for countless online and print publications and is a regular contributor for Edition Dog Magazine. Jo now lives in the Channel Islands with her husband Ian and terrier Pixie, and they are expecting their first child very soon.