This trainer's two tips will help fix the most common loose lead training mistakes
Training your dog to walk nicely will be far more pleasurable and rewarding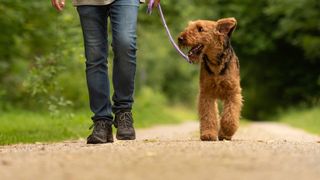 (Image credit: Getty)
Training your dog to walk on a lead by your side can be difficult, especially if your pooch is prone to pulling on the leash. But, as professional dog trainer Amelia Steele shows, it's much easier if you have a couple of tricks – or treats – up your sleeve and she's taken to Instagram to explain all.
The dog trainer uses her video to explain that loose lead training can often go wrong – primarily because, after giving your pooch an encouraging dog treat, they're prone to marching off. Posting under the account @ameliathedogtrainer, Steele is seen walking her well-behaved dog around the streets of leafy Monton in Salford, England.
Starting her training session with the up and down game which aims to build focus, she places a treat on the floor, remains silent and still, and waits for her dog to look at her before repeating the move. With the dog's attention firmly on her, she moves on to the next stage by walking forwards.
Watch Amelia the Dog Trainer share her loose lead walking tips
While moving, with the dog's lead in her left hand, Steele, who is VSA certified, praises her canine companion by saying, "good boy" to let him know that she likes what he's doing. As she does so, she uses her right hand to feed him treats, placing it behind her back once the dog has been fed.
By bringing her arm across the front of her body during this part of the training, Steele ensures the dog has to take the food close to her left leg. "By doing that, you're building value in the position next to you," she says, explaining that this ensures your dog will rather stay by your side than pull away.
To further reinforce the message, she suggests turning and walking in the opposite direction each time your dog takes a treat during the training session. "This lets the dog know that a treat will be followed up by another repetition of the behavior," she says.
Amelia Steele is a VSA certified professional dog trainer who specializes in addressing behavioral issues in pet dogs. She offer personal dog training in Manchester, Salford and surrounding areas while also offering an online course in dealing with separation anxiety.
It certainly seems to work but then training dogs with treats in a positive manner has long been known to be effective. It's worth working with the healthiest dog treats for training, though – that way, you are not going to see your pooch packing on the pounds.
You may also want to consider training a dog without treats. It's also worth joining one of the 103,000 people who follow Steele on Instagram. She has been giving free advice via social media since April 2021.
Get the best advice, tips and top tech for your beloved Pets
David Crookes has been a journalist for more than 20 years and he has written for a host of magazines, newspapers, websites and books including World of Animals, BBC Earth, Dogs and Canines, Gadget and The Independent. Born in England, he lives in a household with two cats but he's also keenly interested in the differences between the huge number of dog breeds — in fact, you can read many of his breed guides here on PetsRadar. With a lifelong passion for technology, too, he's always on the lookout for useful devices that will allow people to spend more time with their pets.