Watch: Trainer reveals how we've all probably been greeting dogs wrong... until now
Think you're a dog person? Here's 5 ways you shouldn't greet a pooch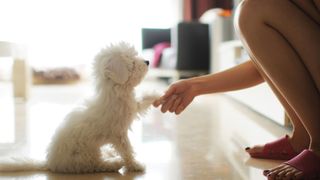 (Image credit: Getty)
If you're out walking your doggo, it can be really frustrating when people rush to say hello without observing a few simple rules. Some dogs can be reactive and nervous about meeting new people. Some may be over-protective of their owner, while others may be focused on their training and don't need the distraction. Unsolicited attention can cause all sorts of problems and even be dangerous, even when you're armed with the best dog treats.
Dog training company, K9 Summit based in Tennessee created a video about how NOT to greet dogs which has received almost 500K likes on TikTok. The video, entitled 'Five ways you should NEVER greet a dog!', lists common mistakes every owner will be familiar with.
If you have a dog that's scared, young, or simply working on calm greetings, the last thing you'll need is other people interrupting training session. K9 Summit have put together a list of the worst ways to try and pet a dog and despite the jokey approach, they're making some serious points.
K9 Summit's video listed the worst offenders – people who continue to try and pet after being told no; those who allow their off-leash dog to run up to yours; people who touch your dog quickly while keeping moving; people who get into your pet's body space and overwhelm him, and those who force their hands under your dog's nose rather than letting him choose to approach. All big no-nos!
Lots of people commented with their own experiences, including one person who said "The 'but my dog's friendly people' are the worst! I only take my dog to leashed parks and they'll have their dogs off leash, UGH!".
It's also helpful to get to grips with your dog's body language to help you decide whether he'll welcome attention. If in doubt, it's always best to say a polite but firm 'no' – true dog lovers will understand and respect your decision. If greetings are a challenge for your pooch, keep your distance from other people when you can and very slowly build up your dog's tolerance to other people or dogs using the help of a specialist trainer.
Get the best advice, tips and top tech for your beloved Pets
Sara is a freelance journalist and copywriter of many years' experience with a lifelong love of animals. She's written for a range of magazines and websites on subjects varying from pet care to travel. A horse rider since the age of five, she's currently a full time pet slave to horse Blue and gorgeous, goofy English Springer Spaniel Olly. Adorable Olly has a huge sense of adventure and no sense of direction, keeping Sara on her toes.