What really happened to Olivia Wilde's Golden Retriever Gordy?
Rescue speaks out in defence of Olivia Wilde's decision to rehome her Golden Retriever – and it had nothing to do with Harry Styles!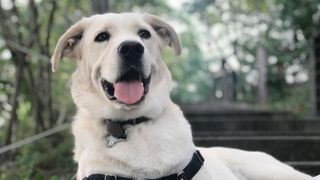 (Image credit: Instagram)
Olivia Wilde has been the subject of endless controversy lately. Between leaving her long term partner Jason Sudeikis and beginning a very public relationship with Harry Styles and media rumours of a feud with the leading lady of her film Don't Worry Darling, it seems like she can't catch a break from public contention.
Most recently, two alleged former employees of Wilde and Sudeikis have claimed that the couple abandoned their adorable rescue golden retriever, Gordy.
The first allegation came from a former nanny of the couple's who claimed, in a now deleted article by The Daily Mail, that Wilde simply rehomed the dog in order to spend more time with her new beau, Harry Styles.
"She came for a visit and said, 'We have to find Gordon a new home,' nonchalantly," the so-called former nanny reported to The Daily Mail, according to The Cut. "Jason doesn't really care for animals and wanted him out of their home ASAP."
The couple has since responded to their former nanny's allegations, calling them "false and scurrilous." In a statement released to Entertainment Tonight, they continued: "Her now 18-month long campaign of harassing us, as well as loved ones, close friends and colleagues, has reached its unfortunate apex.
"We will continue to focus on raising and protecting our children with the sincere hope that she will now choose to leave our family alone."
The nanny continued to claim that she personally then organised for the pup to be rehomed with his New York dog walker.
This came mere days before the couple's alleged L.A. dog walker anonymously spilled the beans to Gawker about their experience with the couple. The L.A. dog walker described Gordy as "a silly, stupid golden retriever mix. He was the kind of ageless dog who could have been six or 60. He wore a harness that barely contained his hefty, bumbling form. He'd started fights with other dogs, so I braced for the worst. I had walked dogs who bullied me, threatened me, slandered me. But Gordon wasn't like that."
The anonymous walker immediately fell in love with the retriever (as would we all), continuing: "He bounced along with big-dog energy but a puppy's rambunctious spirit. He was well-behaved and a good walker, keeping pace with me but never pulling, dragging, or stalling. He happily trotted by my side when I was tired and picked up a jog when I wanted fitness. He was good… almost too good. We were connected."
Understandably, the dog walker was devastated to learn that they would enjoy "no more Gordon walks" and was given no reason as to why, believing the nanny's tale that it was solely due to Wilde's infatuation with Styles.
However, the truth is finally coming to light thanks to the shelter that Gordy was rescued from MaeDay Rescue.
Posting to their official Instagram account, the rescue came to Wilde's defence, explaining that after they rescued Gordy and his litter mates back in 2018, Olivia Wilde adopted the pup and rehomed him, with the rescue's blessing, in order to give him a more suitable home environment.
The rescue explained: "Well, you may have seen Gordy in the news lately and we want to set the record straight. Gordy was adopted to @oliviawilde at 2 months old and after giving him much love and training and travel adventures, she realized that Gordy didn't love the travel life and wasn't happy around toddlers.
"Gordy had formed a very strong bond with his dog walker and in Gordy's best interest and after much thought and consideration, he was rehomed to his Brooklyn dog walker. Before this decision was made, Olivia called Maeday to discuss, and we were involved in the decision. We pride ourselves on finding that perfect forever home for our Maeday animals and every once in a while the animal is just happier."
Well, we are happy to report that Gordy has his very own Instagram account, and it looks like he's doing great in Brooklyn with his dog walker pal. He even dressed up as a lion for Halloween.
Sometimes we can't give an animal what they require, and it's good that Wilde recognised this and was able to find someone who could make the pooch happy and give him the life he deserves. It looks like Wilde's decision to rehome Gordy was a good one – and, despite the rumours, had nothing to do with Harry Styles!
Get the best advice, tips and top tech for your beloved Pets