What was the most popular dog breed of 2020? The American Kennel Club reveals America's favorite dogs
The AKC most popular breed 2020 list shows the Labrador Retriever is still number one, but it's being challenged by a new rising star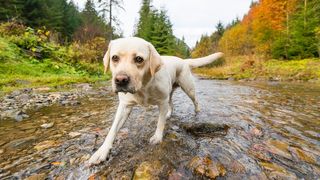 (Image credit: Getty)
The American Kennel Club has answered the question on every dog owner's lips: what was the most popular dog breed in 2020? According to the newly released AKC most popular breed 2020 list, the most popular dog in America remains the Labrador Retriever – an accolade it has held for 30 years!
However, there are new contenders nipping at the labs' heels, with the French Bulldog becoming a rising star - overtaking the German Shepherd to take second place. As the German Shepherd has held that hallowed 2nd place spot itself for 11 years, the Frenchie is definitely a challenger to be top dog next year.
"America's love for Labs is undeniable," said AKC Executive Secretary Gina DiNardo. "They're such versatile, family-friendly dogs that it's no wonder they've been so popular for 30 years. The French Bulldog, however, seems poised to end the Lab's reign. The playful, adaptable Frenchie has become increasingly popular over the past decade and shows no signs of slowing down. As always, we encourage people to do their research to make sure they are not just getting a purebred dog, but most importantly a well-bred dog from a responsible breeder."
There was also good news for the Dachshund, which has regained its place in the top 10 after a seven-year absence. Other rising stars include Dalmatians (climbing 18 places to no. 51 in a year), and Samoyeds (jumping from no. 72 to the no. 56 spot).
The full list can be seen here: The American Kennel Club Most Popular Dog Breeds of 2020
What makes a dog breed popular?
According to a joint study from University of Bristol, the City University of New York, and Western Carolina University, using data from the AKC, dogs being featured in popular movies can have a big effect on the breeds people choose to invite into their homes. For example, there was a 100-fold increase in Old English Sheepdog registrations following the 1959 Disney movie The Shaggy Dog. However, being charmed by them on screen may not be the best strategy in choosing a dog, as Dr Alberto Acerbi, a co-author of the paper explains: "If people buy dogs en masse because they appear in movies the consequences can be negative for the dogs themselves. Our previous study found that the most popular breeds had the greatest number of inherited disorders.
He adds, "It's not surprising that we tend to follow social cues and fashions, as this is a quite effective strategy in many situations. However, in particular cases the outcomes can be negative. When choosing a new pet, we may want to act differently."
Read more: PetsRadar guides to popular dog breeds
Get the best advice, tips and top tech for your beloved Pets
Jamie Middleton is a freelance editor and writer who has been editing and creating content for magazines and websites for over 20 years. As well as writing about the pets he loves, he has helped create websites about tech and innovation like TechRadar.com, Innovate UK and TechSPARK, written programmes for music festivals, books on inventions and architecture, TV listings magazines, and edited publications about cars such as Lexus, Toyota and Jaguar. In his spare time he writes fiction books and poetry - or at least he does when he is permitted to by his cat Pirate, who enjoys the warmth of laptops too much to allow being creative to get in the way.