Woman insists her dog helps pay the bills: "Literally pays my rent"
According to owner Ally Floth, Tank the Chocolate Labrador 'literally pays her rent' after becoming a social media star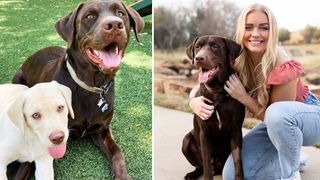 (Image credit: Instagram / tankthebrownlab)
One Texas-based dog owner is getting a helping paw with household bills from an unlikely source.
With the cost of living increasing faster than it has in decades and people forced to choose between their homes and their pets, Ally Floth has taken an unusual approach to paying her bills – she's drafted in help from her dog!
With rents skyrocketing and shelters filling up with pets deemed too expensive, TikTok user Floth (@tankthebrownlab) has a dog that's not only gorgeous but is also a financial asset.
Her short video featuring Chocolate Labrador Tank has now been viewed six million times and attracted over half a million likes.
In the video, the handsome hound can be seen sitting behind his owner looking very chill. The caption text reads 'Paying less than $200 for your dog and now he's an internet star who literally pays your rent'.
The TikTok account has over 117,000 followers and 6.6 million likes, while her Instagram account, at current count, has 177K followers.
Floth also has a young yellow lab named Fisher, and her videos and photos of the two dogs have attracted thousands of fans.
Although Floth was initially nervous at introducing a new pup into the household, the pair are now inseparable and Floth has shared many videos of them being 'snuggle bros'.
Fans were delighted with Floth's appreciation video, joking that their own pets needed to 'step up their game' and that the house really belonged to Tank and Floth was just living in it as Tank's pet.
Other users commented "You're telling me your dog pays for his own food?!?! #goals" and "He better start filling his taxes!"
The soaring cost of living has led to shelter admissions rising by 25% in New York in the first half of 2022 as desperate owners make some tough decisions.
With some shelters at capacity and unable to take any more admissions, there's also been a sharp rise in pets simply being abandoned as owners can't afford to feed them.
The problem isn't confined to the US, either – in 2021, UK charity the RSPCA reported a 29% increase in admissions from the year before, and warns that figures are likely to be higher again this year.
If you're planning to get a new pet this year, please consider giving a second chance to a shelter pup – who knows, it might be the best investment you ever make!
Get the best advice, tips and top tech for your beloved Pets
Sara is a freelance journalist and copywriter of many years' experience with a lifelong love of animals. She's written for a range of magazines and websites on subjects varying from pet care to travel. A horse rider since the age of five, she's currently a full time pet slave to horse Blue and gorgeous, goofy English Springer Spaniel Olly. Adorable Olly has a huge sense of adventure and no sense of direction, keeping Sara on her toes.