Wonder dog survives terrible accident, goes on to win hearts in home
After multiple procedures, Luca looks handsome and happy in his foster home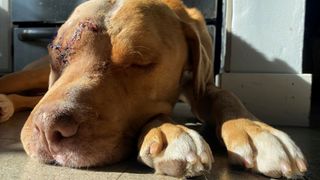 (Image credit: CC RezQs Regina)
Luca had a rough start, coming to CC RezQs, in Regina, Saskatchewan, Canada, with a face full of old porcupine quills that had become infected, causing the poor dog lots of pain.
Despite an intake freeze, CC RezQs took Luca in as an emergency case on Canadian Thanksgiving, the 10th October, and immediately started treatment, undertaking several procedures in an attempt to save his life.
CC RezQs' Facebook announcement on the 11th October about Luca explains there is extensive damage to his face, leaving him scarred but still full of love and life. "He has already been hospitalized overnight once, he is heading to another vet tomorrow for a full assessment, more meds, and a plan of what to do when," the Facebook post says.
"Currently we know his face/neck/chest are littered with very old, very infected quills. He has more abscesses than I could figure out, and he has holes torn in his skin on his face, muzzle, legs, and head that are leaking, oozing, and seeping. We know he is going to lose one eye, we hope the other is okay.
"We know he will need multiple procedures to search for and remove quills. We know he will need ongoing antibiotics, pain management, facial cleans, and a whole lot of time. But we also know he's 100% worth it."
After a couple of rocky weeks, on the 21st CC RezQs posted an update to Luca's story. "Luca has been in foster care getting so much love and attention. He is looking better every day, infection seems to be down, and he had his eye enucleation. While we are still trying to figure out if he has any vision at all in his remaining eye, we love our perfect pirate," they said.
As heartwarming it is to see, they added that after taking in Luca as an emergency case they were contacted about several more dogs who had fallen foul of a porcupine and were suffering with a face full of quills, some of which were pregnant.
"Seven days - FIVE - quill dogs," they say. "One eye enucleation, two more potential eye enucleations. Tons of pain meds, antibiotics, special foster homes, and additional vet trips pending. Quills can be ongoing for months. Two pregnancies. The Quill Bill for us reached $5,568.27 in just seven days."
CC RezQs work with First Nations Communities around Regina to rescue, rehabilitate and re-home stray, unwanted and injured dogs. Often these dogs are roaming free within rural communities and play with or attack porcupines due to a lack of experience with the spiky creatures.
CC RezQs takes on both the dogs and the financial burden of their medical care, even when they don't have capacity, as was seen with this series of quill-dogs, starting with Luca.
After removing one of his eyes, Luca is looking much healthier and will be available for adoption soon. He is currently being fostered by Rachel Droege, a Regina resident, who says he is taking to life without vision well.
"Luca is very willing to try to work his way around whatever situation he is put in, but I would say it will be more challenging than a healthy, no medical issue, fully seeing dog because you have to be willing to adjust your lifestyle a little bit for a dog like that," says Stephanie Senger, foster and adoption coordinator for CC RezQs.
"From what we were told, he wasn't cared for, but he loves people," Senger continued. "He will sit on his foster's lap all day if she will let him. He's been through so much that it's kind of insane that he just wants to be a dog."
"The resiliency of a young dog who almost died is what makes it all worth it for us — the medical bills, the constant trips to the vet, the length of time he will be in a foster home will be worth it. He's truly such a wonderful boy."
Get the best advice, tips and top tech for your beloved Pets
Lou is an experienced writer and keen dog lover who works at PetRadar's sister site, LiveScience. When Lou isn't covering health and fitness, she's busy spending time with her family dogs or growing all kinds of veggies and flowers on her allotment.