Adopting a dog vs buying from a breeder: Which is the better choice for you?
Adopting a dog vs buying from a breeder should be considered when getting a new dog. This might help you decide...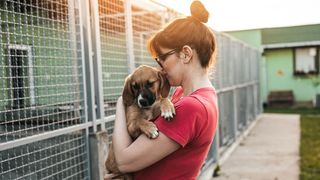 (Image credit: Getty Images)
When thinking about getting a new dog, many potential owners are faced with the decision of adopting a dog versus buying from a breeder.
Welcoming a new dog into the family is an exciting but daunting time. Finding the right pooch for you (and vice versa!) isn't simple, though. Many owners are faced with the dilemma of whether to adopt from a shelter or buy from a breeder. So, which option is the better choice?
While there are significant pros and cons for both options, each one has its benefits. In any case, a great pooch can come from anywhere as long as it is healthy and well looked after. But before you decide, read our useful guide about what to consider when choosing to adopt a dog or buy from a breeder.
Adopting a dog vs buying from a breeder: What's the difference?
Breeders are experts in the business of rearing and selling specialist breeds. So if you have a particular breed of puppy in mind, they will tell you everything you need to know about your chosen canine.
Dogs found in shelters are often rescued from challenging backgrounds and would value a loving home. Plus, you'll find a variety of dogs to choose from. Bear in mind, most canines found in shelters are adults, so if you specifically want a puppy it would be more difficult.
Adopting from a shelter: The pros
Firstly, it's always rewarding to re-home a neglected dog, so you'll give a pet a much-needed loving home. Shelters also have a broad variety of canines to choose from, and staff can give you lots of information about their characteristics, as they have come to know them well. Generally, shelter dogs are much cheaper than buying from a breeder or pet store, but more importantly, you're giving a fresh start to a dog that needs it, which is an amazing feeling.
Adopting from a shelter: The cons
The main disadvantage of adopting from a shelter is that many dogs have come from difficult or abusive backgrounds, and could be deeply affected. It's hard to know how your pooch will react to a new environment, or even walking in the street. If they have suffered mistreatment, they may have some trauma and take longer to settle.
However, with a lot of love, attention, and more importantly patience, your new pooch should eventually feel comfortable in your home. In addition, the adoption process may take a long time, so don't expect to take your dream dog home immediately. But it will be worth it in the long run.
Buying from a breeder: The pros
Responsible breeders specialize in rearing a few purebred dogs, and spend a lot of time with them. They will have the best expertise about your pup's background, their parents, and medical history. If you have a specific breed in mind, this is a bonus and your breeder can help you decide on the right dog for your home. They will also give you the right advice about caring for your new pooch as they grow. With a responsible breeder, your pup should be clean, healthy, well-socialized, comfortable in new environments and have basic house training.
Buying from a breeder: The cons
While the majority are reputable breeders, there is a risk of non-responsible breeders who follow unethical practices. These breeders tend to only be interested in the money and may not genuinely care about the well-being of their dogs. Poor breeding can also result in congenital health issues for puppies, which are not covered under pet insurance.
Buying can also be more expensive than adopting from a shelter. Depending on the breed of pup, breeders can sell between $500-$1500. However, reputable breeders are often open to negotiating a suitable price for you.
There is also the dark side of dog breeding that encourages illegal selling, smuggling, or other criminal activity. That's why it's always important to go for a reputable, licensed breeder.
How to check for a reputable breeder?
All dog breeders must have a valid license, so be sure to verify this. In the US, you can check under the USDA Dog Breeding License and in the UK, it's the Kennel Club Assured Breeders (KCAB). The breeder needs to have proper kennel registries, which are legitimate and compliant with the regulations needed to breed specific dogs.
Always visit in person to see the environment the dogs are raised in, and ensure the dogs are well-kept and healthy. A reputable breeder will always be open and transparent about the history, background, and health conditions of your pooch and have all the right documents ready at hand. For more advice read, how to differentiate a puppy farm from a reputable breeder.
It's certainly a close call between the two options. Whether you wish to adopt from a shelter or buy a pup from a breeder, it's a personal choice that you have to trust. In either case, you'll be giving a new pooch a welcoming and loving forever home.
Get the best advice, tips and top tech for your beloved Pets
Cynthia Lawrence is freelance lifestyle journalist. Starting off her career in national magazines, she moved to digital and e-commerce publications. When she's not reviewing exciting products, she is obsessed with home interiors and her neighbour's cat!