10 Dog Adoption Tips: Advice from a vet
Considering adopting a dog? These 10 tips on dog adoption are vet-certified!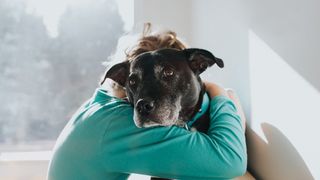 (Image credit: Getty)
Since COVID-19 has caused more people to work from home, dog adoption is on the rise. Adopting a dog has lots of benefits you might not have considered. For instance, adopting a dog is often cheaper than buying a puppy, and they'll usually have had some training already. Their personalities are more predictable, so you can get to know your dog before you bring them home. Best of all, you're rescuing a dog from a life in a shelter – and freeing up that shelter space for another dog in need! If you think dog adoption could be for you, our 10 top tips will help you find the right four-legged friend!
1. Be prepared for the adoption process to take some time
A new dog should never be an impulse buy. This animal will be sharing your life for the next ten years, so it's important to get this relationship right from the start. If you're lucky, the perfect dog will be in a rescue waiting for you, but it's more normal for the search to take a little while. To help find the perfect fit, have a think about what your 'must-haves' and 'nice-to-haves' are. Whilst a particular breed might be a nice-to-have, the size of the dog, or their ability to get on with other dogs or children, might be a must-have. You'll find a match more quickly if you can let go of preconceptions about breeds or colours and think more about personality.
2. Struggling to find a dog to adopt? Try a breed rescue or smaller rescue
When you start looking for a rescue dog, it's easy to go to large rescues with websites so you can search through the dogs available to rescue and find your perfect pooch. But smaller rescues that can't afford large websites need support too! If you want a specific breed, there's almost certainly a rescue out there that specialises in them, many of whom have a Facebook page if not a website. Smaller rescues are also more likely to take the time to carefully match you with your perfect dog, and take extenuating circumstances into account when they do their background checks.
3. Consider carefully before rescuing from abroad
Vets are concerned about imported rescue dogs for a number of reasons. Many of them are imported illegally, without the correct vaccinations and documentation, or with forged passports. Others are suspected of being bred (often in poor conditions not legal here!) specifically for import as 'rescues', because rescuing from other countries is so fashionable. Vets also worry about the impact of foreign diseases on our local pets – diseases such as Distemper and Leishmania are being seen where they weren't before. There's also the question of whether some of these dogs weren't more comfortable before, in a world they understood, rather than in our homes with all our rules and expectations. So, although that photo of that street dog from Romania or Cyprus might be tugging at your heart strings, think carefully before you decide to adopt them.
4. Visit your dog at least twice before you bring them home
The last thing a rescued dog needs is further upset, so it's important to be sure you can commit before bringing them home. Visiting your dog at least twice will ensure that you've had a chance to meet them and bond, and they've had a chance to get to know you, too. Whilst the first visit can just be one or two members of the family, the second should be with other dogs and children in the house so you can check your new dog likes everybody in the family. Since adoption day is going to be scary enough for your new dog, making sure they recognize people in the family so that not everything is new will help make the transition easier.
5. Ask for your dogs medical history
No matter how long your dog has been in a rescue centre, they should have some sort of medical history. All rescues vet-check dogs on entry, and many dogs will need vaccinations and other preventative medicines giving. Some may need conditions treating on arrival, too. You should ask for a copy of your dog's medical history to get an idea of any known issues. Bearing in mind that insurance companies won't usually offer pet insurance for pre-existing conditions, you should look through the history carefully for any signs of illness your pet has exhibited or had treated. You can talk to the rescue centre's vet or your own vet for information about whether these conditions are likely to reoccur and how expensive they will be to treat if they do. Even if the history doesn't show much, take care to keep a copy to give to your veterinarian for your dog's records.
6. Openly discuss your potential dog's behaviour and training needs
Poor behaviour is often the result of poor training. Unfortunately, many dogs are given up by their first owners because they're too boisterous or haven't been trained properly. It's important you understand what you're letting yourself in for, but don't let this put you off – with positive reinforcement techniques, all dogs (even old dogs!) can learn new tricks! However, have an open and honest conversation with the rescue centre about your dog's behaviour and training needs. Some dogs may have been kennelled their whole lives and now need potty training. Others may have reactivity with other dogs or be terrified of noises. In addition, rescues are often very experienced at recognising and dealing with these issues and will be able to give you advice on training. They may even recommend a dog behaviourist who can help you ensure your new dog has the support they need!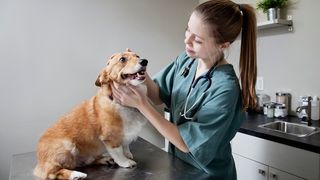 7. Introduce your dog to the vet as soon as you can
Once you've picked up your new bundle of fluff, it's time to get them to a vet for a check over. Depending on the nervousness of your dog and how recently they saw a vet at the rescue centre, you may want to keep them quietly at home for a few days before taking them to the vets. Either way, you should try to see the vet within the first week to check for any underlying problems and so you can have peace of mind that they're happy and healthy. They'll also be able to discuss ongoing vaccination, worming and the best flea treatment schedules with you, and answer questions about diet, weight management, behaviour and many other things you may have noticed. Many vets will offer a free 'meet and greet' appointment for this.
8. Take out pet insurance, even for older dogs
The best pet insurance is designed to cover the cost of unexpected medical treatments. There are lots of different types of pet insurance, but you should try to aim for a policy that covers diseases for life and has a limit of £7000+ per year for smaller dogs and £12,000+ for larger dogs. Medical treatment can quickly get expensive, with advanced imaging such as MRI becoming more available and orthopaedic surgery regularly costing in the thousands. Many policies now offer insurance for older dogs and rescue dogs. There's more information in our article Pet insurance advice: Five things to look out for when shopping for the best policy.
9. Dog-proof your home
You might not be getting a tiny puppy, but it's still important to dog-proof your home. After all, you don't know much about your new dog. You don't know if he'll try to steal food from the fridge or have a habit of eating dropped socks, or whether he'll forget his toilet training in a new environment. Whilst all these things can be managed, and your home won't need to be completely dog-proofed for ever, it's a good idea to be over-cautious until you know more about your new dog. Don't forget the garden, too- you don't want your new family member escaping before they know their way home again!
10. Don't expect too much too quickly
We all want our new pal to settle in and become a member of the family, but it's important to understand that all dogs are different. Many rescue dogs have unknown backgrounds, have been rescued from an unstable home, or have been poorly treated. Even those that have been loved will have been unsettled by the changes. When you bring your new dog home, resist the urge to show him off to everybody straight away. In fact, you should plan a quiet night in with just the family. Give your new dog plenty of space to get to know their surroundings, and don't pester them for attention or games.
Conclusion
Adopting a dog is a big commitment, but it's an amazing feeling to know you're providing a safe shelter for an animal with a sad or scary past. Remember, it won't all be plain sailing, but rescuing a dog brings some amazing benefits for you, for the dog, and for all the dogs yet to be rescued.
Get the best advice, tips and top tech for your beloved Pets
After graduating as a veterinarian from the University of Nottingham, Dr Joanna Woodnutt went on to practice companion animal medicine in the Midlands. She quickly developed a love of consulting and helping clients with medical problems such as dermatology, behaviour and nutrition - anything that involved helping clients understand their pets better. Jo started writing about pet health in 2017, realising that it meant she could help even more pet parents. Since then, she has written for countless online and print publications and is a regular contributor for Edition Dog Magazine. Jo now lives in the Channel Islands with her husband Ian and terrier Pixie, and they are expecting their first child very soon.