10 best dog breeds for cold weather: Meet the winter wonders
Here's our list of the ten dog breeds for cold weather. Does your favorite pooch make the list?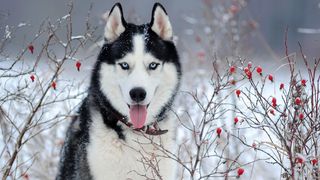 (Image credit: Getty Images)
With winter fast-approaching, we wanted to take a look at the best dog breeds for cold weather that are capable of thriving in the frostiest of temperatures!
All of these dogs have one thing in common… well, apart from the fact that they're all super cute canines!
From extra thick coats to large paws suitable for walking in the snow, these pooches were built for the cold weather. So much so that many of these breeds often work alongside humans in scenarios such as mountain rescue, transporting heavy loads across long distances, and security.
The following breeds will make the perfect four-legged friend if you happen to live somewhere that has a particularly cold climate. Let's check them out!
1. Newfoundland
With their large paws, which help to keep them steady as they walk across the snow and ice, combined with their super thick fur, this large Canadian breed is built to handle the harshest of climates. Weighing up to 70kg, Newfoundlands have long been used as rescue dogs, helping to save people up the mountain and in the water.
2. Bernese Mountain Dog
Unsurprisingly (given their name!), Bernese Mountain Dogs were bred specifically for life in the mountains, where they have been used in Switzerland as drafting and driving dogs for centuries.
Excellent hiking companions, this particular breed is known for being strong and sturdy enough to carry heavy loads across long distances, all while its thick coat helps retain body heat in the coldest of conditions.
3. Siberian Husky
One of the world's favorite breeds, the Siberian Husky is famous for pulling sleighs and sleds as a pack through the snow. Originally bred in Siberia to help humans travel great distances and transport heavy loads in freezing temperatures, Siberian Husky are a strong, agile, and high-energy breed. Their double coat of fur helps to keep them well insulated.
4. German Shepherd
A highly intelligent breed, famous for the work they do alongside services such as the police, security, and search and rescue, the German Shepherd is one of the best cold weather dogs, thanks in part to its double fur coat. This coat also grows thicker in the winter, with an outer layer protecting them from strong winds, and an inner layer that helps them to both remain warm in the colder weather and cooler in hotter weather.
5. Great Pyrenees
This breed is truly great in every way º they are great company in the colder climates, and also great at keeping themselves warm thanks to their long double coat. Known to be used in roles from sled dogs and sheepherders to therapy dogs and rescue workers, Great Pyrenees are known for their desire to protect and care for others.
6. Saint Bernard
One of the top poster pups for ultimate winter dogs, Saint Bernards are thought of as such thanks to their strength, enormous size, intelligence, and durability. Famous for the work they do as search and rescue animals up in the Swiss Alps, this breed has the ability to trek through deep, fresh snow for miles until they find who they're looking for.
7. Alaskan Malamute
Often confused with Huskies, who are actually their cousins, Alaskan Malamute are one of the oldest – and largest – breedx of arctic dog. Bred to be sled dogs, and capable of pulling weights of up to 1,500kg (with the correct training), this breed is super-strong and independent, with lots of energy, so will need an owner with experience, determination, and focus in order to bring the best out of them.
8. Shiba Inu
One of Japan's six native breeds, Shiba Inu are sturdy, muscular dogs covered in thick fur, making their anatomy perfect for playing in thick snow. Their double coat of thick fur means that they can stay warm and protected from the harsher winter conditions.
9. Komondor
Don't let their mop-like looks fool you! The Komondor, otherwise known as the Hungarian sheepdog, has plenty or corded locks to keep itseld warm as it guards its family, flock, and home with all it has. This big pooch has a big personality to match, which when paired with its independence and intelligence, makes it perfect for protecting livestock.
10. Chow Chow
One of the most unique-looking dogs around, the Chow Chow was originally bred to be used as palace guard dogs in China. The shape of its thick coats often looks like that of a lion, particularly with the mane-like fur around its face and neck. Randomly, it is one of the very few breeds to have a blackish-blue tongue, but there's no known reason for this!
Get the best advice, tips and top tech for your beloved Pets
Chloe is a freelance writer, editor, and proofreader, who has more than ten years' experience in creating animal-focussed content. From National Geographic to Animal Planet, Chloe's passion for creating fact-filled features all about wildlife and the environment is evident. But it's not just wild animals that Chloe's fascinated by. Having written more than 75 articles for PetsRadar - and having her very own four-legged friend by her side - it's no wonder that her love of dogs (and, of course, cats) has grown exponentially.
Her website, www.chloemaywrites.com, and social media pages - @ChloeMayWrites on Instagram, Facebook, and Twitter - showcase her knowledge through daily facts and trivia tidbits. For example, did you know that snails have teeth?!