Can kittens drink milk? Is it harmful and what types can they consume?
Humans find it delicious and nutritious but can kittens drink milk? Let's find out!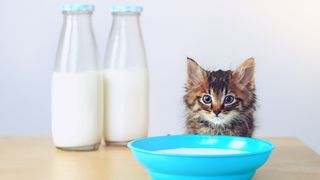 (Image credit: Getty)
Can kittens drink milk? It's a question many pet lovers ask, primarily because it's long been suggested that putting out a saucer of milk for the neighborhood moggies is a nice thing to do.
Surely – the thinking goes – some milk alongside the staple of a nutritious kitten food is a fast way to a balanced diet. Yet it's not quite as simple as that.
While the association between cats and milk has been cemented numerous times over – does anyone remember Garfield with a glass of milk, for instance, or the episode of Top Cat in which Choo-Choo steals milk bottles from babies in the park? – reality is a very different beast.
As such, you may be surprised to learn that, in actual fact, no, you should not give milk to kittens, or at least you shouldn't be giving them cow's milk which is what most people would be thinking about doing.
There are many reasons why you should keep the milk in the fridge and to yourself, with health concerns are the primary ones.
Is milk good for kittens?
Let's get one thing out of the way first. If you give milk to a kitten, you'll find that they absolutely love it. It's creamy, it's tasty and cats are attracted to the smell of the fats and proteins contained within dairy.
But just because kittens (and adult cats) enjoy the taste of milk doesn't mean it's in any way good for them. The main problem is that most of our feline friends soon become lactose intolerant which means they don't have the lactase enzyme that's needed to digest cow milk.
To that end, it should never form part of a kitten's daily diet and neither should it be used as a treat. Instead, you should digest our top kitten feeding tips to see how you can raise a healthy kitty and remember that milk doesn't contain the essential nutrients needed for health or growth.
If kittens are given it often, then they could even come to depend on it and prefer to drink rather than eat. Again, this will make them nutritionally deficient while also giving them a diet high in fat.
What milk can kittens drink?
The only milk a kitten should drink is the milk produced by their mothers. They will drink this until they are weaned around the age of four-weeks, at which point most (but not all) kittens start to lose the ability to digest the sugar found in the liquid.
If, however, the kitten is an orphan or needs to be fed by hand, they could be given "kitten milk formula", again up to four or five-weeks-old. This replacer is created to provide the nutrition found in their mother's milk and it contains less lactose or, in some cases, no lactose at all.
Once a kitten has leached the weaning age, it's time to get them on to cat food and water. As with dairy, these formulas also contain fat and they shouldn't be used after their initial life stage – kittens are fully weaned when they're a couple of months old.
What happens if a kitten drinks milk?
Drinking milk will generally make a kitten ill and it can cause stomach pain, diarrhea and vomiting, leading to dehydration.
Given how small kittens are, this puts a lot of strain on their tiny bodies. Milk can also cause a cat to become deficient in many vitamins and minerals while consuming a diet rich in fat, potentially causing unwanted weight gain.
Solid food is always the best way forward, supplemented by water. Seek help if you're having problems with a kitten not eating and try our fixes if you're experiencing common kitten behavior problems.
Moggies can also be encouraged to drink water with the best pet water fountains. As we've already said, water is always preferable to milk once a kitten has been weaned.
Should I give kittens goat's milk instead?
You will find many cat owners and veterinarians will instead recommend giving goat's milk to kittens but it's not quite so simple as switching animals.
Goat's milk also contains lactose even if it's not as abundant as in cow's milk and while it may be lower in fat, it's by no means fat-free. If you did decide to give goat's milk to a kitten then there are some benefits such as vitamins A and B5, potassium and biotin.
Yet kittens will get all the nutrients they need from the best kitten food and they don't need cow's, goat's or indeed soy or almond milk. In fact, you should totally stay away from the soy and nut-based milks given that kittens are obligate carnivores and need animal products.
David Crookes has been a journalist for more than 20 years and he has written for a host of magazines, newspapers, websites and books including World of Animals, BBC Earth, Dogs and Canines, Gadget and The Independent. Born in England, he lives in a household with two cats but he's also keenly interested in the differences between the huge number of dog breeds — in fact, you can read many of his breed guides here on PetsRadar. With a lifelong passion for technology, too, he's always on the lookout for useful devices that will allow people to spend more time with their pets.
Get the best advice, tips and top tech for your beloved Pets
Thank you for signing up to Petsradar. You will receive a verification email shortly.
There was a problem. Please refresh the page and try again.