Do dogs need conditioner?
We know our furkids need a bath but do dogs need conditioner?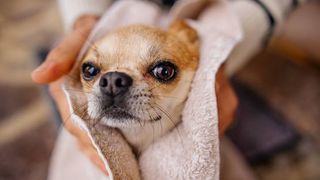 (Image credit: Getty Images)
Canine owners know just how messy their pups can get, but regular shampooing aside, do dogs need conditioner to keep their mane in tip-top condition?
If, following a good wash with a good dog shampoo, you've been pondering "do dogs need conditioner?" the first thing you need to consider is your dog's coat type and their individual requirements.
Not every dog groomer will look to use dog conditioner on a pup, so it can be down to the owner to decide whether or not their canine needs the extra treatment.
Consider the length of your dog's hair, whether they have itchy or sensitive skin, how long your pup is able to stay in the tub for and if they have an undercoat. Don't forget to ask yourself "how often do I bathe my dog?" too.
You may also be wondering whether dog conditioner is worth the money, or if there any alternatives out there for taming your dog's locks. This guide will look to tackle all the frequently asked questions you may have about conditioning your dog's coat.
If you're ready to take the plunge, we also have advice on some of the best dog conditioners you can buy, as well as a round-up of some seriously useful dog bath grooming products that will make you feel like a grooming pro every time.
Benefits of dog conditioner
Before we detail all the factors to consider when deciding if dog conditioner is right for your pup, it's useful to understand exactly what it does.
If dog shampoo cleans your canine's coat, dog conditioner generally restores shine and detangles coats. However, there's a lot more to the treatment than simply adding a gloss to your dog's fur.
Dog conditioner can help soothe itchy, sensitive skin if you choose one that's specially designed to target problem areas or even make the coat look plumper. It can fix matted hair in a jiffy or even help to replace essential oils lost during the washing process.
Does my dog need conditioner?
You've taken your dog to a groomer or are pondering "do dogs need conditioner?" at home following a successful shampoo treatment. So, what next?
Here's everything you should consider before choosing a dog conditioner.
1. Length of hair
If your dog has particularly long hair that's typical of a breed such as an Afghan Hound or a Yorkie, then dog conditioner is likely to be a must. These canine coats can quickly become tangled and prone to matting, so conditioning their hair will make brushing much easier. You could even consider a dog conditioner spray to add more shine and detangle ahead of grooming.
2. Bath frequency
Frequent bathing can dry a dog's coat so you may look to restore moisture with a dog conditioner.
Oatmeal is generally a great option for pups that suffer from dry skin, but if this is becoming a recurring problem, you could also cut back on the frequency of baths. If your dog's coat is dry and lacking its usual luster, you could be stripping back essential oils. Be prepared to adjust your routine and treatments accordingly.
3. Skin type
Does your pooch suffer from itchy or sensitive skin? If you frequent a dog groomer, then don't be afraid to ask for their advice on the perfect conditioning treatment.
If you're dog washing at home, go soap-free so as not to further inflame the skin. Oatmeal and aloe can be a gentle formula for pooches with even the most sensitive of skin.
Your vet may be able to prescribe a medicated treatment, particularly if the condition worsens, so keep an eye on your canine as scratching may turn out to be the work of dietary issues, parasites or allergies.
4. Bath time behavior
Some pups find bath time distressing, while many canines would rather be doing pretty much anything else in life. If your pooch truly hates bath time, you may wish to skip on the dog conditioner altogether or consider an alternative.
There are a few things you can do to calm your canine, as we've detailed in our article addressing "Why do dogs hate baths?", but if you just can't get your dog to settle, then use a 2-in-1 dog shampoo and conditioner to get the job done quicker or consider a leave-in conditioner that can be sprayed on.
Can I use hair conditioner on my dog?
Thinking of applying human hair conditioner to your dog? Think again! A dog has different pH levels in their skin than the average human so it's always best to reach for the dog specific conditioner as human grooming products can cause skin irritation.
DIY dog conditioners
If you've forgotten a few pet supplies or you want to try out an alternative conditioning treatment, do-it-yourself dog conditioners can help create a shiny coat.
Bear in mind they're unlikely to be as effective as choosing a commercial product specially formulated to target your canine's individual needs, but for a simple moisturizing job, these could do the trick.
Rosemary dog conditioner spray
Ingredients
1/3 cup organic rosemary hydrosol
1 tsp. non-GMO aloe vera gel
1/2 tsp. organic vegetable glycerin
1/2 tsp. organic fractionated coconut oil
1/8 tsp. Non-GMO vitamin E oil
Method
1. Add all ingredients into a spray mist bottle
2. Shake well before each use
Recipe via Mountain Rose Herbs
Oats dog conditioner
Ingredients
1/4 rolled oats
1/2 cup of warm water
2 tbsp coconut oil
1 tbsp raw honey
Method

1. Grind oats into a fine powder
2. Combine all ingredients
3. Mix thoroughly
Recipe via Petwell Supply
Pumpkin dog conditioner
Ingredients

2 cups of pumpkin puree (not pumpkin pie filling)
2 tbsps coconut oil
1 tbsp honey
1 tbsp plain Greek yogurt
1 tsp organic oatmeal powder
Method

1. Add the pumpkin and yogurt to a blender or food processor and pulse together
2. Then add the coconut oil and honey and pulse once more
3. Finally, add the oatmeal powder and blend until the mixture is entirely smooth
4. Gently scrub in dog's hair, then rinse after 2 minutes

Recipe via BeChewy
Get the best advice, tips and top tech for your beloved Pets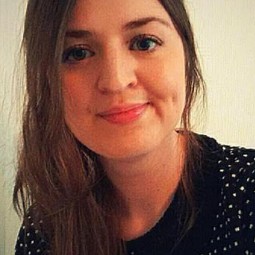 Ashleigh is Digital Editor on PetsRadar. With over 8 years of experience in print and digital media, she has acted as an editorial lead on a variety of projects, with animal themes a keen interest. As an avid animal lover, you can often find Ashleigh checking out the newest trends in animal care or looking at cute cat videos on TikTok.