Eight hidden dangers for dogs around the home that all owners should know about
Everyday items around our home and garden can be hidden dangers for dogs. Here are some of the things to look out for to keep your canine safe, healthy, and happy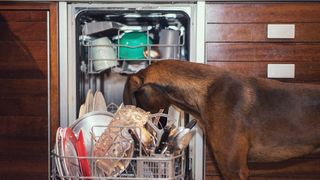 (Image credit: Getty Images)
This list of the hidden dangers for dogs that are lurking in every home will help all owners ensure they are safe places for their beloved companions. After all, most accidents involving pets tend to occur at home.
While proofing electrical cables, escape routes and dangerous items are pretty obvious, there are also the 'ordinary' things lurking around that seem relatively harmless. In most cases, owners do not realize that some of the common things in and around the house that pose a huge threat to dogs and their well-being.
Alternatively, if you want to distract your canines away from potential dangers, you could try these indoor games for dogs to keep them occupied, or these best chew toys that will stop them from chewing on anything potentially toxic.
So if you want to safeguard your dog in the best way, here are some of the hidden household hazards that could harm your canine companion.
1. Chocolate
While owners can take pleasure in choc treats, they can be life-threatening if consumed by dogs. Chocolate can be toxic, causing serious reactions such as seizures, breathing difficulties, and heart complications – particularly dark chocolate, cooking chocolate, and cocoa powder. Milk chocolate is less severe, although it can still produce symptoms depending on the quantity consumed. So keep chocolates out of sight on those special occasions, and ensure that children don't unwittingly feed any treats to your beloved pet. Other poisonous foods include macadamia nuts and onions – raw or cooked. Grapes contain a toxin that can cause liver and kidney damage to dogs, so it's best to avoid these too. Try reading our article on human foods that dogs can eat safely for more information on what you can share with your dog.
2. Coffee and tea
We all enjoy a nice brew to get us through the day, but our daily cuppa can be harmful to our dogs. Caffeinated drinks can cause hypertension, seizures, hypothermia, or abnormal heartbeats in dogs. This could even occur even if your dog only ingests a few sips of tea or chomp on teabags, so it's best to keep your cuppa away from your beloved pet.
3. Food/rubbish bins
Food compost or rubbish bins are usually contained, but this doesn't prevent inquisitive dogs from delving in. Bins contain all kinds of dangerous things that your dog is bound to ingest, such as bones, teabags, and leftover scraps of dinner. Cooked bones in particular could splinter or cut your dog's mouth. So make sure your bins have secure and tamper-proof lids to prevent your furballs from getting their paws on it!
4. Household cleaning products
Although it seems obvious to keep cleaning products tightly closed when not in use, this is still not 100% dog proof. As well as lapping up liquids, dogs will happily chew through bottles and containers. Household cleaning products contain dangerous chemicals that could cause life-threatening illness to dogs, so it's best to keep cleaning products, paint, glue, and de-icing materials in a secure/locked place. Alternatively, try to buy 'pet friendly' products without harsh chemicals, or consider making your own non-toxic household cleaners.
5. Small toys and objects
Dogs love to chew on just about anything, and small bright toys are just as appealing as they are to young children . Although they may be fun for curious dogs, they are also potential choking hazards. Keep small toys in a secure box and out of reach from your playful pet. Also, be mindful not to leave sweet wrappers, earbuds, or jewelry lying around, as they all pose a risk to dogs, who may attempt to eat them.
6. Fruit trees and plants
Fruit trees and plants make gardens look vibrant and picturesque, but these all can be dangerous to dogs. Surprisingly ,the stones and pits found in juicy cherries, plums, and peaches contain deadly cyanide. These fruits could essentially be very toxic if crushed and consumed by dogs, while larger stones are a potential choking hazard. Common garden plants such as tulips, lily of the valley, daffodils, lillies, and azalea are also toxic to dogs ,and may cause vomiting, diarrhea, or serious illness. If your canine should accidentally munch on poisonous leaves, flowers, or stems, take them to your vet immediately. It's also advisable to take a sample of the plant so the vet can identify the treatment required.
7. Lawn feed and fertilizers
While it's nice to maintain a luscious lawn, shop-bought feed often contains ferrous sulphate that is toxic to dogs. This can harm dogs' skin and cause gastrointestinal problems or iron poisoning. The same applies for fertilizers, weed killer, and pesticides we use to get rid of greenfly and nasties that can damage our garden. Fertilizers made from bone or blood meal in particular, can cause pancreatitis, or can clump in the intestines causing a blockage. It's important to read the labels carefully to ensure proper use of the product. For green-fingered owners, it's advisable to use homemade organic fertilizers that will make your garden grow just as well.
8. Medication and health supplements
Owners may find some relief in over-the-counter medication or even vitamin tablets, but these are not meant for animal consumption. In fact, pain relief such as paracetamol and ibuprofen are particularly dangerous to dogs. While vitamin and mineral supplements can contain iron and zinc, which can cause them more harm than good. If you do have any concerns about your dog's well-being, seek medical advice from a vet.
Get the best advice, tips and top tech for your beloved Pets
Cynthia Lawrence is freelance lifestyle journalist. Starting off her career in national magazines, she moved to digital and e-commerce publications. When she's not reviewing exciting products, she is obsessed with home interiors and her neighbour's cat!