5 homemade kitten teething toys to soothe sore gums
From catnip pouches to mice made from menswear, these homemade kitten teething toys will soothe sore gums and provide hours of amusement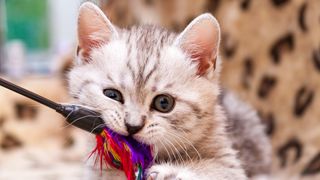 (Image credit: Getty Images)
If you love getting creative and are looking for ways to soothe your little one's sore gums at the same time, then making a few homemade kitten teething toys can be a great way of ticking both of those boxes. While there's nothing wrong with the best kitten toys lining the shelves, nothing quite says 'I love you' like creating something from scratch.
Learning how to play with a kitten is one of the most important parts of being a new pet parent. It's through play that our youngest feline friends learn important social and communication skills as well as boundaries, especially when it comes to using their teeth and claws appropriately. Playing with your bundle of fluff regularly will ensure they learn from you what they would have learned from their mother.
Having plenty of toys around for your fur baby to play with and sink their teeth into is particularly crucial during the kitten teething phase as they lose their 26 milk teeth and their 30 adult teeth begin to push through. This can be an incredibly painful time for your kitten with inflamed and sore gums leading them to seek relief through chewing and sucking.
The teething period can last for several months and excessive chewing during this time is to be expected. In order to save your clothes, shoes and furniture from your little one's mouth, having a range of teething toys on offer means you'll be able to offer your kitten an alternative that will allow them to redirect their need to chew towards a more appropriate outlet.
Below, you'll find a range of homemade kitten teething toys using many common items you likely already have at home. Some of these toys will take you less than 10 minutes to make, while others are a little bit more intricate and will take longer. That means that regardless of whether you're a DIY beginner like us or a creative genius, you'll find something here to suit your skill level and your budget.
1. Pom pom balls
What you'll need:
Wool yarn
Scissors
Wooden stick (optional)
Instructions:
Using your thumb, hold one end of the wool yarn thread on the palm of your hand.
Wrap your four fingers with the thread about 50 times.
Use a separate thread to tie the wrapping yarn in the middle.
After tying the yarn thread tightly, remove it from your finger. The yarn should take the shape of butterfly wings.
To create a furry exterior like that of a pom pom ball, cut the thread that forms the wings using a pair of scissors.
Arrange the threads to make it form a pom pom ball.
Note: Use wool yarns of different colors to make the balls more visually exciting. You can attach the pom pom balls to a wooden stick if you'd like so that you can play with your kitten and have them chase the ball.
Instructions via miauland.com (opens in new tab)
2. Menswear mouse toy
What you'll need:
Assorted menswear fabric (such as wool suiting, corduroy, and cotton shirting)
Iron
Fusible webbing
Sewing machine and sewing supplies
Loop turner
Fill
Embroidery floss
Embroidery needle
Mouse template
Instructions:
Print the pattern pieces, and cut out. Using the pattern as a guide, cut out 1 bottom piece and 1 side piece from the same or different fabric. Flip pattern, and cut out another side piece. For a tail, cut a 1-by-4-inch strip on the bias. For ears, adhere 2 different fabrics together using iron and fusible webbing, following manufacturer's instructions. Using pattern, cut out ears from fused fabric.
Fold tail in half lengthwise, right sides facing; stitch with a 1/4-inch seam allowance, leaving ends open. Turn tail right side out using loop turner. Pin body pieces together, right sides facing; stitch with a 1/4-inch seam allowance, leaving a 1-inch opening at the back.
Turn body right side out, and stuff with fill. Insert tail into opening; slip-stitch closed. Knot end of tail.
Fold ears in half, and attach to body with small hand stitches. Mark placement of eyes with pins, and then embroider eyes and nose using backstitches.
Instructions via marthastewart.com (opens in new tab)
3. Catnip pouch
What you'll need:
Dry catnip
Clean socks
Polyester fiber (polyfill)
Instructions:
Apply a pinch of dried catnip on polyfill and distribute it throughout the soft fiber.
Insert the polyfill into the socks.
Tie the end of the socks tightly to make sure that the catnip won't come out and to securely confine the scent inside.
You can now let your pet enjoy this catnip pouch.
Note: These catnip pouches tend to get dirty quite quickly, so it's recommended that you wash them on a regular basis and refill the stuffing.
Instructions via miauland.com (opens in new tab)
4. T-shirt toys
What you'll need:
2 or 3 t-shirts
Scissors
Ruler
Cutting mat and rotary cutter
Instructions:
Cut apart each shirt up each side and by its seams. Cut into 3" x 10" rectangles.
Make a pile of 6 strips.
Slightly stretch each strip so it rolls up onto itself.
Tie into a knot. Pull ends tightly.
Trim ends.
Instructions via muslinandmerlot.blogspot.com (opens in new tab)
5. Snake toy
What you'll need:
Socks
Scissors
Paper or tissue debris
Catnip powder
Rubber bands
Small bells
Threads and needles
Instructions:
Cut the papers into strips or tear some tissue papers into shreds.
Fill the sock with any of your preferred stuffing in a moderate amount as to not make it too full.
Insert some catnip powder into the sock.
Add the small bell afterwards.
Tie the sock's opening with a rubber band, allotting some extra length for the tail.
Create the snake's head by tying another rubber band near the other end of the sock.
With the use of needles and threads, sew the eyes, nose, and mouth of the snake.
Instructions via miauland.com (opens in new tab)
For more on all things dental-health related, be sure to take a look at 'do kittens lose their teeth?', which has lots of helpful information on when your little one's baby teeth will start to fall out and potential problems to be on the lookout for.
Get the best advice, tips and top tech for your beloved Pets
Kathryn is a freelance writer who has spent the past two years dividing her writing time between her two great loves - pets and health and wellness. When she's not busy crafting the perfect sentence for her features, buying guides and news pieces, she can be found hanging out with one very mischievous Cocker Spaniel, drinking copious amounts of Jasmine tea and attempting to set numerous world records for the longest ever FaceTime calls with her family back home in NZ.
Thank you for signing up to Petsradar. You will receive a verification email shortly.
There was a problem. Please refresh the page and try again.