How big should a cat carrier be?
If you're thinking of purchasing a carrier for your pet, have you wondered: how big should a cat carrier be?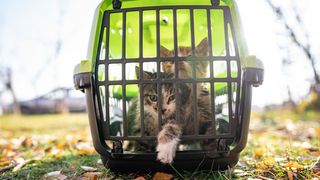 (Image credit: Getty Images)
Finding the best cat carrier for your feline can be a tricky task, especially when you can spend hours contemplating just how big a cat carrier should be in the first place!
Even when looking at the best cat carriers, you might still find yourself feeling slightly bamboozled by the various options that are available on the market. There's hard carriers, soft carriers, and some that aren't even specific cat carriers at all!
However, knowing how to get a cat into a carrier can be a great starting point in deciding the size of your cat transportation – otherwise you'll be left trying to work out how to transport a cat without a carrier!
Maybe you have a feisty feline that refuses to walk into a carrier with ease and minimal fuss? Or perhaps they're happy to be lifted in and out via an opening in the top of the carrier?
Either way, with the answers to those questions in mind, and with a few more to take into consideration, we'll help you find the purr-fectly sized carrier for your favorite feline.
What size pet carrier do I need?
In all honesty, this entirely depends on the type of cat you have!
One of the main things to think about is whether your cat will have enough space to turn around and stand up inside the carrier without having to crouch or crawl.
As a general rule, cat carriers should measure 1.5x the length and height of your moggy (based on their natural standing position).
Should you be traveling a long distance with your pet, it's important to ensure that your cat carrier is big enough to include cat travel bowls for their food and water, which some carriers already have built in. You may even need to consider whether you'll need and have space to include a small litter tray, too.
With that said, you also don't want to buy a cat carrier that's too big as your pet will need to feel safe and cozy whilst traveling – something that wouldn't be possible in a ginormous carrier!
What kind of carrier do cats like best?
As with all creatures, including us, not every individual is going to like the same thing. So buying the same carrier as your neighbor doesn't guarantee that your feline will love it just as much as the moggy next door.
However, pushing all personal preferences aside, the most popular cat carriers tend to be the ones that include the following:
Sturdy material: using a carrier made of a sturdy material, such as a rigid plastic, as opposed to a cardboard or material one will be more comfortable for your pet and can prove to be much easier to clean.
Multiple entry/exit points: purchasing a cat carrier that has both a front door and a roof opening will give you the flexibility to work out which method of entry your feline prefers. They might even walk themselves in if they feel comfortable enough!
Privacy sides: a carrier that has the ability to cover any mesh or windows will allow your cat to feel more comfortable whilst also ensuring that they still have the appropriate ventilation.
Coziness: ensuring that your cat carrier is both tall and wide enough to include one of their favorite blankets (that, of course, smells like home) will be reassuring for them during times of uncertainty.
Split in half: this is ideal if you have a kitty who gets nervous at the vets. This option will let you remove the top half so that the expert can examine your pet whilst they remain in the comfort of their own blanket at the bottom of the carrier.
The right size: finally, and one of the most important features to consider, is the size of the cat carrier. As mentioned, this ideally needs to be 1.5x larger than your cat, so if you happen to have a large breed – such as a Maine Coon – you'll need to search for an extra-large carrier that they'll fit comfortably in.
Do cats like big or small carriers?
When it comes to size, the best thing to try is something similar to how Goldilocks chose her perfect bowl of porridge – they'll need one that's not too big and not too small!
Picking the best cat carrier will involve a lot of trial and error as, unfortunately, there isn't a one size fits all option.
Cats aren't fond of traveling at the best of times since they hate leaving their home comforts and entering unfamiliar territory. So purchasing a very large carrier is likely to make your feline feel scared and uneasy, and they'll probably choose to hide in the corner.
Get the best advice, tips and top tech for your beloved Pets
Chloe is a freelance writer, editor, and proofreader, who has more than ten years' experience in creating animal-focussed content. From National Geographic to Animal Planet, Chloe's passion for creating fact-filled features all about wildlife and the environment is evident. But it's not just wild animals that Chloe's fascinated by. Having written more than 75 articles for PetsRadar - and having her very own four-legged friend by her side - it's no wonder that her love of dogs (and, of course, cats) has grown exponentially.
Her website, www.chloemaywrites.com, and social media pages - @ChloeMayWrites on Instagram, Facebook, and Twitter - showcase her knowledge through daily facts and trivia tidbits. For example, did you know that snails have teeth?!