Best cat carriers: Keep your cat cozy and safe on your travels
By Steve Jenkins published
The best cat carriers will make sure that your much-loved moggy is stress-free and secure when out and about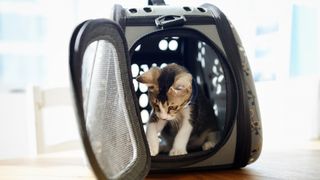 (Image credit: Getty Images)
Whether you're off on vacation or heading to the vets, the best cat carriers are the perfect solution for when you take your pet puss out of the house and set out on your travels. Whether your journey is short or long, they will keep your cat safe, comfortable and ultimately happy.
Choosing the right cat carrier for your feline furkid is the first step to keeping your cat stress-free and happy when out and about. If you have a nervous cat then you might want to consider a hard carrier made from a strong sturdy plastic. This offers plenty of protection and will make them feel safe, which in turn makes them happy. But if your cat is a little more nonchalant about traveling, a soft cat carrier typically offers a more cozy and comfortable journey.
If you are off on vacation and need to do a lot of walking, a backpack-type cat carrier is a great choice for you and your little fur friend. It's comfy for you and them and you are always by their side to calm them down if needed.
In this guide, we've brought together a selection of the best cat carriers out there to help you decide which works best for you and your cat.
PetsRadar's pick of the best cat carriers
Best overall cat carrier: Petmate Two Door Top Load Cat Carrier
Best fashionable cat carrier: SUPPETS Cat Carrier Breathable Mesh Pet Travel Carrier
Best hard/soft combo cat carrier: Pet Magasin Hard Cover Collapsible Cat Carrier
Best airline cat carrier: Maskeyon Airline Approved Pet Carrier
Best backpack cat carrier: LOLLIMEOW Pet Carrier Backpack
Best cat carrier for bigger cats: Petseek Extra Large Cat Carrier Soft Sided
Petmate Two Door Top Load Cat Carrier
Size: Medium | Weight: 6.42 Pounds | Color: Pearl Blur, Pearl Tan | Doors: Two | Airline approved : Yes
Sturdy
Good ventilation and visibility
Airline approved
No mat inside
This cat carrier is a simple, straightforward, no-nonsense carrier designed to keep your pet puss safe, secure and comfortable. Plus, it's airline approved, conforming to the under-seat dimensions of most airlines - but don't forget to check with the airline first. This makes it ideal for your annual vacations, but at the same time, it's just as useful for short journeys to the store or the vets.
Measuring 24" long and 15" high the carrier is perfect for all size cats, but not a great option for a kitten. It's constructed from a heavy-duty plastic shell, which gives plenty of protection from any knocks and bumps when on the move and is waterproof and easy to clean. But while the plastic is waterproof, the design won't stop the rain from getting in when outside. There are a series of side ventilation openings to make sure your cat gets plenty of air and good visibility, which is perfect for when inside.
Access to the carrier is twofold with front and top openings. The front opening is a steel wire door that has a secure easy-open latch that is designed for easy access with just one hand. Perfect for those occasions when you are carrying the crate and can't put it down or you are carrying your cat in one hand. The top opening has a couple of easy-to-open latches that keep the door shut tight and are pretty much escape-proof. The door also has an ergonomic integrated carry handle for quick easy portability. Finally, you can choose from a couple of different colors to suit your taste.
SUPPETS Cat Carrier Breathable Mesh Pet Travel Carrier
Best fashionable cat carrier
Size: Medium, large | Weight: 0.95 Kilograms | Color: A-Blue Peony, Black, Grey | Doors: Four | Airline approved: No
Stylish
Waterproof
Four doors
Not for large cats
If you want functionality and style when you're on the lookout for a new cat carrier, then you need to check out this offering from SUPPETS. It comes in three different styles with the A-Blue Peony option being the standout in the style stakes. It's covered in variations of the peony flowering plant and adds hues of pink and red to the base color - black. If flowers aren't your thing you can get the cat carrier in more conservative tones - black or grey are your choices here.
The carrier comes in two sizes - medium and large. The smaller size measures 15.7" x 11.4" x 11.4" which is ideal for all but the largest of cats, and if you want to give your pet puss a little more all-round room then try the larger one which adds a few more inches in every direction. The smaller carrier can manage cats up to 8kg while the larger carrier adds another 3kg to the weight limit.
Made from a high-density waterproof nylon the carrier has four doors which give easy access. You can open each end, one side or there's a single zipped door on the top. Three are made from breathable mesh to give good ventilation and plenty of viewing options. A soft removable machine-washable mat ups the comfort stakes and sits in the bottom of the carrier. Strong durable color matched zips - for the fashion-conscious - help hold everything together and keep your cat secure. A large end pocket is ideal for storage while a couple of short carry handles - with matching flower pattern - or a clip-on shoulder strap provide the transport options. This also doubles up like a seatbelt when in the front seat of your car.
Pet Magasin Hard Cover Collapsible Cat Carrier
Best hard/soft combo cat carrier
Size: 17" L x 13" H x 14" W | Weight: 2.2 pounds | Color: Grey | Doors: One | Airline approved: No
Hard top and bottom
Easy to carry
Collapsible
Not for long-distance travel
This cat carrier looks to bring you the best of both hard and soft carriers in one smart package. Measuring 17" x 13" x 14" it's perfect for taking your pet puss to the vets with its unique design taking on the characteristics of a hard carrier by providing a hard top and bottom to give your fur friend a little extra protection.
The hard bottom will help keep your furkid dry protecting them from damp or wet ground. Plus it keeps its shape however uneven or bumpy the ground. And a padded mat will make sure they are always comfortable wherever you decide to stop. The rigid top again offers protection from any knocks and gives some shelter against the rain or snow and has an integrated soft handle making it easy to carry.
The soft sides adopt the benefits of a soft carrier having collapsible sides which can be unzipped and folded down to take up less space when not in action. But the best is that the hard top and bottom can be zipped together - with the soft sides inside. Making it much smaller in size and ideal to store away when it's not going to be used for a while.
When it is in action the soft sides boast an all-round mesh pattern which provides plenty of ventilation and 360 degree viewing to help lower the stress levels of your fur friend. However, the carrier only has access through the zipped front door, so it's one way in and one way out.

Maskeyon Airline Approved Pet Carrier
Size: X-Large | Weight: 3.62 Pounds | Color: Grey | Doors: Four | Airline approved: Yes
Expandable
Fits under an airplane seat
Waterproof
Not suitable for large cats
This cat carrier's smart design makes it the perfect travel companion whether you are flying off on vacation or taking your pet puss to the vets in the back of your car.
It comes with shoulder and carry straps for easy transportation and expandable mesh sides when you stop. These triple the size of the floor space and lets your cat stretch out, relax and see what's going on in the outside world. In its standard state, the carrier measures 19.5"L x 12"W x 12"H but expands to 43.5"L x 32"W x 12"H when all of its sides are opened and laid out. A series of non-slip bottom protectors help keep in place.
Alongside the well-ventilated mesh sides is a mesh front door and covered mesh access on top of the carrier. You can leave this unzipped for them to pop out their heads to have a look around when on the move. A large mesh pocket - with a reflective strip so you can see it in the dark - provides plenty of space for treats, toys, leashes, and feeding and water bowls.
A sturdy wire frame helps keep the carrier in shape and stops it from collapsing when your cat is inside. Sitting in the bottom of the carrier is a strong board that provides a solid base for safety and a thick removable and washable furry plush pad for comfort. The fabric cover is waterproof and will help keep your cat dry when outside, annd it's the perfect size to fit under your average airplane seat. It's also flexible enough to be laid flat to be stored away making it a real space saver when not needed.
LOLLIMEOW Pet Carrier Backpack
Best backpack cat carrier
Size: 12.5 x 16.5 inches | Weight: 3 pounds | Color: Black, Yellow, Red, Pink, Green | Doors : Three | Airline approved: Yes
Large clear window
Carry on back or front
Storage pockets
Not for large cats
If you like to take your cat with you wherever you go then this backpack-style cat carrier is a must. You get a pair of strong sturdy straps that are nice and wide for extra comfort and ease of use, and there's a small strong carry handle if needed. Whether off to the vets, store, or off on vacation, this cat carrier is ideal for keeping your cute fluffy companion comfortable, safe and close to you.
Wear it on your back and the full-length zipped clear window lets your cat admire their surroundings. Swing it around and wear it in front of your body and you can keep a constant eye on your fur friend to make sure they are comfortable and happy. If you fancy a quick cuddle when on the move simply unzip the window and say hello. Alternatively, a more subtle mesh side door is easy to open and gives good access in or out of the backpack. On the opposite side is a similar-sized pocket which is perfect for storing snacks and small toys.
Ideal for small to medium cats it measures 12.5" x 11" x 16.5" and can carry cats up to 13 pounds safely. Nine ventilation holes on the front sides make sure that your pet puss gets plenty of fresh air and a small fleece mat makes sure that they stay comfortable.
There are two variations of the backpack - in a variety of cool colors. Beyond the standard version, there is also an expandable version. The back of the backpack can be unzipped open into a mesh cage that allows your cat to stretch out and sleep. Perfect for when you're waiting at the airport and your fur friend needs a bit of space and me time.
Petseek Extra Large Cat Carrier
Best cat carrier for bigger cats
Size: X-Large | Weight: 7.3 pounds | Color: Grey | Doors: Three | Airline approved: No
Seatbelt loops to keep carrier secure
Good ventilation
Sturdy metal frame
Heavy
Large cats don't like to be kept in small spaces, so if you have a large cat that you need to transport to the vets or take on vacation then this carrier from Petseek could just be what you are looking for. The carrier measures 24 x 16.5 x 16 inches which offers plenty of room for even the largest cat and can carry pets up to 55 pounds. Alternatively, you can carry a couple of cute small or medium cats in the same space - as long as they get on with each other.
A strong sturdy metal frame supports the structure of the carrier which is made from a wear-resistant Oxford fabric that is easy to wipe clean or throw in the washing machine if needed. It's easy to remove the outer cover, the frame is fully collapsible and folds flat in seconds. Once you've given the cover a good wash slip it back over the frame and pull it back upright in seconds.
The outer cover has a whole host of features that make it comfortable for your cat and safe and secure when on the move. There are three soft zipped doors for easy access - on the top, front and one side - each covered with a nylon mesh that is tear-resistant and provides plenty of ventilation. A plastic clip locks the zippers so your fur friends can't escape. To make sure your cat is kept cool and to lower the stress levels the doors are accompanied by a couple of windows covered in the same nylon mesh, so they can see what's going on. A fleece bed offers comfort while seatbelt loops make sure that the carrier is safely secured when on their travels.
How to choose the best cat carrier
Size
This may seem obvious but you need to make sure that you are getting the right size for your fur friend. Make sure that you measure the length and height of your cat - when stood up - to give you a good idea of what size you will need. The carrier should be just big enough for your cat to lay down, stand up and adjust their position. If they have too much room when on the move they can fall over or get thrown about, so make sure you get a snug but comfortable fit.
Soft or hard
Choosing between a hard or soft cat carrier often depends on your cat. If you have a nervous cat who gets anxious when you travel and doesn't like too much movement, a hard cat carrier is a better choice. These give better protection from knocks and bumps. Just make sure to get a soft cozy mat to go inside to help calm them down, especially if off on a long journey.
If your cat has a more placid personality a soft carrier is ideal. While not as easy to clean as harder carriers, they're typically comfier for the cat, have extra pockets for storage, give a choice of carry options, and typically have better safety features for traveling in a car.
Doors and ventilation
A cat carrier with more than one door gives your cat more options and will help to reduce their stress levels. Especially if they aren't keen on getting in a cat carrier in the dirt first place. Ideally, look for a cat carrier with a front door and top door. This can help when being examined by a vet, as they might not need to leave the carrier. And you can leave the top door open just enough for pet puss to have a look around if they want to. When it comes to ventilation, mesh is often a good choice as this lets in the air and keeps your cat cool and also keeps out any bugs and dust and lets your fur friend take a look around.
Steve Jenkins is a freelance content creator and long-time journalist with more than 20 years in the industry. He has written for numerous titles covering tech to pets, with his latest faithful hound always by his side. When not walking his dog, or discussing who's best - cats or dogs? Loud guitars, AFC Bournemouth, Photoshop, and trying to save the world take up the rest of this time.
Get the best advice, tips and top tech for your beloved Pets
Thank you for signing up to Petsradar. You will receive a verification email shortly.
There was a problem. Please refresh the page and try again.