Preparing for your kitten's first vet visit
It's time for your kitten's first vet visit! What do you need to know, and how can you prepare?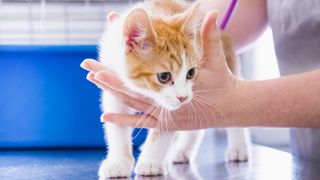 (Image credit: Getty Images)
Bringing a new furry bundle of joy home to join your family is an exciting time, but what about your kitten's first vet visit? Isn't that a bit scary?
We've got information on everything you need to know to prepare for the appointment, from arranging the perfect cat carrier in advance to create a stress-free environment, to vaccinations, health checks, and parasite treatments. So, when your veterinarian is doing their examination, you'll know exactly what they're looking for.
You can also write down any concerns you have in advance so that you don't forget when you're put on the spot! Rest assured, there's nothing for you or your new kitty to be afraid of.
When should I first take my kitten to the vet?
It's best to take your kitten to the veterinarian a few days after bringing them home. This gives them a chance to settle in and time for any stress-induced problems like diarrhea or a picky appetite to subside.
Your kitten may have already had a veterinary health check organised by the breeder, but that doesn't mean they shouldn't have one with you. Your kitten will have vaccinations due from eight weeks old, so it's important to schedule an appointment as soon as possible. If the vaccination course has been started, check with the breeder when the next vaccination is due.
Scheduling a vet's appointment for your kitten
Once you know which veterinary clinic you would like to use, it's worth calling them to register as soon as possible, even if you don't need an appointment yet. This will ensure that your kitty has veterinary care if there is an unexpected emergency or injury.
When registering, make sure you ask about the clinic's opening times and what to do in case of emergency if the practice is closed. When calling to book your kitten's first vet visit appointment, make sure you give plenty of notice to secure an appointment that suits you and fits in with your kitten's vaccine and parasite treatment schedule.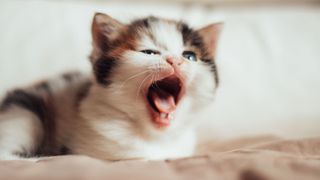 What to consider before you go
To prepare for the appointment, keep an eye on your kitten's eating, drinking, and toileting habits so that you can make a note of any concerns. You should also find out when or if your kitten has had vaccinations, worm, and flea treatment, and whether they had any health issues in their previous home.
It's worth making a list of any questions about your kitten's health or caring for them in general. You can find out more about caring for your new kitten in our vet's article.
What to take to your appointment
You should bring any paperwork provided by the breeder, from vaccination cards to worming schedules
A comfortable cat carrier with an absorbent puppy pad in it. It's also worth putting a soft blanket or an item of clothing that smells of you in the carrier to put your cat at ease.
Some cat treats to make visiting the vet as pleasant as possible for your favorite little feline. We've listed some of the best kitten treats for your young kitten in our guide.
Don't forget your list of questions!
What to expect at your appointment
When you arrive at your appointment, the veterinarian will call you into their room and spend some time making your kitty feel at ease.
They'll coax them out of the carrier and make a fuss of them before checking them from head to toe… or should it be 'tail'? They'll do a thorough examination, listening to their heart, checking their mouth, and feeling their belly. They'll ask you about your kitten's appetite, toileting, and behavior and whether you have any concerns.
Now's the time to get out your list of questions and fire away! Whether it's frustrating kitten behavior problems or you can't decide which kitten food is the best, your vet will be happy to help.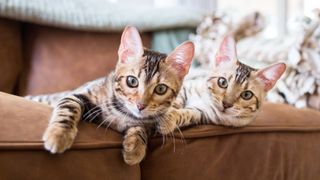 Kitten vaccinations
Your kitten should have a course of vaccinations to protect them against Herpes virus, Calicivirus, and Panleukopenia virus. This combined vaccine is known as FVRCP and should be given at eight weeks of age, then twelve and sixteen weeks.
Your kitten will also need a rabies shot, which should be given at sixteen weeks. If you're outside of the US, your kitty might not need a rabies shot, and they might only need two RCP injections.
However, they're more likely to need a vaccination against Feline Leukaemia Virus (FeLV). It's best to speak to your veterinarian to find out more information.
Treatment for your kitten
Hopefully, your kitten will be given a clean bill of health. But if they are showing any signs of illness, your veterinarian might recommend some tests or treatment. A common condition amongst kittens is ear mite infestation, characterised by a dark brown waxy discharge in the ears.
If your vet suspects ear mites, they might look at a sample of the wax under the microscope before recommending medicated ear drops, a spot on, or tablets. Your veterinarian will also recommend parasite treatment, which should be given monthly until six months of age.
Conclusion
It feels like all fun and games when you bring a new kitten home. After all, they're full of mischief, and every minute is playtime! However, don't let their funny frolicking distract you from the responsibilities of being a kitten-mum or dad! With your veterinarian's help, you can make sure your kitten gets the best start in life!
If you found this piece useful and are looking for more advice and guidance to help your feline friend thrive in the first year of life, our kitten care tips have got you covered.
Get the best advice, tips and top tech for your beloved Pets
Dr Hannah Godfrey is a small animal vet who graduated from the Royal Veterinary College in 2011 and began work straight away at a busy mixed practice. Initially, she treated all species, but focussed on small animals from 2014. She has a passion for soft tissue surgery, ultrasound, and canine and feline dentistry, having completed additional training in these areas.