Best cat backpacks: Carry your cat in comfort and style
The best cat backpacks make it easy to take your pet puss with you wherever you go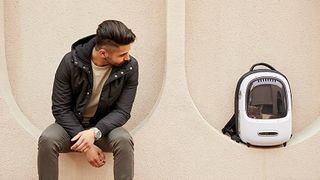 (Image credit: PetKit)
The best cat backpacks provide the perfect space to keep your fur baby safe and comfortable while you're on the move. Whether you like to go walking and hiking, are off on vacation with your cat or simply taking your cat to the vets, if one of the best cat carriers isn't what you're looking for, then the right cat backpack could be the perfect companion for the journey.
There are a lot of choices out there, so it is not always easy to make the right decision. What are the factors that you need to think about when looking to buy a cat backpack? Comfort is critical for both cat and owner. Your fur baby needs a nice soft platform to sit and sleep on and have plenty of ventilation and windows to see what's going on.
But you will be carrying the cat so you need to make sure there is plenty of padding in the right places, and that any shoulder or chest straps are adjustable to get a secure fit.
Size is essential – a cat backpack needs to be big enough to fit your fur baby comfortably. If it's too small, their anxiety levels will go up and they will want to escape. So make sure you measure up your feline friend before you buy.
To help you decide on the perfect cat backpack for you, we have put together a collection of the best cat backpacks on the market today.
PetsRadar's pick of the best cat backpacks
Why you can trust PetsRadar Our expert reviewers spend hours testing and comparing products and services so you can choose the best for you. Find out more about how we test.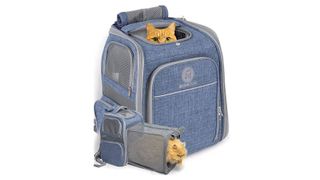 BriskTails Expandable Breathable Cat Backpack Carrier
Best overall cat backpack
Size: up to 15lbs | Dimensions: 17 x 10 x 12 inches | Color: Classic Grey, Jeans Blue | Weight: 4.65lbs | Material: Nylon
Several safety features
Extendable area adds more room
Made from waterproof materials
Comfortable to carry
Not for Maine Coon cat owners
Not airline approved
This cat backpack is smart, safe, and secure with the manufacturers putting a big emphasis on the safety of your pet puss. Born out of a tragedy, this cat carrier has what the manufacturer calls a No-Chance-to-Escape system. This means that you get a backpack with a protective leash inside, self-locking zippers to stop any openings accidentally coming open, and a reflective strip to help you be seen in the dark. For car journeys, there is a strong and sturdy strap across the back of the backpack to securely fasten it to the seatbelt.
Designed for cats weighing up to 15lbs, the backpack measures 10 x 12 x 17-inches, giving just enough room for your cat to be comfortable whether lying down or sitting up on the sturdy plush bottom. This is an ideal size when on the move, as your cat will feel safe and secure. When you stop, you can take full advantage of the neatly stored away expendable area. The mesh extension provides an extra 14 x 12-inch space. Add that to the backpack dimensions and your pet puss has two feet of safe space to stretch out in.
A zippered mesh window sits on top and side of the backpack to ensure plenty of viewing and ventilation options and an almost all-round zipper lets you fold down the front for easy access. And if it starts to rain, you can use the waterproof window cover to keep your fur baby warm and dry until you can get shelter.

Pet owners haven't been forgotten with well-padded, ergonomically designed areas that fit neatly into your back. The strong soft shoulder straps are again comfortable and a chest strap helps reduce strain when walking.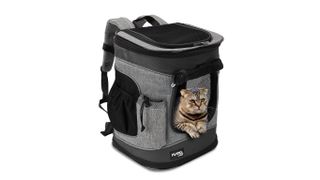 Pawsse Deluxe Pet Carrier Backpack for Small Cats
Size: up to 15lbs | Dimensions: 13.2 x 12 x 16 inches | Color: Black, Charcoal, Light Grey, Navy | Weight: n/a | Material: Nylon
Made from durable scratch resistant nylon
Waist and chest strap for extra support
Choice of colours
Budget-friendly price
Not airline approved
If you want a no-nonsense cat backpack that's budget-friendly but still packs in all the essential features, then this soft-sided cat carrier is for you.
Made from sturdy, durable, scratch-resistant nylon it measures 13.2 x 12 x 16-inches and has a capacity of 15lbs. It's not a big cat backpack, but it's fine for a small to average-sized cat. When they want to take a nap, there's just enough room for your pet puss to curl up and get cozy on the interior plush fleece bed.
It's worth noting that the plush bed is removable and washable, should your fur baby have any toilet accidents, and there's enough room for them to sit up comfortably. A zippered top mesh window can be opened up for them to poke their head out and take a look around. To stop them from jumping out and running off, you can attach your feline friend to the inside lock leash.
There's also a zippered front mesh window that can be rolled up and left open, and a couple of side mesh windows, So your pet puss can get good all-round views as well as plenty of ventilation to keep them cool.
For pet owners, it comes with an extra thick padded back and adjustable padded shoulder straps to keep you comfortable. Waist and chest straps give extra support, while the side pouches and front pocket provide essential storage space.
And when you have finished with the cat backpack, you can fold it flat and store it away ready for the next time you head out for a hike.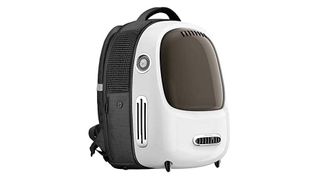 PETKIT Pet Backpack Carrier for Cats
Best lightweight cat backpack
Size: up to 18lbs | Dimensions: 13 x 12 x 17.7 inches | Color: White | Weight: 3lbs | Material: Plastic
Airline approved (but check first)
Lightweight
Smart fan for constant temperature
Large tinted window
Interior light
Power bank to run fan not included
If you want a smart, stylish, and almost futuristic cat backpack, then this carrier from PETKIT is definitely one to add to your shopping list. With a sleek white shell and large window, the design wouldn't look out of place at NASA.
Made for long and short journeys the backpack measures 13 x 12 x 18-inches, has a capacity of 17lbs, and weighs in at 3lbs, the lightest cat backpack in this guide. The manufacturer claims it is airline approved, but it's a similar size to other cat backpacks that aren't, so check with your airline before you go on vacation.
To keep the temperature constant and your pet puss cool, calm, and happy, it has state-of-the-art ventilation neatly combined with more traditional options. An embedded smart fan that sits on the side of the solid front panel can be set to automatically control the airflow.
The large window on the front provides more ventilation and great viewing for your pet puss to stay familiar with their surroundings. It's also tinted to keep out any strong direct sunlight during the day and provide privacy at night. Keeping up the tech features is a touch control night light. Double-tap the controls and it will gently and gradually illuminate the interior so you can take a peek at your pet.
The rear of the backpack is made from a strong, durable nylon material to give more flexibility and comfort when carrying. Strong secure zippers provide the main access point to the backpack, so you need to get your cat in before you can zip up and place it over your shoulders. The straps and back have plenty of padding to give comfort to both you and your fur baby.
A couple of mesh windows provide more viewing options, while a secure side pocket is ideal for storing snacks and the power bank needed to power the smart fan. One downside is that the power bank doesn't come with the backpack, so factor in the extra cost when looking to buy.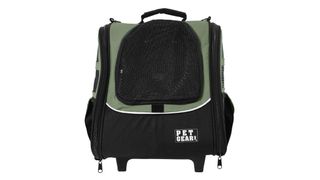 Pet Gear I-GO2 Traveler Dog & Cat Backpack & Rolling Carrier
Best rolling cat backpack
Size: up to 15lbs | Dimensions: 16 x 12 x 15 inches | Color: Black, Sage, Ocean Blue, Pink | Weight: 4lbs | Material: Polyester
Multi-functional
Wheels and extendable handle
Includes a shoulder strap and seat belt loop
Multiple carry options
Not airline approved
Roller frame can dig into back
This offering from Pet Gear is much more than a simple cat backpack that you throw over your shoulders. It's designed as a multi-functional, cat-carrying companion that can give you options when you are out walking, hiking, or strolling through an airport. This all-purpose travel buddy can easily convert into a carrier, backpack, car seat, and roller bag. Pretty much anything you need when you and your pet puss are on the move.
Designed for pets weighing up to 15lbs, it measures 16 x 12 x 15-inches, making it a good choice for all size cats. A large mesh window on the front gives easy access to the backpack. Leave it unzipped to let your fur baby see what's going on.
Alternatively, both sides can be unzipped and laid flat for even easier access. Both have large mesh windows that let in plenty of air and give good visibility, and also have decent-sized storage pockets to keep snacks, toys, and personal belongings.
A seat belt loop makes sure that the carrier is safe and secure when in a vehicle while an interior tether makes sure that you can secure your cat inside the carrier. Out of a car, you can choose how to transport your pet puss. It has a couple of heavily padded shoulder pads that are ideal for hiking and long walks, however, the roller frame can dig into your bag after a while and more padding would be a bonus. For shorter journeys, the detachable padded shoulder strap is a better option. As an alternative, grab the single sturdy top handle for a quick pick up and carry.
An integrated extendable handle and a couple of wheels transform the I-GO2 into a rolling carrier, making it perfect for pulling your pet through an airport or along the street. But it is worth noting that it's not airline approved, so check with your airline before you set off on vacation.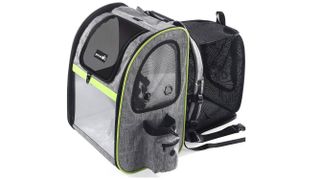 Pecute Pet Carrier Backpack
Best multi window cat backpack
Size: up to 18lbs | Dimensions: 13.3 x 10.6 x 17.3 inches | Color: Black, Blue, Grey | Weight: 3.97lbs | Material: Cationic Oxford cloth
Spacious main compartment
Well priced
Can accommodate cats up to 18 pounds
Acrylic or mesh window options
A lot of zips
Does your fur baby like to see what's going on around them? This backpack has plenty of options when it comes to visibility. The top of the backpack has a zipped skylight mesh window that lets in plenty of air and allows your pet puss to keep an eye on you. It can be rolled back to allow your feline friend to stretch out and stick their head out of the backpack to take in the scenery. Don't panic, there's a built-in retractable hook safety rope to help stop them from jumping out and running away.
Keeping the skylight company are a couple of acrylic windows integrated into the zipped side panels of the backpack. These both have a couple of ventilation holes to let in the air and keep the spacious main compartment cool. It's worth noting that the bottom of the backpack uses a wooden panel to strengthen it. This has padding but can dig into your back after a while.
When you stop, the padded back panel can be extended to create a secure outdoor space, which has a zipped end to let your fur baby out if you want to. A couple of storage pockets can hold their water, snacks, and your mobile phone and wallet.
If the acrylic window backpack isn't what you are looking for and you want something with a bit more privacy, there is a mesh window version available. The design is similar with a top skylight and a couple of side windows. But these are slightly larger and the fixed front window is replaced with a smaller zipped mesh window which offers another access point.
You will notice that there are a lot of zips on this backpack, especially the mesh window model – maybe too many! If one zip fails, the backpack loses some of its functionality.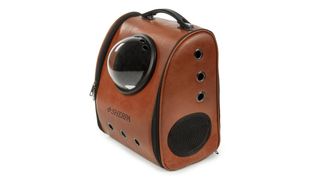 Sherpa Bubble Cat Carrier Backpack
Best stylish cat backpack
Size: n/a | Dimensions: 14.57 x 13.78 x 6 inches | Color: Brown | Weight: 3lbs | Material: PVC
Smart and stylish
Interchangeable windows
Strong secure zips
Removable and washable liner
Not cheap
Only available in brown
If you want to look smart and stylish while on the move with your fabulous feline friend, then this cat backpack is one for your shopping list. It looks so much more than a cat backpack. Its faux leather material gives the impression of a fashionable branded bag that sits comfortably next to a well-dressed owner.
But it's not all style. There is plenty of substance to this cat backpack as well. Measuring a spacious 14.57 x 13.78 x 6-inches, it is an ideal backpack for smaller cats. There's easy access for your pet puss thanks to the sturdy zipped sides. Both sides are accompanied by a couple of zippers that extend to the bottom of the side panel, allowing the whole panel to lie flat.
Your feline friend won't need to squeeze in, they can simply walk straight in and get comfortable on the soft high-quality removable mat. This is easy to get out and wash should they decide to do their toilet business when on their travels. Bring both the zippers together and you have a steady and secure side panel that will stay shut.

Both sides incorporate plenty of ventilation with a large mesh panel at the bottom and three open reinforced holes to let the air in. The mesh panels allow your pet puss to look out when lying down, but we would have liked to see one of the sides have a top mesh window so they get more visibility when sitting up. However, the front panel has a head-sized window with a couple of options. There's a bubble window with ventilation holes for greater viewing angles, so your cat can see more. Alternatively, this can be swapped out for a flat window.

Soft, fully-padded shoulder straps make it comfortable for longer journeys, but a single sturdy handle on the top of the backpack gives more portability options when needed.
How to choose the best cat backpack
Size matters
There's nothing worse than a backpack that is a squeeze for your pet puss. It will be uncomfortable and raise anxiety levels, meaning they will simply try to get out of the backpack at the first opportunity.
Measure your cat from head to base of tail for length and height, as they won't need much more room than their actual size. If your fur friend is going to be in the backpack for a long period, think about getting one with an expandable area to give them more room.
You'll also need to factor in weight to make sure that the backpack is strong enough to hold them comfortably. The average cat weighs between seven and 13lbs and most backpacks in this guide have a capacity of up to 15lbs with a few up to 18lbs.
Durability and security
The material of your chosen backpack needs to be durable but comfortable. The majority of the material should be scratch resistant, though mesh windows are prone to get caught in your cat's claws and more likely to rip. But if your cat is happy in their backpack, they are unlikely to claw at it. Also, think about the bottom of the backpack. Is the material removable and washable in case your fur baby does its business while inside?
Alongside a sturdy and durable material, you need to consider how secure any openings are. Are the zips lockable? If not, do they stay in position? Is there a clip on the inside or outside to clip on a leash so that your fur baby can't run away?
Comfort (for cat and owner)
Make sure that there is plenty of ventilation in the backpack you buy. Ideally, you need side and front or side and top holes to let the air in. If there aren't any air holes, mesh windows provide plenty of ventilation. This helps keep the temperature steady and stops your pet puss from overheating.
For pet owners, check out how well padded any shoulder straps are. Is there a chest or waist strap for extra stability and comfort? Are they adjustable to get the perfect fit? Remember, a backpack needs to be comfortable for both you and your cat.
Get the best advice, tips and top tech for your beloved Pets
Steve Jenkins is a freelance content creator and long-time journalist with more than 20 years in the industry. He has written for numerous titles covering tech to pets, with his latest faithful hound always by his side. When not walking his dog, or discussing who's best - cats or dogs? Loud guitars, AFC Bournemouth, Photoshop, and trying to save the world take up the rest of this time.