How far can a puppy walk?
Wondering how far can a puppy walk depending on their age? We've asked a vet for the answer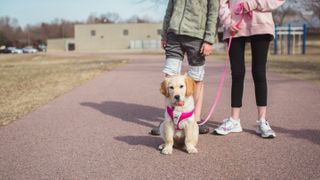 (Image credit: Getty)
If your puppy has received its final vaccination and is cleared for walks by your vet, you might be confused about how far can a puppy walk. After all, you want to pack in as much socialization as possible for your new pup. Being able to take your puppy to lots of new and different environments is really important for helping it to grow into a confident, happy dog. However, your puppy's developing bones and joints mean that you have to be careful about how far exactly you can walk it.
While you can entertain your puppy with one of the best puppy toys indoors to help tire it out, this is no substitute for good socialization. So, how can you balance giving your puppy enough time outdoors with ensuring that you don't impact their health?
We asked veterinarian Jo Woodnutt for her guidance on how far a puppy can walk according to its age and vaccination status.
Joanna Woodnutt qualified as a veterinarian from the University of Nottingham where she then went on to practice companion animal medicine in the Midlands. She really took to the consulting side of things and helped clients with medical problems such as dermatology, behavior and nutrition. Joanna also shares her expert insights regularly with PetsRadar.
How far can I walk my puppy?
There's a good chance that you may have heard of the common 'five minutes for every month' rule. This essentially states that you multiply five minutes by how many months old your puppy is and this will be the amount of time you can walk your puppy for. So, if your puppy was three months old, then they'd be able to walk for 15 minutes. Four months would be 20 minutes, and so on.
However, is this common advice actually true? Veterinarian Jo Woodnutt says, "The 'five minutes for every month' rule is considered a rule of thumb by many, but it's not backed up by studies, and vets are divided on the matter. The important thing is to be sensible. Dogs need time to build up their muscles and their endurance."
Jo continues, "An eight-week-old puppy shouldn't be going for mile-long walks, it's too much, especially when coupled with the onslaught of experiences they're having at the same time – new experiences such as mud, trees, pavements, rustling bushes, and other pets can all add to their mental strain and make them overtired.
"While the five minutes per month rule isn't ideal, it's a good starting point to help you consider what's appropriate. Ten minutes for many eight-week-olds will be fine – and many will be okay with 15 minutes, as long as it's slow walk. However, a 20-minute walk is likely to be too much if they're moving the whole time. Don't forget you can repeat the exercise several times a day – 10 minutes five times a day will be much better for them than one 50 minute walk!"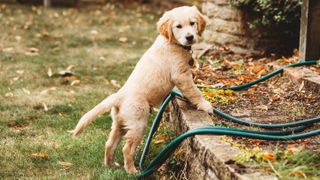 So, essentially, while the 'five minutes for every month' rule might not be backed up by research, it can be used as a rough guideline for those that want to ensure their puppy doesn't overexert themselves.
You might be wondering whether there's a physical distance limit that you can use instead of a time limit. However, Jo says that while "physical distance is probably more useful than time, since most people aren't measuring the distance they're walking, it's not a useful limit day-to-day. The suggestions given above are for a steady walk – if your dog is running, you might want to do less time. If your dog is stopping every few paces for a sniff, you might decide to walk for longer than 10 minutes."
Does exercise always have to be outside?
If you have a little whirlwind of a puppy that seems to need constant play and attention, you might be disappointed to learn that you can't take them on a big, long walk to get out all of their excess energy. However, there are plenty of things you can do to tire out your puppy that doesn't involve walking them outside.
Lara Sorisi, an APDT-certified trainer and a championship gundog trainer, recommends driving your puppy to new places, such as supermarket parking lots, to just sit and watch the world go by, "Like humans, dogs like to people–watch. Being able to see the world from a controlled zone such as a car trunk is a fantastic way for them to get used to new environments. It can actually be a form of enrichment that's just as stimulating as a proper walk."
However, you don't even have to leave the house to give your puppy exercise. Playing with your puppy, giving it an enrichment toy such as a stuffed Kong or a lick-mat, and even doing some obedience training is a fantastic way to tire your puppy out.
What age can puppies go for a walk?
We can't give a definitive answer on what age puppies should be before they can go for a walk, as it will depend on when they're fully vaccinated – which itself depends on what type of vaccines they're given and when the first vaccine was given.
Jo says, "It's very important your dog is fully vaccinated before they meet any dogs whose vaccination status is unknown, or before they go into an environment where an unvaccinated dog may have been."
She continues, "Which vaccinations your puppy will receive will depend slightly on your area, but in general, your dog will need a distemper, hepatitis, and parvovirus shot, and possibly a rabies shot, with a second dose repeated a couple of weeks later. Your vet is the best person to explain your dog's vaccination needs as it will depend on location, current disease trends, and your dog's environment and upbringing."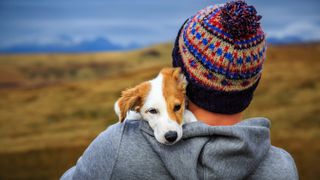 Tips for taking a puppy on a walk
One of the most important things for new puppy owners to remember is that distance is your friend. While you might have heard that socialization is super important for your puppy, there can be some misunderstandings about what this actually entails. Many owners assume that this means that their puppy should meet as many dogs as possible, but this can actually overwhelm the puppy and even potentially cause reactivity issues.
Lara says that puppy owners need to be "aware of how much distance you've created from the new environment. If you get too close, you'll risk creating a stressful situation for your puppy." Instead, try to give your puppy the opportunity to see, hear and smell as many new things as possible, with enough distance to keep them calm and comfortable.
Another important tip is to make sure that your puppy is wearing a correctly-fitted v-shaped harness and lead (a v-shaped harness is designed to prevent choking if your puppy pulls). We would also recommend taking some of the best puppy treats with you and rewarding your puppy whenever they interact with you in whatever new environment they're exploring.
To tackle loose-leash walking, important leave-it and drop-it commands, and other key walking training, we would recommend finding a trainer from an accredited organization such as APDT, CCPDT, or CAPBT. Lara says, 'When it comes to going to a professional, it's important that they have a really good knowledge of behavior, learning theory, and body language." Going to a certified trainer means that they've been rigorously trained and tested on their ability to train dogs, so you'll be setting yourself and your puppy up for success.
Looking for more advice? Here's how to stop puppy food aggression.
Get the best advice, tips and top tech for your beloved Pets
Louise Carey is a freelance writer and the Editor of sister website Top Ten Reviews. She has been working in publishing for seven years, contributing to publications including The Independent, TechRadar, Digital Camera World and more. As the proud pet parent of a reactive border collie with a food allergy, it's been necessary for Louise to explore a variety of fun and exciting ways to enrich an energetic dog that can't always go on walks. She's passionate about sharing the information she's learned to help other pet owners as well.