Choosing safe chew toys for dogs: A vet's guide
Our furkids have an innate need to chew, but how do you choose safe chew toys for dogs?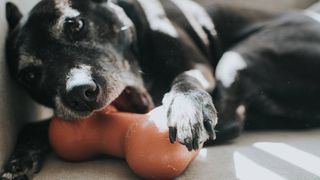 (Image credit: Getty Images)
Dogs are notorious for getting into trouble, so choosing safe chew toys for dogs is important. Poorly made chew toys can cause gut blockages, dental damage, and mouth injury amongst other things; a recent study showed that 1 in 25 dogs needed veterinary treatment due to a problem with chewing material.
With a wide range of interactive dog toys hitting the market each year, including chew toys and bones, it's getting harder and harder to tell what's safe, and what isn't. Let's take a look at vet-recommended dog chew toys, and those to avoid.
The importance of chew toys for dogs
The first question to answer is whether dogs need chew toys at all. Vets and behaviorists agree that chewing is a natural behavior that dogs should be allowed to express. Whilst not every dog will want to chew, many will enjoy gnawing on a bone or bone-substitute. It's thought that being able to express this natural behavior is good for dogs.
In fact, one study showed that shelter dogs enjoyed a chew toy more than other toys, and that it encouraged them to move around rather than remain stationary. In fact, chewing behavior is thought to be so important that the guidelines for keeping laboratory dogs recommend provision of chewable objects.
Of course, we can't ignore the possible benefits on dental health of chewing. Studies have shown that several types of dog chew reduce plaque and tartar, including rawhide, specially-designed chew sticks, and raw beef bones.
Either way, it's pretty clear that if your dog enjoys chewing, giving it an appropriate object to chew is a good idea. It's not uncommon for dogs that don't have access to good chews to end up using other household objects, such as slippers, furniture, and remote controls.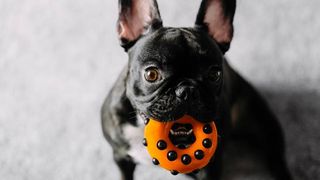 What makes a safe chew toy for dogs?
The ideal characteristics of a safe chew toy for dogs includes:
Tough and long-lasting
Available in a range of sizes to suit each dog
Completely and quickly digestible, in case of swallowing
Not harder than dental enamel
Contains no harmful chemicals
Attractive to dogs (tastes/smells good, right texture)
Doesn't splinter into sharp pieces
The problem with this 'wish list' is that no chew toy perfectly fits – and it's possible that one never will. Toys that are tough and long-lasting are not likely to be quickly digestible if they're swallowed, or they'll be harder than dental enamel. Trying to find the perfect dog chew can be a little like looking for leprechaun gold!
So what safety information can you look out for? Firstly, you need to work out if the chew is intended as a toy (i.e inedible) or as a treat (i.e edible). If it's edible, you need to look into how digestible it is, and whether it's likely to form a blockage. If it's designed as an inedible chew, it needs to be big enough and strong enough that your dog can't break off small bits to swallow.
What is the safest thing for dogs to chew on?
There are a huge range of products out there for dogs to chew on, with new additions each year. It's safe to say that there are no chew toys that are 100% safe for dogs. However, some are better than others. And, to complicate matters, which chew toy is best (and safest!) for your dog will vary depending on your dog's breed, jaw type, and chewing style. The following sections will detail how to choose the safest dog chew toy for your pooch.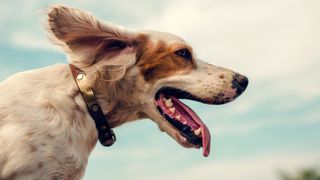 What chew toys do vets recommend?
If you ask a large group of vets whether they've seen problems with a particular type of dog chew, there will always be at least one vet who can tell you a dog chew horror story for each type and brand. Whether it's Nylabones, Yak milk chews, raw beef bones, rawhide, or even bully sticks – we've seen accidents with all of them. But the benefits of chewing are important, too, and in the end most vets would agree that you should give your dog something to chew, but be aware of the risks and monitor them carefully.
So, what are the risks of each edible dog chew and dog chew toy? The advice below is compiled from responses received from 130 vets:
Nylabone - these can be too hard for some dogs, causing them to break their teeth whilst chewing. Others swallow them, causing an obstruction. However, they're very long-lasting in most dogs. Find out more about the safety of Nylabones in our vet's article.
Yak Milk – a very hard chew made from processed milk, these are digestible but only if small slivers are swallowed. Large chunks can cause an obstruction and need surgical removal. There's also a concern that they're too hard for teeth and cause fractures.
Raw bones – High chance of contamination with harmful bacteria that can cause disease in your dog and/or your family. Need to be large enough and strong enough that your dog can't break into splinters, but not so strong that it breaks teeth – a difficult balance! Contrary to common opinion, is not completely digestible and can cause a blockage, sometimes building up over months. Bones with a large marrow can also become stuck around the lower jaw, requiring surgical removal.
Rawhide – falling out of favour due to chemical manufacturing process. If large chunks are swallowed, rawhide can cause blockages as it isn't digested quickly enough.
Dried tripe/bully sticks/ostrich tendons/ pigs ears etc – Bacteria can thrive on these dried edible chews, at risk to your dog's health as well as your family's. As long as chewed thoroughly, these are (usually, but not always) sufficiently digestible to cause a blockage, although many vets report operating to remove undigested pigs ears causing a blockage.
Rubber Kong – if the wrong strength of rubber is used, or the rubber perishes over time, it's easy for these to break into pieces and be swallowed, causing an obstruction. The correct size toy needs to be used to prevent swallowing whole.
Antlers – not advised by vets as these are too hard and cause teeth to break, requiring surgical removal.
Hooves – Not quickly digestible, so a risk if large pieces are swallowed. May be too hard for teeth, causing fractures.
Wooden chew – some types of wood splinter less than others, but splinters causing mouth damage and impacting between the teeth causing gum disease are both possible.
How to choose safe dog chew toys for your pooch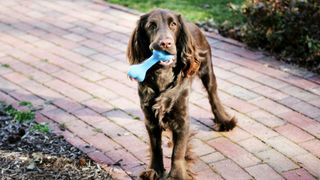 Now you know some of the benefits and some of the risks, hopefully you're in a better position to choose some safe dog chew toys for your furry friend.
1. Consider your dog's size and breed
Firstly, think about what your dog is like. Are they a greedy-gut, likely to swallow anything small enough and risk a blockage? Are they a breed known for having strong jaws? If they have very strong jaws and are a risk for swallowing anything, you'll want to head more down the hard rubber toy route.
You may also be able to use a highly-digestible dried treat, but that will depend how much they'll chew before swallowing. On the other hand, if you have a small breed dog with weaker jaws and who is more of a nibbler, you'll want to choose something that isn't going to splinter into small bits or break their tiny teeth. If you don't know, start them on the safest possible option – like a VOHC certified dental chew – and watch what they do.
2. Choose a reputable brand
Secondly, look for a reputable brand. This is not an area where you want to compare prices and choose the cheaper product – you need good quality, from a brand with a reputation to protect.
3. Supervise at all times
Once you've decided on a dog chew, you'll need to supervise your dog closely when they're using it. That means in the room, and with eyes on your dog – at least the first few times. Don't give your dog a new chew just before you leave the house for a few hours – you need to know if they like it, if they swallowed it whole, how long it lasted, and whether they've damaged anything whilst chewing. Many vets occasionally feed the 'risker' treats, but under strict supervision, removing the chew once it becomes too small or damaged.
Should you use chew toys for dogs?
There are no completely safe chew toys for dogs, but that doesn't mean you shouldn't use them. It's all about balancing the possible risks against the possible benefits to your dog, and then doing what you can to minimise the risks. If you're unsure, talk to your vet, who will be happy to share their experiences with a range of dog chews!
Get the best advice, tips and top tech for your beloved Pets
After graduating as a veterinarian from the University of Nottingham, Dr Joanna Woodnutt went on to practice companion animal medicine in the Midlands. She quickly developed a love of consulting and helping clients with medical problems such as dermatology, behaviour and nutrition - anything that involved helping clients understand their pets better. Jo started writing about pet health in 2017, realising that it meant she could help even more pet parents. Since then, she has written for countless online and print publications and is a regular contributor for Edition Dog Magazine. Jo now lives in the Channel Islands with her husband Ian and terrier Pixie, and they are expecting their first child very soon.