Best cat brushes: Ensure your cat's coat remains shiny and healthy
A cat needs more than a lick of its own tongue to keep them looking their best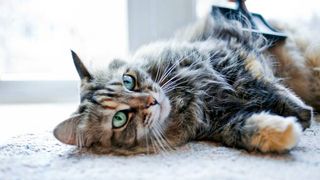 (Image credit: Getty Images)
Choosing the best cat brushes is no easy task given the sheer number that are vying for your attention. But since you'll want to ensure your feline friend is free of tangled and matted hair, it's a decision you will have to make, particularly if your cat has longer fur and, therefore, needs more regular grooming.
For the most part, a good brush is all you'll need since cats are natural groomers and here we take a look at the best of them. Each one aims to maintain your cat's hair with the minimum of fuss and pain, heading off potential problems such as hairballs or loose strands appearing across your furniture, carpets and clothes.
Some brushes are more suited to short hair and others are better for long. Shedding can certainly be kept under control, however, by removing loose top hairs and keeping the rest dematted, untangled and clean. Regular brushing can also help you spot and deal with problems such as the condition of your cat's skin and the potential presence of fleas, but be sure to arm your feline with the best flea treatments for cats to prevent the onset of these pesky parasites in the first instance.
PetsRadar's pick of the best cat brushes
Best overall cat brush: JW GripSoft Cat Slicker Brush
Best for decreasing shedding: FURminator Long Hair DeShedding Tool for Large Cats
Best for detangling hair: Thunderpaws Pet Dematting Rake
Best glove cat brush: Kennels & Kats Pet Grooming Glove Set
Best fine hair cat brush: Odosalii Cat Dematting Comb
JW GripSoft Cat Slicker Brush
Brush type: Slicker | Cat hair type: All | Material: Stainless steel
Gentle teeth for comfortable brushing
Easy-to-grip design
Simple to clean
Slicker brushes can split hair
Slicker brushes are designed both to remove dirt and get rid of mats, tangles and knots, sliding over fur and ensuring an even coat. The JW GripSoft Cat Slicker Brush is particularly ideal for those quick once overs of your feline friend and, because it has flexible stainless steel tines – slightly-angled and mounted on an air cushion – it makes for a more gentler brush than some others can be.
It certainly promises to keep skin irritation to a minimum – a concern when you're using these types of brushes. It's also a nice-looking product with its colorful, easy-grip handle and sleek design, making it comfortable for you to hold and control, ensuring you're not putting too much pressure on your cat as you brush in the direction of their hair growth.
Many pet owners say their felines keep coming back for more once they've experienced a brushing with the product and they report that it works well in keeping a cat's hair in great condition. While this is to be expected because slicker brushes spread a cat's natural oils across the fur, the JW GripSoft Cat Slicker Brush is also able to remove the finest of hairs for a thorough grooming.
FURminator Long Hair DeShedding Tool for Large Cats
Best for decreasing shedding
Brush type: Moulting | Cat hair type: All | Material: Stainless steel
Removes lots of dead hair
Works fast and efficiently
Releases hair with ease
A little more expensive
So you've arrived home and there it is: a hairball vomitted on to your carpet. As cat owners know, this is due to your feline friend licking their hair to such an extent that it's become lodged in their stomach and this can potentially make your cat ill. There's only one solution – regular grooming – and, in this regard, the FURminator Long Hair DeShedding Tool will aid you well.
Although there are other product by FURminator aimed at cats of different sizes and length of hair, this one is designed with long fur in mind. The manufacturer claims its device will not only reduce hairballs but decrease shedding by up to 90 percent, doing so using a stainless steel edge that is able to get deep beneath the topcoat of your cat.
This allows the tool to tackle the undercoat's fur as well as any loose hair without causing damage to the coat or the skin. And since it's also stimulating the natural oils, it will, as with most brushes, also ensure a shiny coat. One feature that caught our eye is the so-called FURejector button which releases any gathered hair with a single press. It also comes with a 30-day money back guarantee.
Thunderpaws Pet Dematting Rake
Brush type: Rake | Cat hair type: All | Material: Stainless steel
Cuts through matted hair with ease
Proves less painful overall for moggies
Is effectively a two-in-one brush
Some users say the comb can still catch
Brushing through matted and tangled hair can be painful for cats, in the same way that it's often agonizing for humans with long hair. It can tug at the strands and pull fur from the skin, but this product from Thunderpaws can help avoid all of that by cutting through the troublesome patches using an array of stainless steel teeth.
Claimed to be designed by experts, the Dematting Rake is definitely better for pets with extreme tangling. Left for too long, the alternative can be to shave the coat but this method is much more gentle thanks to its use of rounded edges. The tool can glide over the skin rather than scratch it and cause irritation. The rake is also a two-in-one device. Use the side with 17 teeth as opposed to the one with nine and you can also de-shed a cat.
Having a wider head has benefits too, speeding up the job in hand which is particularly useful given how restless a cat can become. You can also rest assured that you're not going to slip or lose control because the non-slip rubber handle lends a solid grip. Users have suggested they can aid a matted cat in just a few moments. It can really get down into the fine undercoat and work some magic.
Kennels & Kats Pet Grooming Glove Set
Brush type: Glove | Cat hair type: All | Material: Silicone
Universal fit
Comes in a presentation box
Comfortable to use
Too big for some users
Just one glance at these gloves was enough to put them on the "must have a pair of those" list. Not only do they look very cool in and of themselves, they even come in a beautifully-presented box accompanied by a ziplock bag so you can store your gloves away neatly when you're not using them.
With such a good looking package, there is always a danger that they represent style over substance but thankfully these gloves have been created firmly for the task in hand. They use tough, flexible medical grade silicone covered in 260 tips that are said to be of the optimum length for brushing away unwanted hair. K&K also says the gloves will gently massage your cat.
So which size should you get? Well, the manufacturer has only one pair and it says they are designed for all hands. Some users beg to differ, however, saying they're too big but they do have an adjustable velcro strap so you should be able to secure them around your wrist. The quality of the elastic spandex fabric and breathable mesh cloth should ensure a comfortable fit. The gloves are also machine washable and can be used during your cat's bath times.
Odosalii Cat Dematting Comb
Brush type: Comb | Cat hair type: All | Material: ABS
Comes in different colors
Has long comb teeth
Not the best for long hair
May not be as solid as other brushes
Although there are simple combs on the market, they're not going to be as comfortable to hold as this one. The distinctive shape of the curved handle is practical since it allows you to slip your fingers in for a firm grip. You can then go to work on your cat using the hooked teeth of the comb which, at just under an inch in length, can lie deep within the hair to remove loose strands.
The Odosalii also massages a cat too, helping their blood to circulate as it works on removing tangles and dead hair. It won't irritate the cat's skin and your feline friends should enjoy the sensation of it moving their fur. If you use it regularly, then it should keep the coat in tip-top shape but be way of putting too much pressure on the comb. One user said the prongs are easily snapped.
Still, it's an inexpensive buy and while it may not be as effective on cats with thick hair as some of the other brushes we're looking at here, for cats with short, thin hair, it should do a great job. Perform a series of short strokes and it will remove lots of hair without getting stuck.
How to choose the best cat brush
The cat brush you choose will depend to a great extent on your cat's hair type. In general, a basic bristle brush can keep a cat's hair shiny and in good shape but if their fur is knotted and matted, then you'll want a brush, comb or both that can better glide through: brushes with shorter bristles work better in these situations.
Best cat brush for short hair
Short-haired cats are less likely to have tangled hair, but they still need a good brush down now and again to keep their coat in tip-top condition.
A great option for a cat with short hair is the glove brush which offers an intimate and convenient way to bond with your feline by grooming without irritating their skin. A bristle brush is also an excellent choice, as it offers a soft enough surface on their fine fur whilst still keeping hair soft and shiny. You'll generally want to avoid a pin brush as these can be too rough on short coats where the skin is closest to the brush.
If your cat has particularly coarse hair, you'll want to consider stiffer bristles on your bristle brush.
Best cat brush for medium hair
A combination of a slicker brush and comb can be a wise idea for medium coats liable to matting. A comb can detangle the knots, while slicker brushes are the best for all-round hair care for medium locks, helping to detect loose fur in the first instance.
A dual-sided brush is also ideal for short to medium-length coats, offering the flexibility of a fine teeth on one side and a soft bristle brush on the other. You could also try a bristle brush, which is a good one to have in your grooming supplies as a brush type that works well with all coat types.
Best cat brush for long hair
With plenty of fluff to tame, cats with long hair need plenty of grooming to reduce hairballs and save your home from fur all over your furniture.
A slicker or a bristle brush is a classic choice for removing dirt and loose hair on long-medium haired cats, while The FURminator from our list is a good option too.
Alternative choices include a pin brush that can untangle knots if your cat is particularly prone to matted hair, while specific kinds of comb can help too. Try a molting, steel or butter comb to glide through your kitty's locks with ease.
Get the best advice, tips and top tech for your beloved Pets
Thank you for signing up to Petsradar. You will receive a verification email shortly.
There was a problem. Please refresh the page and try again.