Best parrot cage: Get a first-rate home for your feathered friend
Choose the best parrot cage for your bird and let them live in style and comfort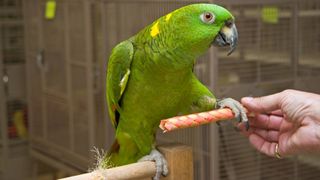 (Image credit: Getty Images)
The best parrot cages offer the perfect place to provide safe and secure surroundings for your pet bird. But at the same time they will give your pet parrot some freedom and fun, and take care of their welfare and well-being. Their natural instinct is to fly, so you need to make sure that their new home is big enough to let them move from perch to perch and enjoy their space.
Size is the most important consideration when buying a new cage. Too small and your bird will get stressed out, which isn't good for their health. Bigger is effectively better, the more room your feathered friend has to move around in, the happier they will be in their home. But you can't forget what is made of, or importantly what the cage is coated in. It needs to be non-toxic and durable, as some parrots love to have a chew and if any coating comes off and they swallow it you could be facing an unwanted vets bill. But don't panic, nearly all cages are pet-safe.

A happy bird is your first priority but you need to think about yourself as well. How easy is the cage to move? How easy is it to clean? What accessories does the cage come with? Are they good quality accessories? Make sure to check out this guide to help you get answers to these questions and help you make the right choice when choosing a parrot cage for your feathered friend.
PetsRadar's pick of the best parrot cages
Why you can trust PetsRadar Our expert reviewers spend hours testing and comparing products and services so you can choose the best for you. Find out more about how we test.
Yaheetech 52-inch Wrought Iron Standing Large Flight King Bird Cage
Size: 31.1 x 20.4 x 52 inches | Color: Black | Weight: 37.5 pounds | Material: Metal | Accessories: 4 x Plastic Feeders, 3 x Wooden Perches | Bar spacing: 0.6 inches
Fours wheels make it mobile
Anti-rust paint
Attractive finish
Includes four feeders
Slide out tray for easy cleaning
Not for large parrot breeds
Need a strong sturdy cage that is going to last as long as your bird? Of course you do and this bird cage is definitely one that you should be putting on your shopping list. It has a strong metal frame made from premium wrought iron that is coated with pet-safe, durable anti-rust powder paint in a good-looking silver anthracite finish. And four hard-wearing swivel casters make it easy to move from room to room, or outside to add a little variety to your feathered friend's life.
From floor to cage top the frame measures 31.1 inches wide by 20 inches deep and 52 inches tall, so you'll need a decent amount of space for it, but it will happily fit in a recess. The cage itself is a little smaller, it retains the same width and depth, but its height comes down to just over 3 feet. While it's considered a large bird cage by its manufacturers, it's not ideal for large parrot breeds.
It is more suited to small and medium size breeds. You don't need to worry about your bird escaping through the bars as it has a sensible 0.6 inches gap between its non-toxic powder-coated metal wires. This extends to the bottom of the cage so the wire stands just above the slide out sand tray.
This makes for quick and easy cleaning for you and stops your bird walking in their own mess. Two doors on the front of the cage make for easy access to the cage and your bird, but they are secured with two strong latches to keep your bird safe and secure. As an extra precaution - if you need it - there is also a chain to restrict how far the door opens.
BestPet Bird Cage
Size: 18 x 14 x 61.85 inches | Color: Black, White | Weight: 10.3 pounds | Material: Iron | Accessories: 1 x swing, 4 x wood perches | Bar spacing: 0.4 inches
Good price
Easy to move
Two colors
Open top design
Only for small breeds
Self assembly
If you don't want to spend too much, but still want something that will make an ideal home for your parrot then this budget-busting cage could be just what you are looking for. Although you will need to assemble the cage before you can use it. Thankfully the necessary tools, hardware - and instructions - are included, so it will be up and running in no time.
Available in black or white you can color match the sturdy and durable 64-inch frame to fit in neatly with your home decor. The cage sits on top of a set of four legs with wheels to make the cage easy to move to anywhere you want indoors or outdoors. And it is easy to separate from the legs if you ever want or need to. Unclip the buckles and use the two handles on top of the page. The legs also incorporate a metal grid shelf which is ideal for storing food, toys and anything else your featured friend might need.
The cage itself is not quite as large as you might expect, it's tall and thin and at just over 33-inches it is just over half the total height of the cage and legs combined. Add its 18-inch width and 14-inch depth and it's only really a home for small parrot breeds such as Lovebirds, Parrotlets and Budgerigar. It has three doors, the standard two front doors, which give easy access to get in or out and its open top design offers a third on the top of the cage. A perch can be added to give your bird a bit more freedom and a place to rest. This is one of four wooden perches and for even more fun there is a swing included.
Finally, for easy cleaning there is a plastic pull out tray for you and a removable grate to keep your pet parrot clean, but the plastic tray isn't a long life tray.
Yaheetech Iron Roof Top Bird Cage Iron Roof Top Bird Cage
Size: 18 x 13 x 38 inches | Color: Teal, Almond, Black, Light Grey, White | Weight: N/A | Material: Metal | Accessories: 2 x toys, 1 x ladder, 1 x swing, 4 x plastic feeders | Bar spacing: 0.4 inches
Smart feeding doors
Toys, ladders and swing
Five different colors
Large front doors for easy access
For small birds only
If you want color, a different design and peace of mind for you and your pet parrot then this cage from Yaheetech ticks all the boxes. The cage is specifically tailored for small birds, so no good for medium or large breeds. But it is perfect as a comfortable and cozy habitat for Zebra Finch, Canary, Parrotlets, Java Finch, Lovebird, Budgie, Senegal Parrot, Green-cheeked Conure, Sun Parakeet, Cockatiels and similar.
Made from coated metal wiring the cage is strong and sturdy but doesn't have the strength of a metal framed cage. But the downgrade is reflected in the price and the cage is still fit for purpose, coated in a durable, non-toxic paint. And, if black and white - the typical color choices - don't meet your needs or you just want something a bit more exciting, there's another three colors in the range including the very likeable Teal Blue.
A special roof design - similar in shape to a house - gives a little extra headroom for your feathered friend when going back and forth on the supplied swing. It also gives your bird a sense of privacy and security. Adding more fun and frolics to playtime there is a 25-inch ladder and a couple of toys to entertain. All of these are easy to access thanks to the two large front doors which clip shut and stay secure. But for added convenience there are four smaller feeder doors that slide up so you can slip in some tasty treats into the supplied plastic feeders, without scaring your bird or them trying to escape.
Yaheetech Extra Large Bird Cage
Best extra large parrot cage
Size: 31.9 x 18.3 x 69 inches | Color: Black | Weight: 47.7 pounds | Material: Metal | Accessories: 1 x parrot bungee rope, 1 x ring bell | Bar spacing: 0.4 inches
Extra large
Three levels
Strong, sturdy, heavy duty metal frame
Slide out bottom grill and tray
Pricey
This cage has got it all going on, especially if you have more than one bird that you want to house. When it comes to bird cages bigger is often better, it gives more room for your feathered friend - or friends - to enjoy and the extra space is great for their well-being and this cage has plenty of it. But, it's not an impulse buy with a hefty price tag, but at the same time it's good value for money if you need a cage this big.
A strong, sturdy, heavy duty metal frame houses three levels, each with its own platform and a ladder to connect if your bird feels like a walk rather than a fly. The cage measures an impressive 51-inches in height, is 30 inches wide and nearly 20 inches deep. Add in its detachable wheeled stand and it reaches to over five feet. So make sure that you've got enough space for this imposing cage. Even though it's big the bar spacing is relatively small at 0.4 inches. So difficult for your bird to escape or get its head stuck.
As you might expect the cage is no lightweight, so like all good cages its stand has four 360° swivel smooth rolling casters, making it easy to manoeuvre when needed. There's a storage shelf as well for keeping your bird's food and accessories neatly tucked away and always at hand.
Two large front doors give easy access to the cage when needed and strong crescent shaped locks make sure that even the smartest bird will struggle to open them when you're not around. You can use the top door to add in the in-cage entertainment in the shape of a ring bell and a parrot bungee rope. Don't worry they won't hit the bottom of the cage.
Your bird's droppings will have a long way to fall from the top, but all are caught in a large metal tray and any platforms or ladders can be quickly removed and cleaned to give your feathered friend a hygienic home.
SUPER DEAL PRO 2-in-1 Large Bird Cage
Size: 18.03 x 17.91 x 32.87 inches | Color: Black | Weight: 45.1 pounds | Material: Metal | Accessories: 5 x stainless steel bowls, 2 x perches | Bar spacing: 0.6-inch
Outdoor entertainment space
Five stainless steel feeding bowls
Strong sturdy construction
Easy glide non-marking casters
Non-toxic powder-coating
No storage tray
Not for large birds
Spacious, sturdy and smartly designed, this metal framed cage boasts all the plus points of a good cage and throws in a few extras that, while not absolutely necessary, will definitely be appreciated by you and your bird.
From top to bottom the cage measures 18 x 18 inches and an impressive 61 inches in height. But those dimensions don't tell the whole story. The cage itself retains the width and depth, but the base version is only 32 inches in height. This makes it ideal for small to medium sized birds including Budgies, Canaries, Cockatiels, smaller Conures and Lovebirds.
However, you can slide out the bottom grille to add around another eight inches to the height. An easily removable seed skirt sits around the bottom of the cage to catch any falling food or debris. This slides down into the removable metal tray for easy cleaning with the added bonus keeping the surrounding floor area clean. But the skirt does add around an extra six inches to the width and depth. So make sure you take this into account when deciding where it is going to go in your home.
There is no storage tray under the cage bottom, but its stand does have easy glide non-marking casters so you can move the cage from room to room or outside. A large front door allows for easy access to the cage and gives plenty of room to get your bird out of the cage without injuring them. A patented bird-proof lock makes sure that the doors stays shut when you close and lock it.
Inside the cage you get a single wooden perch that goes from one side of the cage to the other and three stainless steel feeding bowls. But unlike most parrot cages this cage incorporates an outdoor entertainment space with a ladder, two feeding bowls and a wooden perch to give your feathered friend a little more freedom when they need it.
Prevue Pet Products Travel Bird Cage
Size: 20 x 12.5 x 15.5 inches | Color: White | Weight: N/A | Material: Coated metal | Accessories: 2 x stainless steel dishes, 1 x perch | Bar spacing: 0.75 inches
Portable and lightweight
Folds down for easy storage
Stainless steel feeding bowls and perch
Secured pull-out debris tray
Not for everyday use
Poor carry handle
Is your cage far too big and heavy to lift and get into the back of your car when you fancy a day out or need to visit the vet? Most everyday cages that house your bird in the home aren't suitable for such tasks, so the ideal solution is to invest in a specialist travel cage like the Prevue Pet Products Travel Bird Cage.
This is smaller, portable, lightweight and ideal for any of your short-term travel needs. Short-term is the key word here. This cage is not really suitable for everyday use due to its size. Sturdy and well-designed it measures a respectable 20 x 12.5 x 15.5 inches, making it ideal for nearly every breed of parrot for short periods of time. Larger birds won't be able to spread their wings fully but small and most medium sized birds won't feel constricted at all.
A single decent sized 9 x 9 inch door means you won't stress out your bird when trying to get them in and out of the cage. On top of the cage is an acceptable handle for transportation, though it could have done with a grip.
Inside the cage there's a single wooden perch and two stainless steel feeding bowls, enough for short journeys. An easy pull-out debris tray - with a wire rail stopper to hold the tray in place when in transit - makes for quick and simple cleaning when needed.
And when you have finished with the cage it's a quick and simple process to neatly fold it flat to store ready for the next time you need it.
How to choose the best parrot cage
Get the right size
When purchasing a cage for your parrot, the size is crucial. You don't want to be buying a cage that is too small for your bird. This will stress them out and lead to an unhappy bird. As a general rule a cage should be at least 1.5 times larger than your parrot's wingspan. But bigger is better - at least twice the size is a good choice - as this will give more room for your parrot to move around and the more space they have the happier they will be.
But cages designed for larger birds can have wider spacing between the bars. This means that your bird could squeeze through the gap and escape, or worse, get their head stuck between the bars. So make sure that you check the size of the gap, before you buy a larger than needed cage.
Materials
A cage needs to be strong enough to house your parrot without them destroying it. Most cages are made of iron or steel, both of which are typically sturdy enough to stand up to everyday use. Check if the cage has been treated or is covered in a coating - to stop rust - that is pet safe. Wooden cages are not as sturdy as a metal cage. They typically won't last as long, especially if you have a bird that likes to chew wood constantly.
Easy cleaning
A bird cage will need to be cleaned and the easier that is for you to do the more likely you are to do it. Look out for a cage with a slide out tray, especially if you are looking to get a large home for your parrot. The alternative is a lift off cage which is OK if you have a smaller cage. However, you will need to let your bird out while cleaning.
Useful extras
Wheels are a definite plus on any parrot cage. They make it much easier to move the cage to a new location, perfect to give your parrot a little sunshine or if cleaning, keep the mess outside. If you are going to transport regularly you will need a sturdy handle to make it easier. Check if the cage comes with food and water bowls, if the perches are made of wood or plastic and where the openings are. All these help you choose the ideal cage for you and your bird.
Get the best advice, tips and top tech for your beloved Pets
Steve Jenkins is a freelance content creator and long-time journalist with more than 20 years in the industry. He has written for numerous titles covering tech to pets, with his latest faithful hound always by his side. When not walking his dog, or discussing who's best - cats or dogs? Loud guitars, AFC Bournemouth, Photoshop, and trying to save the world take up the rest of this time.