Best toys for parrots: Keep your feathered friend entertained
The best toys for parrots will keep your bird buddy's mind sharp and their physical fitness in peak condition
Included in this guide:
1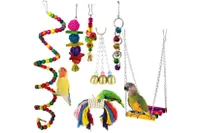 CAMITER
7 Piece Parrot Toy Set
2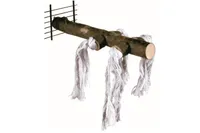 Trixie
Natural Living Perch
3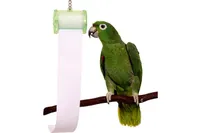 Shred
it! Shredding Toy for Parrots
4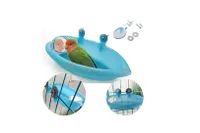 Hanging
Bird Bath
5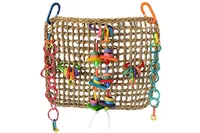 Superbird
Activity Wall
6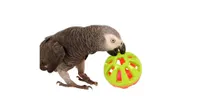 Jingle
Ball Parrot Toy
7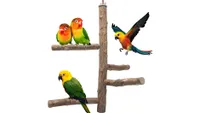 Bird
Perch Natural Wood Stand Toy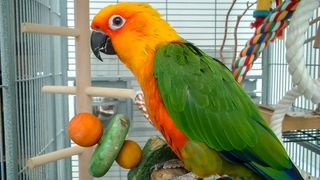 (Image credit: Getty)
Parrots are naturally smart and inquisitive birds, so the best toys for parrots will keep them mentally and physically stimulated. Not only will they offer entertainment but provide regular enrichment to keep them happy and healthy. In fact, parrots are not much different from humans in that they are prone to suffering from depression whenever their minds are not occupied.
However, with so many different types available to choose from, it can often be tricky. It's advisable to offer a variety of toys to challenge them, including activity walls, perches, balls or anything they can chew on. You can also recreate a mini jungle within their living enclosure with fun climbing apparatus to explore, and exciting toys to find and retrieve tasty treats.
In addition, it's best to let them out of their cage from time to time to give them more exploration time. What's more, you can even leave on the television or radio when you're popping out of the house. These will provide plenty of stimulation for your featured pals while you're not there.
If you'd like to know more about keeping a pet bird or are a first-time owner, hop over to our brilliant pet bird tips for inspiration. In the meantime, here are our top picks for the best toys for parrots that will keep them engaged and entertained for hours.
PetsRadar's pick of the best toys for parrots
Best overall parrot toy: CAMITER 7 Piece Parrot Toy Set
Best budget parrot toy: Trixie Natural Living Perch
Best chew toy for parrots: Shred it! Shredding Toy for Parrots
Best multi-functional parrot toy: Hanging Bird Bath
Best parrot toy for smaller cages: Superbird Activity Wall
Best parrot toy for mental and physical stimulation: Jingle Ball Parrot Toy
Best parrot tree: Bird Perch Natural Wood Stand Toy
CAMITER 7 Piece Parrot Toy Set
Type of toy: Chewing, hanging | Material: Wood, metal | Helps with: Stress-relief, mental stimulation | No. of pieces: 7
Great value for money
Super colorful
Non-toxic/environmentally friendly
The bell toy can be unsafe
Too much for a small cage
This is a great-value set including some of the best parrot toys on offer. You really do get a lot for your money with 7 toys in total, including rotational wooden beads, a parrot swing, cotton rope, wooden pendant, copper bells and more. Your parrot will be mesmerized by the beautiful colors of this set and it will keep them entertained for hours. These toys are great for birds to relax and provide mental stimulation while carrying out their natural behaviours such as chewing and pecking.
These parrot toys are made from non-toxic and environmentally friendly materials so they are safe for your parrot, however, some buyers have noted that the small bells may not be suitable for smaller birds as they can easily chew this item and swallow the small ball.
All the toys have metal hooks, which make it easy to clip them on to any cage, and they will brighten up their living space.
Trixie Natural Living Perch
Type of toy: Perch | Material: Natural wood | Helps with: Claws | No. of pieces: 1
Better for claws than plastic
Rope to hang from
Effective yet affordable
Not overly stimulating
Fixing is tricky
If you're looking to make your parrot feel more at home, then this natural wood perch is ideal for their cage. The branch mimics that of a tree branch in the wild, providing a place for your bird to perch and peck. The natural wood is much better for your parrot's claws than a plastic perch, so you'll find them much more relaxed and comfortable with this parrot toy.
The perch is sturdy and also has some hanging ropes which provide some mental and physical stimulation for your parrot to swing and chew. At 25cm in length and 25mm in diameter, it fastens onto your birdcage with a hook and a clip, however, depending on the size of your cage this could be trickier to attach than some, with buyers saying it can wear quite easily over time. For under £2, this is a great budget parrot toy that provides comfort and stimulation in any parrot cage.
Shred it! Shredding Toy for Parrots
Best chew toy for parrots
Type of toy: Chew toy | Material: Plastic, paper | Helps with: Boredom | No. of pieces: 1
Refillable roll
Affordable
Hours of fun
Takes a while to get the hang of
Makes a mess
For those who have particularly mischievous birds, this Shred it! Roll is heaps of fun. Rather than let your bird destroy your home, this small paper roll allows them to peck and pull at this paper, shredding it up in the comfort of their cage without making a mess in your living room.
The plastic roll holder simply clips onto the cage and a thick roll of paper is placed inside, the bird can then pull this paper out from the opening at the bottom, and then the fun begins! Some buyers said this parrot toy can be a little tricky to get the hang of to start with, but once your parrot knows what they're doing (and that they won't get in trouble for shredding), they can play all day and beat their boredom with this simple yet fun toy.
The roll is refillable and you can buy separate paper rolls, which are very cheap. The plastic holder has several holes to help your parrot grip onto it and retrieve the paper, and while you will have to clean out the shredded paper from their cage, at least it's not toilet paper all over your house!
Hanging Bird Bath
Best multi-functional parrot toy
Type of toy: Bath | Material: Plastic | Helps with: Washing | No. of pieces: 1
Keeps birds cool
Doubles as a bird bowl
Has a mirror for entertainment
Could make a mess
Will need cleaning
Quite small
Give your parrot a space to relax and cool down with this hanging birdbath. It simply clips onto the side of the cage and you can fill it with water for them to bathe or play. This bath is made from durable non-toxic plastic which is safe for your bird and it practically fits in any birdcage. You can then unclip it easily to remove and clean.
The bath comes with a small mirror, which can be fun and mentally stimulating for birds to see their reflection, especially if they live alone. Allowing your parrot to bathe is good for their health and hygiene as it clears their feathers of dust and ensures no pests or parasites get stuck to them. Bathing also moisturizes their skin and keeps them cool which is important during the summer months.
When you're not bathing your parrot you can also use this as a bird bowl to put food or water for them to drink. It is easily accessible, but it may be a little flimsy for bigger birds.
Superbird Activity Wall
Best parrot toy for smaller cages
Type of toy: Climbing, chewing | Material: Cotton, wood, vine, cardboard | Helps with: Mental stimulation | No. of pieces: 1
Multiple activities
Super colorful
Different textures
Quite pricey
This parrot activity wall is perfect for keeping a cage neat and tidy while still giving your bird plenty of entertainment. Simply clip this on to the wall or the roof of the cage and your parrots can chew, peck, climb and swing- all of the natural behaviours parrots have.
While this parrot toy may seem expensive, this is one of the best parrot toys 2020 has to offer due to it offering several activities in one. This is worth a few smaller toys, but this activity wall is made of high-quality materials and is designed to last, even with your birds chewing at it.
The different colors and textures provide great mental stimulation to parrots, and all of the materials are non-toxic and bird safe, so you can have peace of mind that your birds are looked after.
If you're not looking to clutter up the cage with lots of toys, then this is the best parrot toy for you.
Jingle Ball Parrot Toy
Best parrot toy for mental and physical stimulation
Type of toy: Ball | Material: Plastic | Helps with: Mental and physical stimulation | No. of pieces: 1
Colorful
Can put treats inside
Easy to grasp
Jingling will annoy you
Your parrot could have hours of fun with this jingle ball that is easy to pick up, roll and chew. It features a jingling bell inside which provides good mental stimulation for your bird, however, this could annoy you after more than 10 minutes (but is a good toy for them to play with while you're out of the house!)
The plastic ball is around 3 inches, making it the ideal size for medium birds to play with. Some buyers noted that their birds were quite keen on destroying it (making it a pricey toy for such a short lifespan), however, when they stuffed treats or shredded paper inside, it became even more fun for them to play with.
This ball could be used on its own either inside or outside of the cage for parrots to chase, or you could attach it to some string and hang it up as a swinging toy for them. If you get fed up of the jingling ball, the two sides screw apart so you can remove it and always replace it with something else, or leave it hollow.
Bird Perch Natural Wood Stand Toy
Type of toy: Climbing, chewing | Material: Natural wood | Helps with: Mental stimulation | No. of pieces: 1
Imitates parrot's natural environment
Can hang toys
Multiple sizes
Some pet owners have trouble with assembly
Ideal for climbing or playing, the Bird Perch Natural Wood Stand Toy provides your bird with the perfect perch. It's created from non-toxic natural wood that's rough enough to be sturdy and enticing enough to help your parrot to exercise and maintain healthy feet, without hurting.
The tree is available in a good few sizes to match most common parrot cages and it offers a pretty spacious area for up to four birds to perch, imitating their natural environment spent with other parrots high in branches.
It's fairly easy to put together; the perch can mounted inside or outside the cage with the screw and disc system, though some bird owners have reported a few issues with the size of the screws being too small for the size of hole.
You can leave it plain and use it as a perch or even hang toys from it to create a foraging tree effect that will keep them entertained for hours.
It's an ideal accessory to sit back and watch your feathered friend hop from branch to branch.
How to choose the best toys for parrots
There are so many different parrot toys on the market today, but every bird is unique so make sure you think about your parrot's unique and individual behaviours before buying them a toy.
If your parrot gets quite restless, then getting them a toy that is going to keep them mentally and physically stimulated will wear them out so they get some rest at the end of the day. Swinging toys and balls are good for this. Colorful toys tend to be more appealing to parrots too, as they are familiar to them, and these can be comforting especially if they are the only bird in the house. Birds with a calmer demeanour may enjoy toys that help them relax such as the perch, the bath or the swing
Education and mental capacity is also important for parrots, and some of the best parrot toys provide a challenge for birds to figure out how they work, like the Shred it! Toy. In having to work things out for themselves, this indulges their curiosity and keeps them creative.
Make sure you consider the space you have available and the size of your pet. Some toys might take up too much room, which is why toys such as the Activity Wall are great to keep the cage spacious.
Sarah is a freelance writer and marketer, covering a variety of topics from lifestyle and fitness to sustainability and travel. When she's not writing, she can be found relaxing with a cuppa and a cute doggo snoozing on her lap!
Get the best advice, tips and top tech for your beloved Pets
Thank you for signing up to Petsradar. You will receive a verification email shortly.
There was a problem. Please refresh the page and try again.