Best toys for pet lizards: Rivet your reptiles with these great distractions
Introduce your reptile to a selection of the best toys for pet lizards, including balls and pool floaties to hammocks and hideaways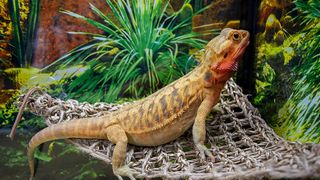 (Image credit: Penn Plax)
The best toys for pet lizards can make a big difference to the life of your reptile. After all, these curious creatures thrive when they're given something fun and stimulating because it taps into their innate desire to explore and engage with their environment.
By buying the right toys, you'll quickly discover that lizards are anything but boring. Some are able to solve puzzles, especially if they involve food, and they can display great nimbleness when the need arises – two things to be considered when making your choices.
Indeed, you simply need to think about how lizards act in the wild. They spend much of their lives touching, examining and climbing, so objects that allow them to do this around your home will go down very well. Reptiles love to hide and burrow in confined spaces, too, so bear that in mind when you're making your decision.
Failing to provide a sufficient number of distractions runs the risk of your lizard suffering from poor mental health. Although there is, admittedly, no firm evidence pointing to depression and other emotional states in reptiles, there is no evidence to the contrary either, and it would certainly do no harm introducing a stimulating environment to these inquisitive creatures.
In any case, owners report their lizards being happier when they are constantly stimulated and this doesn't have to be confined to their enclosure or your home either. Why not take them out for walks on a safe and secure leash where they can explore naturally, detecting and interpreting smells using their forked tongue?
For more information about caring for pet reptiles, check out our bearded dragon care guide. Before you do, though, take a look at our wide range of best toys for lizards that not only encourage them to be active but also allows them to take some time out and relax.
PetsRadar's pick of the best toys for pet lizards
Why you can trust PetsRadar Our expert reviewers spend hours testing and comparing products and services so you can choose the best for you. Find out more about how we test.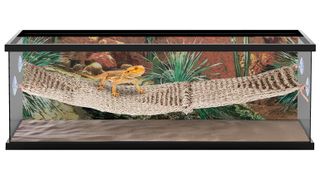 Penn-Plaxx Lizard Lounger
Best overall toy for pet lizards
Specifications
Enrichment goal:
Lounging
Reasons to buy
+
All-natural material
+
Low price
+
Can be placed at multiple angles
Reasons to avoid
-
Suction cups can lose their power
If there's one thing we know about lizards, it's that they like to lounge, and they can do it in style in this quality hammock. Environment is one of the first things you need to get right for your pet lizard, and investing in a hammock is a great way to provide stimulation and exercise opportunities with a lookout they need to climb to get on to. Lizards like to perch on high in the wild, away from the ground, as it makes them feel more secure, so this is a great way to give them that option.
This hammock is made from rustic-looking 100% natural seagrass and will mirror the kind of vegetation your reptile pal would encounter in the wild. The weave is very climbable and depending on how you mount it – the suction cups that are used to attach it can be placed at many different angles - it can provide different levels of exercise and it's wide enough to give even larger lizards a handy high hide-away.
Designed to suit both arboreal and terrestrial species, it's a surprisingly versatile addition to their living area. The hammock can be fixed at the top of the tank to provide a secluded and safe-feeling perch for your pet, or you can position it on an incline to provide a ramp to another higher area or just to let them get closer to their cozy heat lamp.
We've mentioned the suction cups already, and if that's got alarm bells ringing let us address that. Although suction cups are often the bane of any lizard owner's life, despite a few reports of them sliding or not sticking at all, the majority of people have reported no issues with the fixings on this hammock. If it is a worry, you can still attach the hammock using string to more permanent features of the tank.
The hammock we are featuring here can support lizards up to 700g, so should comfortably carry the weight of a bearded dragon or smaller iguana. However, it is also available in larger sizes should you want to upgrade.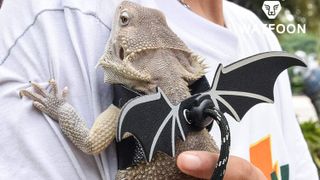 WATFOON Adjustable Lizard Leash
Best exercise toy for pet lizards
Specifications
Enrichment goal:
Exercise
Reasons to buy
+
Multiple sizes
+
Durable material
+
Quality exercise time
Reasons to avoid
-
Not suitable for all lizards
Letting your lizard out of its cage is a great way to engage them and let them get more exercise than they would in their usual enclosed environment. Some species, like bearded dragons, really benefit from extra exercise to stimulate both their legs and their mind.
This leash will let you take your lizard for a walk in the great outdoors – a great way to give them a much-needed change of scene and to stretch their muscles on some unfamiliar terrain. That said, don't expect them to go out for a long hike, but this lead will let your bearded dragon, gecko or anole explore your house or garden in a safe and secure way.
With three standard sizes and an adjustable leather harness, you can find the right fit for your lizard without it irritating their skin. With a stainless-steel swivel link and a nylon cord, this leash is very durable and secure enough to give you peace of mind that they can't easily escape when you are out and about. It also comes with tiny wings, but if you or your pet aren't into dressing up, you can remove them if wanted.
Be warned though, not all lizards take to leashes - they can freeze or simply do everything they can to get out of the harness. Before taking them out into the great outdoors it's a good idea to do a few test runs in your house or another safe environment, so they get comfortable with the experience and you can tell if going for walkies is something they are going to enjoy.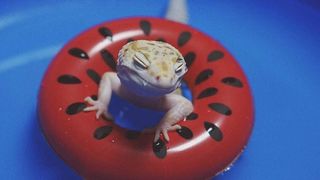 Best bath-time toy for pet lizards
Reasons to buy
+
Multiple rings in a pack
+
Make bathing fun
+
Great for adorable pictures
Bathing your lizard is an essential task. Unlike us mammals, reptiles don't have to drink to hydrate themselves, they can take moisture in through the skin, meaning bathing is a brilliant way to ensure your lizard stays hydrated. Beyond that, bathing can help with shedding, blood flow and even constipation. Given that it's so important, it might as well be fun too.
These adorable little floaties from Haichen Tec are great to get your little lizard swimming about in a cute way. It's not all about the 'gram but we all know that our pets playing with tiny versions of human things is worthy of a picture or two (or a dozen).
Made with non-toxic vinyl, these rings are safe to use and easy to take off when going swimming with your reptile. Of course, you shouldn't take them to an actual pool, but they'll be good for a well-run bath. Haichen Tec recommends a temperature of 86-100 Fahrenheit, for five to ten minutes, once or twice a week.
You don't get to choose which floatie patterns you get with these lizard toys, instead you'll be sent a random assortment of five from their stock, so do bear that in mind when purchasing. It's also worth noting that these are not reinflatable, so if one gets damaged, you're down one floatie.
Lastly, we'll say that these floaties, while fun, are not lifejackets and lizards like to wriggle so make sure you're supervising your beloved animal while using them. Other than that, they make an adorable addition to a reptilian bath time.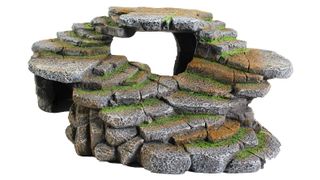 Penn-Plaxx Reptology Shale Step Ledge
Best hideaway toy for pet lizards
Reasons to buy
+
Natural stone look
+
Hiding and basking spots
+
Multi-layered
There are some days when all any of us want to do is hide away from the world – for a lot of lizards, that's every day. Indeed, it seems several of our reptilian friend's favourite terrarium features are those they can hide behind or in. This is crucial for making a lizard feel happy and safe at home, but the best hideaways can be multi-functional.
The Shale Step Lodge has plenty of space underneath for your lizard to hide itself from the world, but it also has plenty of basking space and fun climbing opportunities. That makes it great for a small terrarium, or even as a smaller piece to a larger vertical habitat puzzle.
Made from resin, the lodge is hand-painted to give it a natural stone look, so it'll loom up like some ancient ruins among your placed vegetation. It's perfect for small reptiles, amphibians and could even be placed in water.
There is one thing we really need to mention here though, there are several reports of the inside of the lodge having sharp edges that owners are worried might harm their animal. This is disappointingly a quite common complaint for many lizard hides and lairs, even from the most trusted of brands.
It is something you can fix yourself, with a pad or coarse sand paper and a little bit of work (and not everyone has had this experience), but you'll need to be prepared to do get your hands dirty if you're going to invest.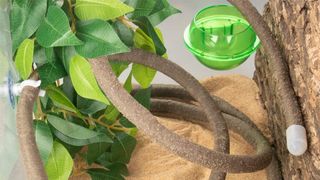 EONMIR 8-foot Reptile Vines
Best climbing toy for pet lizards
Specifications
Animal size:
Small - Medium
Enrichment goal:
Climbing
Reasons to buy
+
Excellent climbing space
+
Natural look
+
Fully adjustable
Reasons to avoid
-
Lightweight for heavier lizards
If there's one thing that's true about lizards, they know how to climb. They like to climb into things, onto things, up things and around things, but it's not always easy to simulate that real jungle experience they've evolved to love. These bendy, adjustable vines from EONMIR are a useful important toy for any lizard habitat.
Climbing isn't just about doing what comes natural for a lizard, it's great exercise, it gets their brains working as they work out which path to take and it's fun to boot. Creating a good climbing space is a great way to inject a bit of excitement into a lizard's life, which is why it's such a fantastic toy.
These 8ft long vines can be wrangled into any shape you want and fixed to your terrarium walls, it uses suction cups, which can be a pain, but their adjustable nature make them perfect for creating a fun run around a habitat.
This lizard toy is not really suitable for the heavier species of lizard – anoles, geckos, chameleons, bearded dragons and the like should all have no trouble – but due to the nature of the suction cup affixers anything heavier is likely to slide the vines down a terrarium wall.
Those examples are more to do with size though, those with lizards that like to live in a more humid environment, like the chameleon, might find the suction cups fail to work for very long. So, it's worth considering if you have any alternate methods for fixing to your enclosure before buying.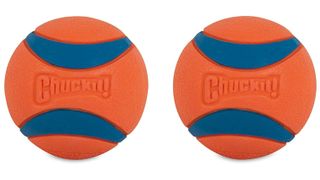 Best hunting toy for pet lizards
Specifications
Animal size:
Medium-large
Reasons to buy
+
Very durable
+
Great exercise
+
Fun for lizards and you
Reasons to avoid
-
Not all lizards will get it
No, we haven't gone crazy, that is a dog ball – it turns out, you can play ball games with your pet lizard. You won't be playing fetch in the park, obviously, but plenty of lizards like to hunt. And rolling a ball around can help simulate that experience; we can tell you, seeing a bearded dragon pounce on a bright orange bouncy is an absolute joy.
In fact, it's Bearded Dragons especially that seem to enjoy playing with balls and there are plenty of heart-warming YouTube videos out there to prove it. We're not sure if it's the movement, the shape or just the fact that their beloved owners seem to be getting such a kick out of it, but they do. Though we should say, there's plenty of evidence to say that a few different species enjoy the sport, from anoles to tegus.
Some speculate that ball games simulate the hunt. In the confines of the home, there's not much call for practicing the art that millions of years of evolution have instilled in your tiny terror. So this toy really allows your lizard to do what it was born to do, stimulating the mind and giving it some great exercise.
Chuckit! Make great pet balls, they're tough and they bounce, which is about as much as you can want for something you throw to things with teeth. They come in a variety of sizes and colours and varieties. Though we will say, the desire to attack balls seems to be down to the personality of the lizard, but at least these rubber balls are inexpensive. Of course, as with any other animal, make sure you're using balls that are too big for your animal to swallow, or in this case bite. The goal is to have them batting the ball around and chasing, not playing fetch.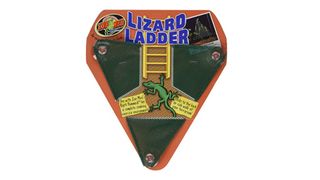 Best exploration toy for pet lizards
Specifications
Animal size:
Small-to-medium
Enrichment goal:
Climbing
Reasons to buy
+
Versatile
+
Encourages exploration
+
Easy to put up
Reasons to avoid
-
Suction cups could be better
Pet lizards can't get enough of climbing and this very inexpensive ladder can be used to turn any space into a little exercise gym. It's designed to be placed on to the inside of a terrarium, out of the way of the container's floor space. The idea is that it encourages reptiles to explore – add a few of them and your lizard could scramble around from one to another. You could also place one near some platforms or a hammock so that your lizard makes light work of getting up there. It's a rather versatile little thing.
Setting the ladder up is very easy indeed. There are suction cups situated in the three corners of the triangular soft mesh so it's simply a case of pressing them against the surface so that the air is squeezed out. This should make for a very firm attachment and ensures that your lizard won't get half way and then suddenly tumble (reports suggest that's not always the case). But it also means it can be quickly removed with a pull, allowing you to clean the lizard's accommodation before putting it back up again.
Some users have negatively compared it to a sideways hammock but that also means it can double up as a resting spot if you fancy mixing things up a bit. Indeed, some say it has actually worked well when used like this. Others have suggested covering walls with the ladder for the ultimate climbing frame or even sticking it so that your lizard has a hiding spot. One thing's for sure, it's a toy that will certainly enthrall your tiny terror and something you can be creative way as well. It can even accommodate more than one lizard at a time.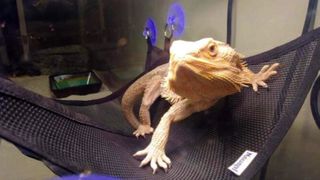 Langroup Reptile Hammock Lounger
Best hammock toy for pet lizards
Specifications
Enrichment goal:
Lounging
Reasons to buy
+
Made of breathable material
+
Comes in two
+
Washable
Reasons to avoid
-
Suction cups not so strong on wood
If you really want to pamper your lovable reptile, this hammock is ideal. Made from soft nylon material, it comes with a set of accessories, including six suction cups and metal rings to fix the hammock in place for your reptile to lounge in.
In addition, if your pet lizard loves to climb, it comes in a pack of two so you can combine to create a gym-style, climbing zone to keep them entertained as well as for lounging. The dimensions are a triangular 12'' x 12'' x 18'', so they are suitable for bearded dragons, hermit crabs and lizards.
What's more, the material is washable so you can easily maintain it and keep it fresh for your pet. Bear in mind, the suction hooks are not as sturdy on wood surfaces, so just be mindful when putting it up. Overall, this is great value for money!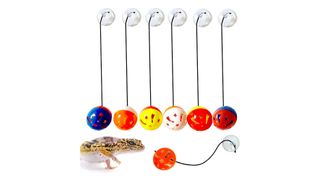 Bearded Dragon Toy Bell Balls
Best food-based toy for pet lizards
Specifications
Enrichment goal:
Exercising
Reasons to buy
+
You get a pack of six
+
Rope prevents them rolling away
+
Come in brightly colored patterns
Reasons to avoid
-
Perhaps a little expensive
If you want to encourage your pet lizard to exercise, then having them chase after food is a great incentive. This set of six balls has been created for that exact purpose. You simply place a feeder insect inside a ball and the lizard will soon spot it through the numerous holes, enticing it to pursue the bug.
The bright colors are designed to attract a reptile's attention – flashy hues are known to pique the interest of lizards. As if that wasn't enough, the balls also contain bells. While lizards aren't known for having great hearing, they are receptive to noise and this should increase the chance of your reptile engaging with this toy.
Having a pack of six balls means there is every chance a lizard will play with at least one of them and, because they come attached to a suction cup, you can be sure the ball won't simply roll out of view or become lost.
This will also reduce the chance of a lizard becoming frustrated as the ball is nudged around by keeping it relatively close. The manufacturer claims it will help with a lizard's coordination but it should also ensure they get plenty of exercise especially if, as is likely, they are going to spend a good while trying to reach a livefeed insect.
Of course, it's also important that the toy is safe, particularly since your lizard is bound to be licking it using its forked tongue. Thankfully, you can rest easily. These patterned balls are non-toxic and made from high quality plastic.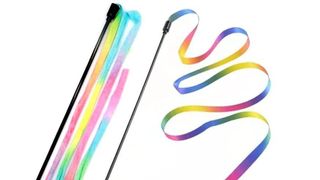 Lasouchoo Interactive Rainbow Wand Toys
Best wand toy
Specifications
Enrichment goal:
Exercise
Material:
Ribbon and cotton
Reasons to buy
+
Inexpensive
+
Encourages exercise in beaded dragons
+
Brightly-colored
Reasons to avoid
-
Not to every lizard's taste
If you're looking for an inexpensive way to keep your beaded dragon entertained, then why not consider a wand toy? It might seem strange to provide your lizard with a toy designed for cats but, much like our feline friends, bearded dragons can also enjoy the chase.
This pack of two features a ribbon and a cotton wand, avoiding feathers which can be harmful to a lizard if ingested. They're also brightly colored, which can be a helpful bonus for attracting our reptile friend's attention and encouraging movement.
Of course, every pet is unique in what they enjoy doing, so you might be as likely to find that your bearded dragon prefers to lounge over getting involved in activity, but at its budget price point, you can't go wrong with picking up a pack to find out.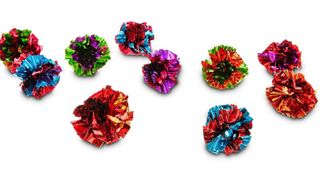 Leaps & Bounds Mylar Ball Toy
Best for sound
Specifications
Enrichment goal:
Exercise and hunting simulation
Reasons to buy
+
Helps simulate hunting behavior in bearded dragons
+
Inexpensive
+
Multiple colors
Reasons to avoid
-
Not to every lizard's taste
Looking to entice your bearded dragon's senses? Then why not try out some crinkle balls with your reptilian friend? This inexpensive way to entertain your lizard is made from crinkled mylar and is available in multiple colors. The idea is that these toys appeal to your lizard's sense of sound, by making a crackly sound when touched and simulating hunting behaviors.
You can attract your bearded dragon's attention by scrunching them up in your hand at first, or pop your lizard on top of the toys to give them a sense of what they do.
The great thing about these toys is they don't break the bank so even if your lizard prefers to kick back in their cage, you won't have spent the earth to keep them entertained. However, you might just be pleasantly surprised if your bearded dragon does take the bait, may lizard owners report that their reptile loves playing with them.
How to choose the best lizard toy
Choosing toys for pet lizards is not an easy task, not least because most of them have quite the impressive poker face. Your ultimate goal is to get something that enriches your animal's life, and provides something that they either enjoy, or aren't currently getting.
Many lizards prefer to chill out and hide away, and that's fine, but you can get them some great toys that provide the best environment for that. Hides and hammocks, branches and vines provide the perfect environment for keeping a healthy lizard, while giving them enough space to climb and move around.
More social lizards, like the bearded dragon, might like to be led on a leash or bat a ball around with you (we've even seen some riding skateboards!), but it's all about your animal's personality, if they're happy and seem normal they're probably getting what they need. If they're overly lethargic then you need to think about introducing some new stimulus.
The best advice we think we can give though, is to use the internet's community of lizard lovers to find what's recommended, check the reviews and make sure the products are safe, or how to safely use them.