Best reptile heating pads 2023: Keep your terrarium temperature just right
The best reptile heating pads tailor your terrarium to its optimum temperature to ensure your little friend stays cozy and warm 24/7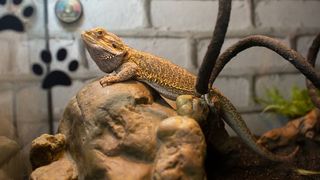 (Image credit: Getty Images)
The best reptile heating pads are the perfect way to replicate your scaly little friend's natural environment and ensure they stay happy, healthy, and most importantly, warm!
Unlike warm-blooded creatures, like mammals and birds, cold-blooded reptiles aren't capable of generating their own internal heat and are reliant on their environment to help them to maintain their body temperature.
When they're in the wild, you'll often spot reptiles basking in the sun on a rock, but if you decide to keep a reptile in a tank in your home, then you're going to need an artificial heat source to ensure these sensitive creatures have constant access to the correct temperature their bodies need to regulate themselves.
That's where a reptile heating pad can come in handy, but before you rush out and buy one, make sure you consider the size of your tank and your reptiles. If you buy a pad that's too small, it won't produce the heat your friend needs to stay comfortable, but if it's too large, it will produce too much heat - both of which can have serious health consequences.

The right size heating pad will provide a constant 24-hour source of warmth. Add in a thermostat - if you need to take precise control of your terrarium - and your reptile will be able to bask until their heart's content and stay happy and healthy.
To help you find the right pad for your pal, we've rounded up a selection of our favorite reptile heating pads, with thermostats, temperature control and sizes to suit all tanks. Let's take a look....
PetsRadar's pick of the best reptile heating pads
Why you can trust PetsRadar Our expert reviewers spend hours testing and comparing products and services so you can choose the best for you. Find out more about how we test.
Best overall reptile heating pad
Specifications
Wattage:
4W, 8W, 16W, 24W
Reasons to buy
+
Heats up in an hour
+
Four different sizes
+
Suitable for most tanks
+
Option to buy heat pad only
Reasons to avoid
-
Can overheat without thermostat
Want an all-round reptile heat pad that gives you plenty of choices and options. Who wouldn't? And that's exactly what you get with this under tank heater from iPower. You have the choice of buying just the heat pad, or if you want more control over tank temperature you can add a thermostat.
Available in four different sizes - each with a different wattage - there is something for every type of terrarium and budget. To save yourself a few dollars you could start off with the heat pad and see how that works for you. But be warned you can't buy the thermostat separately, so it might be a good choice to go all out from the start.
The 4 x 7 inch 4W pad is a good choice for 1-5 gallons tanks, while the 6 x 8 inch is good for 10-20 gallon tanks. The 8 x 12 inch pad has an output of 16W and is the ideal companion for a 30-40 gallon tank. The largest in the range - 8 x18 inch - pumps out 24W and is a great hat source for large 50 gallon plus tanks.
Whatever heat pad you choose it will stay safe and secure thanks to its super strong 3M glue panel. But once you have put the pad in place you won't be able to reposition. It is covered with thick insulation which means that the pad gives quick heat transfer and reaches its top temperature of 108 degree Fahrenheit in an hour - ideal for a quick setup. But on the downside it does mean it's prone to overheating - there's no automatic cut-off - if you don't have a thermostat attached.
BN-LINK Reptile Heating Pad
Best budget reptile heating pad
Reasons to buy
+
Inexpensive
+
Energy efficient
+
Heats up in less than an hour
+
Strong adhesive pad
Reasons to avoid
-
Only two sizes
-
No thermostat
If you want a simple, no-nonsense heating pad that is built to last at a budget-friendly price then this reptile heating pad from BN-LINK is a great choice for your terrarium. Made from a strong and durable PVC material its five layer design means that it is impervious to water when cleaning, but is not 100% waterproof. But its construction does mean that it heats up in less than an hour and offers uniform heat distribution. So you can be warming up your tank in no time at all.
There are two sizes and two outputs, but no no temperature control or thermostat to control the temperature. The 6 x 8 inch model pumps out 8W and is perfect for a 10 -20 gallon terrarium. The 8" x 12" model is bumped up to 16W and gives a steady heat flow to help keep your 20-30 gallon tank at the temperature you want.
Whichever you choose it is energy efficient meaning that it won't be sending your electricity bill sky high.

Like most reptile heat pads it is only suitable for a glass terrarium and to make sure that it stays in place it has a super strong 3M glue based panel. All you need to do is peel off the sticker and place it on clean dry glass. You won't be able to reposition once it's in place so make sure you choose the right spot and you are within six feet of a power outlet. Otherwise you'll need to move your terrarium to power the heat pad.
Best temperature control reptile heating pad
Specifications
Size:
6 x 8, 12 x 8, 18.5 x 8.5 inch
Reasons to buy
+
Temperature control knob
+
Three sizes
+
Reinforced connector cable
+
Made from durable water resistant PVC
+
Low energy use
Reasons to avoid
-
No good for 40+ gallon tanks
Want a reptile heat pad, but don't want to fork out for a thermostat? But still want some sort of control over heat output? Then you should try this heat pad from Tikaton. It doesn't come with a full-blown thermostat, but it does come with a simple and easy to use temperature control knob. This is integrated into the 1.8m power cord which thankfully has a reinforced connector to help prolong the life of the heat pad and the temperature control at the same time.
You only get a basic level of heat control, so it's all very much a guessing game when it comes to precise temperatures. But if you can live with low, medium or high as a temperature setting then this heat pad could be for you.
Made from a durable water resistant PVC material - ideal when it needs cleaning - there is a choice of three sizes. The smallest of the range is the 6 x 8 inch pad which has a relatively low output of 8W and is an ideal choice for 10-20 gallon tanks. The larger 12 x 8 and 18.5 x 8.5 inch pads both have an output of 16W and are fully usable with tanks up to 40 gallons.
Combined with the solid state nichrome heating element you're getting an energy efficient mat that will help keep costs down. But the installation of the pad is not quite as simple as some. There is no full glue pad, but you do get double sided tape included. You will need to heat the pad before you apply the tape. If you don't follow the instructions you won't get a really good fix on your glass terrarium.
Zoo Med Medium Repti-Therm UTH Under Tank Heater
Best under tank reptile heating pad
Reasons to buy
+
Low running costs
+
Large adhesive base
+
Ideal for 30-40 gallon tanks
+
Rubber feet included for under tank fitting
Don't be put off by the fact that this heat pad calls itself an under tank heater. It is just as capable of being placed on the side of a tank thanks to its large adhesive base, which means once this pad is stuck in position it is going nowhere. Another plus is that its strong bond to your tank means that you get maximum heat exchange giving lower running costs and higher efficiency.
But it is worth noting that it is for glass terrariums only and has to be stuck on the outside of the tank. But this isn't a criteria that is exclusive to the Zoo Med, a lot of similar reptile heat pads operate in exactly the same way.

If you do want to use the heat pad on the bottom of your tank you will need to lift the tank up a few centimetres to allow for air circulation and stop overheating. But, don't worry, a set of four perfectly-sized, easy to fit rubber feet are included with the pad to make sure all works well.
The 8 x 12 inch model featured here is the perfect choice as a primary or secondary heat source - depending on your reptile - for a 30-40 gallon tank, But if you have a smaller - or larger - tank, other models from the same range are available to suit your needs.

Unfortunately, there is no thermostat included, but the purpose of the pad is that it has a set temperature that brings the ambient temperature in the cage 2-8 degrees higher than outside the cage. If you need to really pump up the heat and need basking temperatures above 90 degrees in your terrarium you might need to look at a different option.
VIVOSUN Upgrade Reptile Heat Mat
Best thermostat controlled reptile heating pad
Specifications
Size:
6 x 8, 8 x 12 inches
Reasons to buy
+
Thermostat for great temperature control
+
Ideal for 20-40 gallon tanks
+
Self-adhesive
+
Waterproof
If you want complete control over the temperature range of your terrarium you will be hard pushed to find a better reptile heat pad and thermostat combo than this. The VIVOSUN comes with a sturdy heat mat, an easy to control thermostat and a temperature probe to get a wide range of output options.
The reptile mat comes in two sizes - 6 x 8 and 8 x 12 inches - which makes them ideal for 20-30 gallon tanks. The smaller of the range boasts an 8W output and is the better choice for a 20 gallon tank while the larger pad measures 8 x 12 inches and has an 16W output making it ideal for 30 gallon tanks, but still usable with 40 gallon terrariums.
Where the VIVOSUN reptile heat pad really stands out is the control that the thermostat gives you over the heat output. You can go as low as 40 degrees Fahrenheit and as high as 108, or switch to Celsius if that is your preferred measurement. But to get up to maximum temperature you are going to have to wait a good few hours or longer.
The thermostat itself is an easy-to-grip hexagon design made from strong and sturdy plastic, so it will last. It has a simple LED display and a trio of tactile easy to use buttons that allow you to choose the temperature and set. A couple of small red indicator lights let you know the thermostat is working and the pad is heating up.
Only suitable for glass terrariums the heat pad is easy to fit thanks to its adhesive backing, but choose wisely where you position it as you won't be able to preposition with any great ease. And note that it claims to be waterproof, which it is but only for cleaning purposes, it cannot be fully submerged.
Fluker's Ultra-Deluxe Premium Heat Mat
Best entry reptile heating pad
Reasons to buy
+
Ideal entry level pad
+
5 different sizes
+
Water resistant
+
Constant temperature output
Reasons to avoid
-
Thin design
-
No thermostat
Not quite sure where to start in the world of reptile heat pads? Just want a simple entry-level heating pad? Then this very affordable mat from Fluker's is definitely one to put on your shopping list. It's an ideal mat for almost all types of reptile and amphibians, so you don't need to worry too much if it's a suitable match for your pet reptilian.
A simple, straightforward mat this small option measures 6 x 11 inches and has an output wattage of 7W. It is an ideal choice for slipping under a 20-30 gallon terrarium to provide a constant ambient heat. But if you have a heavy or thick substrate in the bottom of your terrarium the heat will struggle to get through.
The alternative option is to side mount the pad, but it is not self adhesive so you'll need to secure it yourself with packing tape or similar. But on the plus side this makes it a great choice if you want to move the pad to find the optimum spot for your scaly friend. But be careful, its thin design can lead to bending and creasing which will affect its heat output.
It takes a few hours to get up to its maximum temperature of 100 degrees, but once there it won't change very much unless you switch the mat off. There is no thermostat to control the temperature of the pad, but as it keeps a constant temperature it helps make it pretty easy to regulate the heat and keep the temperature you want.
If you have a larger - or smaller - tank you can choose from a different size and wattage from the Fluker's range. The Mini pumps out 2 Watts and is ideal for mini terrarium. The Medium and Large are 12W and 20W respectively and work well in 20-30 or 30-40 gallon tanks. If you have gone all out size-wise on your terrarium the Jumbo pad is 35W and a great choice for 50 gallon tanks and up.
Twfadmx 2 Pack 20W Reptile Heating Pad
Best reptile heating pad twin pack
Reasons to buy
+
Control temperature between 0 to 35 ℃
+
Affordable
+
Waterproof and damp-proof
Reasons to avoid
-
Thermostat can be a bit temperamental
From turtles and lizards to frogs and snakes, this super affordable twin pack of reptile heating pads will ensure your little friend stays cozy and warm. Made with high quality heating wire material, these durable pads are easy to clean and convenient to use.
Waterproof and damp-proof, they can be used under a tank or vivarium and the temperature control switch will let you head the pads to a balmy maximum of 35 ℃. The pads are also low-energy, so you won't need to worry about 24-hour use of these beauties hiking up your electricity bill too much.
Measuring 16.5 x11, they're ideal for a range of reptiles and work beautifully with a 30-40 gallon tank. The only issue is the thermostat, which can be tricky to set to a precise temperature at times, but, other than that, customers seem pleased with the value that these heating pads offer.
How to choose the best reptile heating pad
Choose the right wattage
Getting the temperature in a terrarium is crucial to the health and happiness of your reptile. So you need to make sure that you choose the right wattage. Too high - which can mean too hot - and your reptile can suffer from dehydration and infections. Too low and your reptile will become sluggish and lead to other issues such as digestion problems.
Reptile heating pads commonly run from a low four watts to a high of 24 watts. Which one you will need will depend on the size of your tank. As a general guideline a 10 gallon tank will work with a four watt pad while a 24 watt pad is a good choice for a 50 gallon tank. For tank sizes in between eight or sixteen watts is a good choice.
Size matters
This commonly works in tandem with wattage. The larger the wattage the larger the pad or mat. But this isn't always the case so you need to make sure that you check what size the mat or pad will fit in your terrarium. A good guide is to get a mat that is a quarter or a third of the size of the space where you are going to place the heat pad.
Thermostat
Does the heating pad you have chosen come with a thermostat? A lot don't and simply reach a certain temperature and stay at that temperature. This doesn't give great control over the ambient temperature of a cage.
To take better control of temperature you should invest in a separate thermostat or buy one with a control. But, typically, pads without a thermostat are much cheaper and if you are using it as a secondary heat source temperature control is not as important.
Get the best advice, tips and top tech for your beloved Pets
Steve Jenkins is a freelance content creator and long-time journalist with more than 20 years in the industry. He has written for numerous titles covering tech to pets, with his latest faithful hound always by his side. When not walking his dog, or discussing who's best - cats or dogs? Loud guitars, AFC Bournemouth, Photoshop, and trying to save the world take up the rest of this time.