11 types of pet parrot
There are more types of pet parrot than you might think. Take a look at this list to decide which one suits you best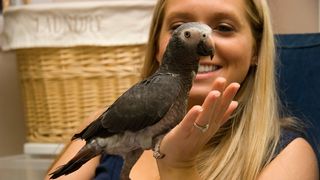 (Image credit: Getty Images)
So you fancy owning a parrot? Question is, what types of pet parrot should you consider? There are lots of different species of varying sizes and colors. Some will be more suited to novices than others; some are better outside than in. Here we take a look at 11 types.
African Greys
Prized for their ability to mimic human speech, African Grey parrots are popular pets and they're the ones that people tend to associate most with parrots.
With cognitive skills said to be on a par with that of a five-year-old child, they're also capable of developing a large vocabulary (so be careful what you say in front of one). Indeed, it's not unknown for them to utter more than 1,000 words and they'll be able to understand what a good number of them mean.
Even so, aside from being adept at reasoning, they're also prone to boredom. They need a lot of mental stimulation to prevent them from becoming unhappy and distressed which can lead to feather-picking so make sure you have a selection of the best toys for parrots on hand. Also, if you're considering an African Grey, be aware that they tend to become clingy to one person and that may or may not be you. They can live up to 80 years so think carefully when considering if you should get a parrot for a pet.
Amazon Parrots
Amazon Parrots are great talkers and singers, and they'll have few problems quickly picking up words and melodies. Trouble is, their pronunciation isn't the most accurate and they may appear a tad tone-deaf but you'll soon tune your ears into what they're saying and singing.
What you may not enjoy as much is an Amazon Parrot's penchant for screaming when they want to grab attention. You need to keep a close eye on them before handling too, since these parrots can be aggressive when they're in pain, anxious or just plain moody particularly when they reach sexual maturity.
These are certainly parrots for the more experienced pet owners and you'll need to be attentive to them: they need lots of interaction throughout the day. Different types of Amazon Parrots display their own personalities so bear that in mind: Southern Mealy Amazons are gentle, for instance, while Green Cheeked Amazons can get up to mischief.
Macaw
Colorful, long-tailed and large, Macaws are a long-term investment, not least because they'll live for more than 60 years. As the largest of the parrot species, these are also pets for those with a huge amount of space. You've got to give them room to flex wingspans of up to 60 inches, after all.
Of the 18 species, most people will generally opt for the scarlet, blue-and-gold, Hahn's, hyacinth, or green-winged varieties and they'll be bowled over by the undoubted elegance inherent in these birds. Yet they're not for novices. Although they can be gentle, macaws can appear hard to read and aggressive. When kept as pets, they need to be constantly enriched and because they have a low boredom threshold and will also chew anything in sight, they need ongoing fresh supplies of toys.
What's more, Macaws are noisy too, so they won't be suitable for apartments or if neighbors' homes are too close by. Some species can mimic human speech, however, and they have bags of personality. Their intelligence will impress.
Poicephalus
There are nine species of Poicephalus parrots including Meyer's, Jardine's, Brown-headed and, most famously, Senegal. They tend to be green and gray with accents of other colors and these stocky birds have proven to be popular pets for many centuries.
Given they are relatively quiet (although rather loud if they want to be), they're good pets if you have close neighbors or live in an apartment. They're also friendly and loving, allowing owners to scratch their heads and neck. What's more, they're not so needy that they want you to be around them all day.
Even so, by socializing them well, they'll avoid becoming a one-person bird or, worse, anti-social with a preference for the comfort of their cage. Don't worry if you have children since these birds are good around kids, proving playful and affectionate. It's also possible to get them to mimic some sounds and some Poicephalus do learn to talk.
Lorikeets
If you want a very colorful parrot, then look no further than a lorikeet – their green bodies are adorned with beautiful flourishes of blue, orange, purple, and yellow, making them very eye-catching indeed.
That's if you can keep up with them, anyway. Native to Australia, the birds are lively and they barely stop for a breather so anyone owning one will have to try and match their intense energy level. Yet this is part of their charm. Lorikeets are known as the clowns of the parrot world, getting up to lots of fun, whether you choose the small Australian lorikeets or the larger tropical variety. They'll talk, be a great companion and entertain you with some dancing.
Interestingly, lorikeets also have brush-tipped tongues which they use to feed on nectar and soft fruits. It helps them to sweep food into their mouths. As you can guess, this is their preferred food and it will result in runny, sticky poop which can be pretty bad. It's something to think about.
Conures
These colorful companions range in size from small to medium but they are also big on personality. Not only are they clever and comical, they're extremely energetic, so give them a lot of toys and they'll get stuck in, exploring and playing while providing you with lots of entertainment.
It's possible to teach these birds some simple tricks and it's a good way to socialize and enrich them. Take them out of the cage and you'll also have much fun getting them to snuggle with you: so long as you're respectful of them, you'll find that you'll grow in each other's company over the course of their 20-plus year lifespan.
During this time, you won't have much of a conversation. Conures can talk but their vocabulary will be very limited. They do communicate loudly, however, and there is a danger that they will begin to scream. These birds can also be a bit nippy but whether you go for a sun, jenday, blue crowned, green cheeked, nanday or red masked conure (or indeed any of the other varieties), you'll be sure to fall in love.
Parakeets
There are 115 different species of parakeets – that is, small, slender-built parrots with long tail feathers – and these include the budgerigar. They tend to be intelligent and highly social little things, with a penchant for hanging around with their human owners and with a lot of love and affection to give. As such, they make for wonderful avian pets.
Although parakeets are less smart than larger birds, they will mimic human speech. They just won't understand the meaning of any words they utter. Males are noisier than females and the sounds they make will indicate their mood: screaming means they're unhappy while whistles and singing generally means they're feeling upbeat. They'll be happiest when paired with another parakeet for company and you'll find they'll be very playful together. Parakeets tend to live for between eight and 12 years but they're inexpensive to keep.
Cockatoos
There are 21 species making up the family of cockatoos and some, such as the Sulphur crested cockatoo, will be recognizable to most. They're not easy birds to keep because they're very demanding of human time and attention. They stick to their owners like glue most of the time so they'll need to be taught how to cope when you're not around or need some space. Plenty of toys would do the trick.
Like most parrots, cockatoos are highly intelligent but they can be emotional, having temper tantrums and squawking at ear-piercing frequencies. They will talk using human words although you'll have to train them hard to do so. Species include the bare-eyed, citron, goffins, rose-breasted, and black palm cockatoos. Growing up to 24 inches or so, they'll live up to 60 years.
Parrotlets
They may be pocket-sized parrots at around five inches in height but Parrotlets are feisty little things. The accepted advice is, therefore, to keep them apart from other animals and humans because they can be rather aggressive. Their bites certainly hurt so they'll need to be well trained and socialized from a very early age. Handled well and daily, however, Parrotlets can form bonds and be affectionate so the effort is definitely worth it. Have them perch on your shoulder or pop them in your pocket.
Just don't expect them to talk. Females won't chatter using human words at all and, while males will, their voices are very quiet so any vocalization won't feel particularly satisfying. Ensure they are given a healthy diet, though, and you'll find you have a happy bird on your hands. Then you'll discover their small bodies are hiding a big personality. Pacific parrotlets are the most popular.
Eclectus
Depending on the gender of these parrots, there's a huge difference in appearance – so much so that they were once thought to be entirely different species. The males are a bright emerald green while the females are a mix of bright red with a blue/purple plumage. Both are medium-sized, however, measuring about 12 inches or so in length.
Of the two, pet owners are generally recommended to opt for the male. They're less aggressive and assertive than their female counterparts and easier to train. In either case, you're going to need space but because they're highly intelligent birds, you'll find they adapt well to your home life particularly when they are socialized. You can also teach Eclectus to speak and they'll learn fast. They have a wider range of vocalizations than most parrots too.
Lovebirds
Made up of nine species, lovebirds are so-called because a pair will form a monogamous relationship and they'll pine for each other if they become separated. Does that mean it's best to keep two lovebirds? Actually, no. Pairs will breed and you may find the resulting offspring becomes too much to handle. And if you're looking to gain some affection or bond from a pair of lovebirds, forget it. They'll tend to only have eyes for each other.
With a single bird, you have to step up to the mark and take the place of the companion, giving them lots of toys to enrich them and spending time training and engaging. Lovebirds won't speak much – they're not classed as talkers even though they can utter words – but they will twitter incessantly at times. Since these are very active small birds, they need to be let out of the cage for a few hours each day. They are territorial, however, and don't take too kindly to other bird species.
Get the best advice, tips and top tech for your beloved Pets
David Crookes has been a journalist for more than 20 years and he has written for a host of magazines, newspapers, websites and books including World of Animals, BBC Earth, Dogs and Canines, Gadget and The Independent. Born in England, he lives in a household with two cats but he's also keenly interested in the differences between the huge number of dog breeds — in fact, you can read many of his breed guides here on PetsRadar. With a lifelong passion for technology, too, he's always on the lookout for useful devices that will allow people to spend more time with their pets.