33 best places to take your pet on vacation
Travel round the world with your pet with these top spots to explore with your cat or dog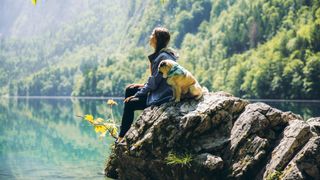 (Image credit: Getty Images)
When looking for somewhere to vacation with your pet, you may feel spoiled for choice. Whether you want to travel domestically or internationally, many places love dogs, cats and pets of all kinds just as much as we do and provide pet-friendly accommodation.
One thing to consider when it comes to how to travel with a dog or traveling with a cat are quarantine periods: if you want to visit another country for two weeks and the quarantine period for animals entering the country is that long in itself, it might be worth leaving your furry friend behind.
However, if you're looking to take an extended stay in another country, there are plenty of options available that will allow you to cross their borders with your pet after a period of isolation. Here are some of the best...
33 best places to take your pet on vacation
1. Dalmatia, Croatia
The home of, you guessed it, Dalmatians! Croatians are famous dog lovers and you won't struggle to find pet-friendly accommodation in this region that stretches along the Adriatic Sea.
2. Seattle, Washington
If you want to travel within the USA, Seattle is a great city to take your pet, particularly if you own a dog. Multiple off leash dog parks and a walkable city center make this a great city for a short break. There is even a cat cafe if you can't take your own beloved fur baby with you.
3. Snowdonia National Park, Wales
Brits are known for their love of dogs, and the Snowdonia National Park is kitted out with lots of dog-friendly trails and campsites. If your dog isn't to be trusted around sheep, maybe give this one a miss, as there are lots of free roaming ovines. For a dog that loves a hike, you can climb Mount Snowdon, which stands at 1085m.
4. Transylvania, Romania
While famous internationally as the home of Dracula, Transylvania is a stunning cultural hub full of medieval towns, castles and amazing hiking routes that will treat you and your furry friend to some amazing views.
5. Lake Placid, New York
Lake Placid is a beautiful mountain town with all the cultural interest and charm of small town America, but within reach of the big city. There is even an ice cream shop that caters for canine visitors as well as humans. If you or your pet are keen to get out on the water, you can hire kayaks or canoes and take a trip over Mirror Lake to the dog friendly beach on the southwest side.
6. Paris, France
Any Aristocats fan knows that fair Paris is a must visit destination for cat lovers. However, it's a very dog-friendly city too. Walkable and offering over 1000 pet friendly establishments to house you and your companion, you might find a romantic visit to the Parc des Buttes Chaumon just as fun for your pet as it is for you.
7. St. Augustine, Florida
This stunning area is perfect for beach bums. If you and your pet love to be by the water, digging holes in the sand or splashing in the shallows, then this is the destination for you. Lots of private B&Bs are happy to accept animal visitors, as long as they are accompanied by a sensible human.
8. Cornwall, England
Another great place for a coastal trip, Cornwall is one of the most popular destinations in the UK for a weekend away. Roll into a traditional pub and you will probably find several dogs snoozing around an open fire, or a resident cat eyeing up your plate of fish and chips.
9. Taupō, New Zealand
Lake Taupō is a great place to go with an active dog, as there are tons of bike trails to keep you busy and dog friendly lakeside spots to take your pal for a walk. Dogs are also allowed in some theme parks. You can also visit historic Māori carvings and experience indigenous New Zealand from the water.
10. Kuala Lumpur, Malaysia
There are plenty of pet friendly places to stay in Kuala Lumpur, some will even offer a spa experience for your pet as well as you, with grooming services. One hotel caters for almost any pet you can think of, with stables and a website claiming they accept tigers, elephants and fish, although we haven't verified this.
11. Venice, Italy
The sinking city, it's worth getting a trip to Venice in before it completely vanishes below the waves (we're kidding…mostly). Thankfully, your pet can tag along too, with lots of pet friendly accommodation options and several museums and galleries happy to accept pets as well as people.
12. Hilton Head, South Carolina
If you fancy an all-inclusive getaway, this town will take you and your pet into their arms. With plenty of parks and beaches to keep you busy, there are also pet friendly hotels and resorts that are happy to accept pets up to 50lbs.
13. Wallonia, Belgium
You can enjoy some traditional Belgian waffles with your best pal, thank heavens, with over 1000 pet friendly hotels, B&Bs and apartments available in Wallonia. Enjoy the medieval and renaissance architecture and take in mountain views in Namur, the gateway to the Ardennes.
14. Lisbon, Portugal
If you want to visit Europe for the architecture, but want to get some sun in too, then Lisbon might be the city for you and your pet. The people of Lisbon love dogs, so you can guarantee your furry friend will get lots of pets as you explore the pastel-colored buildings and historic castle.
15. Bruges, Belgium
You might remember the window-dwelling Labrador retriever, Fidèle, known for snoozing above the canal between 2003 and 2016, even making an appearance in the film In Bruges. While he has sadly died, you can visit the spot he used to sunbathe with your own four-legged friend, as Bruges is a very pet friendly city.
16. Auckland, New Zealand
Auckland in New Zealand is a great place to visit with your pet, with plenty of pet friendly beaches, accommodation and plenty to do. Mellons Bay, Takapuna beach, and Piha beach are the most popular dog beaches, but if your pet is less sociable, you can find quieter places to go too.
17. Oudtshoorn, South Africa
There is an Africamps location in Oudtshoorn that is happy to accept visitors with their dogs. Indeed, they have a resident dog called Rufus, who can show your pet around. If your pet isn't a fan of ostriches, this might not be the best place, as the camp site is on a working ostrich farm, but there are two other locations across South Africa that are also happy to accept animals
18. Lake Tahoe, California/Nevada
If you and your pet are fans of hiking, Lake Tahoe is a great place to spend your vacation. It combines fantastic beaches with beautiful mountain hikes, giving you the best of both worlds. You can even stay at the Hard Rock Hotel and Casino if you're feeling lucky, with pet daycare options available and even spa treatments for your pet.
19. Riga, Latvia
The capital of Latvia offers several places to stay with your pet beside the Baltic Sea. Soak up some history as you walk around the city, check out the art nouveau architecture or visit the Old Town - your furry friend can accompany you for all of it.
20. The Peak District, England
If you've tackled all your local peaks, it might be time to take your pet to the north of England and tackle some of the mountains there. You can even visit the grounds of Chatsworth House with your pet in tow and live out your Pride and Prejudice dreams as it was used as the location for Pemberly in the 2005 film. We've personally visited Chatsworth with dogs and they loved the sweeping estate land surrounding the house, and splashed in the stream chasing sticks and balls while we admired the architecture.
21. Philadelphia, Pennsylvania
We couldn't make a list of pet friendly destinations without mentioning Philadelphia. You and your pet can enjoy a Philly cheesesteak and traverse the Wissahickon Valley Park, although your dog will need to stay on leash here.
22. Santorini, Greece
You may not think of Greece when we say "pet-friendly" but the island of Santorini has plenty of pet friendly accommodation. It is worth considering that there are feral dogs and cats on the island (taken care of by the Santorini Animal Welfare Association), so keep in mind your pet might interact with them before booking your ticket. The stunning natural landscape and beautiful white houses will give you and your pet plenty to look at while you explore.
23. Dana Point, California
There can be no doubt that Californians love their pets, with almost 60% of California households owning pets. If you like shopping, there is an open air mall that you and your pet can explore and hopefully bring home some bargains.
24. Madrid, Spain
Madrid is well set up with pet friendly accommodation and lots of the restaurants and attractions are happy to accept non-human visitors too. Since 2016 you can take dogs on the metro, which makes it even easier to travel around the city with a pooch (or indeed a cat).
25. Tokyo, Japan
Tokyo, although a tightly-packed urban environment, is remarkably pet friendly. Due to the small sized apartments, many people own cats, birds, fish and toy dogs, but you do still see larger pets around sometimes too. Yoyogi Park is one of many dog friendly parks to visit with your pet and endless pet cafes where your companion will be treated as an honored guest.
26. St Petersburg, Russia
As well as pet-friendly accommodation, St Petersburg has plenty of walkable areas and parks to explore with your pet. In particular, lovers of dogs (and science) might want to visit the monument to Pavlov's dog in the northwestern district. The statue commemorates a mutt named Bierka, who helped Pavlov with his research into conditioning. You can also visit Polyustrovskiy Market to pick up supplies for your pet and check out the tropical fish.
27. Victoria, Australia
We have to include an Australian location, as pets are just as popular down under as they are here. Take a dog friendly winery tour, ride a talking tram or take your pet on a paddle steamer (no really). If your pet is well behaved, you might also be able to take them with you to meet some Koalas on Raymond Island.
28. Chicago, Illinois
Take your dog with you on a canine cruise, or if you're a cat lover visit The Catcade, an arcade that is home to many cats who are perfectly happy watching people win and lose at arcade games. You can also visit "the bean" - sorry Cloud Gate - by Anish Kapoor, but you'll have to leave your pet behind for this one, as Millennium Park does not allow pet visitors.
29. Bangkok, Thailand
Animals roam Bangkok freely, looked after by their local communities. You can take your pet to Petropolis Park, or visit the Petropolitan Hotel for spa treatments, the pet shop or simply to sit down with your pet for a little while. You can explore the temples and see the sights with or without your pet, with daycares around the city.
30. New York, New York
If you like urban areas, you can't go wrong with New York city. If you've been dying to explore the big apple, there are lots of pet friendly accommodation and pet boarding services if you don't want to take them everywhere with you. Visit Central Park and tick something off your own bucket list, and your pet's!
31. New South Wales, Australia
Another fantastic location for pets in Australia, the state of New South Wales is subtropical, with relatively cool winters, so can be suitable for less heat-tolerant pets. You can take your pet with you to a theme park, hike the Blue Mountains or visit a dog friendly beach.
32. Metro Manila, Philippines
If you fancy a tropical getaway, there are plenty of pet friendly hotels in Metro Manila. You can even visit the park named after Japan's loyal dog Hachiko (Hachi Park). There is also an indoor dog park with ball pits, a café and grooming facilities.
33. El Salvador
El Salvador is very pet friendly, with loads of accommodation that will take human and non-human guests. The process for bringing pets into the country is mercifully straightforward too, so you just need to make sure your pet is passported and vaccinated properly.
Get the best advice, tips and top tech for your beloved Pets
Lou is an experienced writer and keen dog lover who works at PetRadar's sister site, LiveScience. When Lou isn't covering health and fitness, she's busy spending time with her family dogs or growing all kinds of veggies and flowers on her allotment.