Eight things you need to know before handling stray cats abroad
From what to feed them to whether you should adopt one, here's everything you need to know about interacting with stray cats when you're on holiday...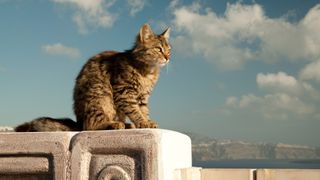 (Image credit: Getty Images)
Are you a cat lover who loves to pet and feed the strays while on vacation? If you answered yes to that, you aren't alone. On a recent vacation to Greece, I arrived bearing cat treats in my beach bag, doling them out to every stray I passed.
I especially took to a fluffy tabby who hung around the taverna next to our hotel. I think he knew this himself when I shared my chicken souvlaki with him and bought some of the best dry cat food packed with vitamins, spilling it into small soon-devoured piles on the cobbled streets.
But is making friends with stray cats on holiday wise or is there a better way to help them? And, when the holiday season ends and the shutters are closed on the bars and restaurants, what happens to the strays? I asked Kia Chatzoudi and Mike Nicholas, who run Cats of Iraklia, whether feeding stray cats on holiday is a good idea.
Mike says "If you're on holiday and see a cat that's hungry, it's a positive, humane thing to feed it. On Iraklia, we're happy that holiday makers interact with our cats."
But there are some things to be aware of. Here are the dos and don'ts...
Kia is the nurse on the tiny Greek island of Iraklia in the Minor Cyclades – out of season the human population is 150 and the feline population about 180. In 2017, moved by the plight of the cats who went hungry over the winter months, Kia set up the Cats of Iraklia project. She saved the money tourists thrust into her hands 'to help the cats' and negotiated a deal with a pet shop owner on the Naxos, an hour away by daily ferry, to buy reasonably priced, healthy cat food. Then she recruited local volunteers to manage the five cat feeding stations she set up.
Mike is a cat lover from south-east London who holidayed on Iraklia and was moved by Kia's efforts for the cats. He volunteered to help, setting up a Twitter page and a GoFundMe which has raised over £20,000 so far – money used to transport the cats to a veterinary surgery in Naxos for neutering and spaying, vaccinations and emergency healthcare. Now Mike visits Iraklia every summer to witness the money he raises being used on the ground.
Don't encourage cats to jump on tables in restaurants
You might be amused that a stray cat is yowling for scraps in the taverna but the restaurant owner, who has to strike a balance between animal lovers like you and diners who regard cats as a nuisance, might not be laughing.
"In restaurants, don't throw food on the floor for cats or encourage them to jump on tables as that could antagonize the restaurant owner," Mike says. "Either ask permission to feed the cats or do it outside the restaurant. Hungry cats hang out by rubbish bins so that's a good place to take your scraps."
At Petros Taverna, on the Greek island of Poros in the Saronic Gulf, management have set up a feeding station for the cats just outside the restaurant and encourage cat lovers to put scraps in their bowls there. It works – several cats, including some adorable kittens, still prowl the taverna but they understand their restaurant is across the road and are (relatively) polite to diners.
Buy high-quality food for the strays you befriend
UK holiday company Tui have an informative leaflet advising customers on how to interact with stray cats and dogs abroad and launched the Stray Animal Awards for hotels that care for nearby cat and dog populations.
Most cat owners know which foods are dangerous for cats – chocolate, onion and garlic, for example – but if you're unsure swot up. The Tui brochure advises holidaymakers against feeding cats bones, which can splinter and cause injury, and milk which could cause diarrhea and dehydration.
The best food for stray cats is kibble bought in a pet shop and packed with vitamins and minerals to keep the cats healthy long-term.
You won't catch fleas – but you might get bitten
Many stray cats have fleas — clues the critters are present are persistent scratching and bald patches. Fleas can't live on humans but beware — they can bite. If you want to help future tourists avoid flea bites, consider packing some spot-on flea treatment in your holiday suitcase.
Check whether rabies is present in your destination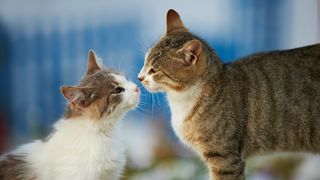 The UK government has declared Greece free of rabies but in some holiday destinations – India and Thailand for example – there's still a risk. For peace of mind, animal lovers who know they won't be able to resist petting cats and dogs on holiday, should consider having the rabies vaccination before they travel.
Let locals know you appreciate the cats
If a holiday destination's cats are part of its attraction, let local people know – it can help change attitudes.
Kia says: "Locals on Iraklia didn't much care for the cats. Now tourists tell us they chose our island because we care for the cats and it's shifting local opinions – locals appreciate them. Also strong, healthy cats are good hunters and, as we have a lot of mice on the island, that's a useful skill."
If you fall in love with a cat and want to take it home, remember – some cats are born to be wild
It's not in the best interest of every cat you meet on holiday to be adopted. The Greek Cat Welfare Society (greekcats.org.uk), which advocates for Greek street cats and organises neutering programs, points out that travel can be stressful for animals and some struggle to adapt to home life.
But others, who are perhaps vulnerable because of their age or size, can benefit greatly from all the blessings a modern pet enjoys including top quality food and access to regular veterinary care.
Take Irene and Patata in Iraklia as an example.
"Some cats are suitable for adoption – others not so," Mike says. "For example, a tourist, Andreas, fell in love with a cat called Irene who was suffering with flu and helped Kia treat her with medicine every day – now she lives with him at his home in France. He shares photographs with us and Irene is so happy, benefitting from the security of being a much-loved pet.
"But other cats, like ginger Patata who lives at the port, thrive as strays. We call Patata Iraklia's ambassador as he greets every visitor who steps off the ferry and is there to say goodbye too. He fishes with his paws, pulling little tiddlers out of the sea. So removing Patata from Iraklia would be a great shame for him and everybody here who loves him."
If you do decide to adopt, talk to the local rescue first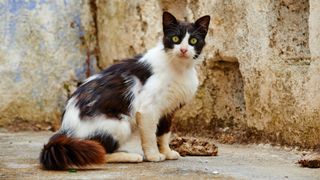 So you're convinced it's more than a holiday romance – how do you go about adopting a cat?
Mike advises liaising with the local cat project in the first instance – the Greek Cat Welfare Society (UK) publishes a comprehensive list of cat rescues in the country.
"We helped Andreas adopt Irene," Mike says. "Kia took her on the ferry to Naxos to be spayed, for example, and to get all her health checks for her pet passport."
Regulations for bringing a cat home to the UK vary depending on which country it's from but all cats need to be microchipped and have a rabies injection – GOV.UK have information on the UK laws for adopting cats from abroad and you can find the US equivalent at USDA.
Local cat rescues and vets will also have contacts for animal transport companies. All in, it's an expensive business - the Greek Cat Welfare Society (UK) estimates costs of preparing a cat for travel and transport at around £500.
If your holiday destination has a program to help cats, donate
The best way to ensure the long-term health of stray cats is to donate to the local people who are caring for them on the ground - feeding them (popping worming tablets into their food) and organising neutering, vaccination and emergency health care programs with neighborhood vets.
Internet research should lead you to details of a program for strays. For cats in Greece, as mentioned above, the Greek Cat Welfare Society (UK) lists groups of volunteers.
For dog lovers, Soi Dogs (soidog.org) based in Phuket in Thailand, cares for the local strays and offers volunteering opportunities if you're interested in helping out on a practical level.
Ask around too - on holiday in Kerala, India, I chatted to local people and connected with cat lovers who fed the strays, donating food to them before I travelled home.
"It's lovely when people thrust 20 Euros into my hand at the end of their holiday but GoFundMe is a better way to donate as Mike pays the pet shop owner for the food and the vets for all the treatments by electronic transfer – it keeps things simple," Kia says.
Get the best advice, tips and top tech for your beloved Pets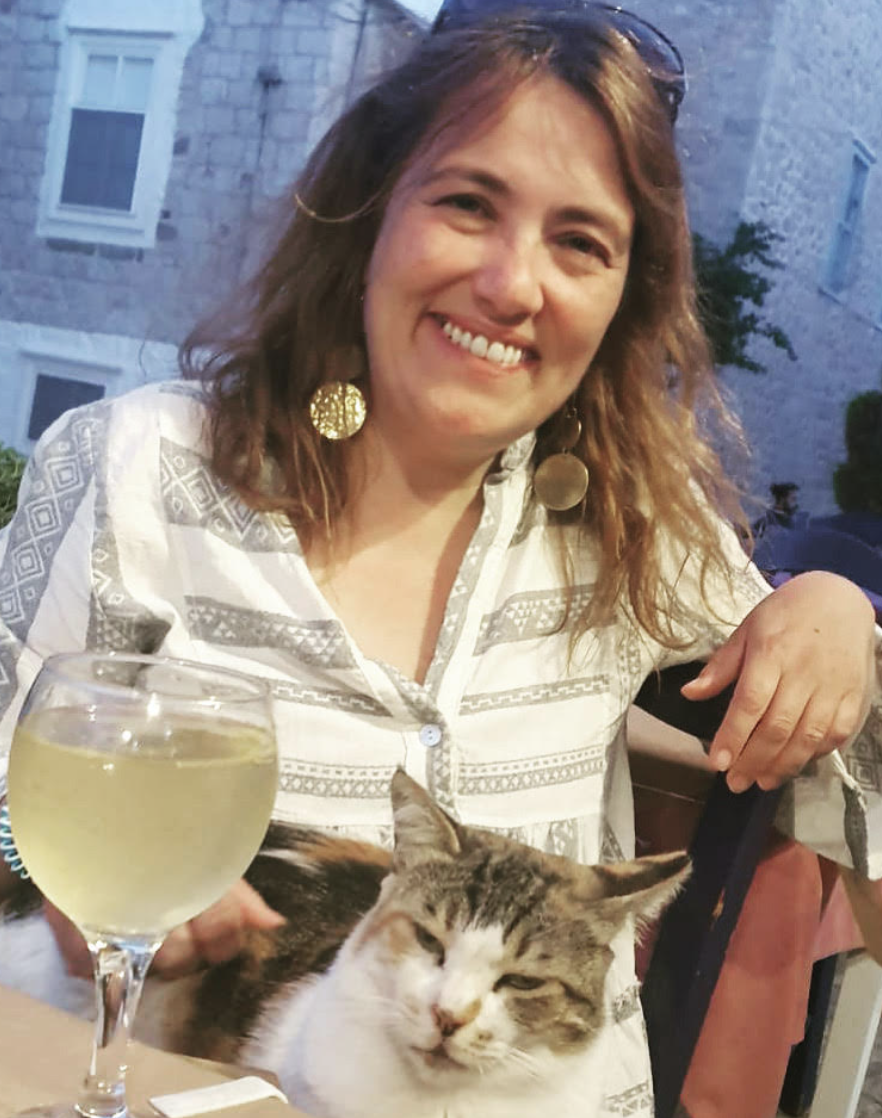 Jane is a journalist and author specializing in writing about pets. She lost her 19-year-old cat Dodger (a stray who turned up on her doorstep and decided to move in) in February 2023 and has been filling the void meeting Greek cats on holiday and wondering whether to adopt one.