How to buy the best camera for pet photography
Get better photos of your furry and feathered friends by buying the best camera for pet photography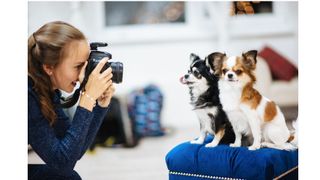 (Image credit: Getty Images)
Pretty much from the day we bring home our new best friends, the desire to capture photos of them is intense. Making sure you have the best camera for pet photography is the best way to elevate your mundane phone snaps to something a bit more special - perhaps you might even consider becoming a professional pet photographer at some point; after all, the market is huge.
In this piece, we're going to look at some of the key things you should be considering when thinking about buying a camera specifically for pet photography. We'll also offer some good models you can buy right now, at a range of price points. After you've chosen the right kit find out how to take great pet photos and how to take action-packed dog photos to ensure the best results.
Read on to find out more…
Fast frame rates
Pets have a habit of not keeping particularly still, which can be problematic when trying to take sharp photos of them. That's especially the case if you want to take photos of them doing something that they love - such as chasing a ball.
It pays therefore to look for a camera which offers a decent fast shooting rate. Ideally you want at least 12fps to be able to capture a good degree of movement, but some cameras can go even faster, which is great news. Pay attention to whether stated speeds include autofocus, as it'll mean the camera refocuses between each shot for even better results.
Excellent autofocusing
Speaking of autofocusing, pay attention to cameras which offer super-fast autofocusing, a good spread of AF points across the frame, and in particular, good tracking focus.
Many modern cameras also include Animal Eye AF, which helps to get pin sharp shots even as your pet moves across the frame. It will also mean you don't need to worry about moving the autofocus point when shooting pet portraits if they move their head slightly - focusing on the eye will generally ensure the best shots.
A good zoom or range of lenses
Although we all like getting up close and personal with our pets, photographing them from a distance tends to result in more natural imagery. In order to achieve this, taking pictures from a distance is the obvious way to go about it.
In which case, if you're looking at models with a fixed lens, keep an eye on those with long zooms, and if you're looking at models where you can change the lenses, ensure that there's decent zoom lenses available in the manufacturer's range.
An adjustable screen
One of the top tips we can give you when photographing your pets is to get down to their level for the most natural shots. If you have an adjustable screen this makes it a lot easier, since you won't have to scrabble around on the floor to compose your shots.
Adjustable screens tend to either be fully articulating - where they can be rotated in a number of different directions and even face forwards. These are the most flexible but can take a bit longer to get quickly into the position you need. The other alternative is a tilting screen, which allows you to quickly pop down and shoot from a low angle - which is often all you need for a good pet photo.
Either way, look for models which offer more than just a fixed screen for the best chance of composing from the right angle for your pet.
Consider the design
Design-wise, cameras range from pocket-friendly portable models which are great for snapping on the go, to much more advanced models which are larger and more unwieldy.
There's no wrong or right answer to which design is best, as it will all depend on the individual and how you plan to use the camera. If you're looking for something that will slot neatly into your life and always be on hand for those unpredictable pet moments, then it makes sense to go for something small and lightweight.
If on the other hand, you are seriously enthusiastic about pet photography - or perhaps thinking about a career in it - getting a bigger and more advanced model will usually result in better overall shots.
Look for something that offers a good blend of portability and functionality if you fall somewhere in between.
Five best cameras for pet photography
There's a huge range of different cameras at different price points or skill levels. We've picked these five models because they each offer something particularly useful for pet photography.
Canon EOS R6
If you're very into your pet photography, or possibly considering turning pro, then the Canon EOS R6 is a fantastic choice.
It can shoot at up to 20fps, offers very accurate Eye AF, fantastic focusing and great image quality. There's a decent range of lenses available for the Canon EOS R range, and you can also use older DSLR lenses with it too, via an adapter.
This is quite an expensive camera, so it's ideally suited to those who have a very strong interest or who are considering turning pro, but it's a fantastic choice for photographing animals.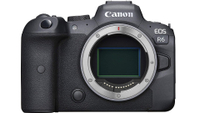 A full-frame mirrorless camera with superb autofocusing, fast frame rates and a good range of other specifications. Ideally suited for high-end enthusiasts and professional users.
Nikon Z6
The Nikon Z6 is a good all-rounder, with some good specifications for pet photography. It can shoot at up to 12fps, has a tilting screen, offers Eye AF and there's a good range of lenses that can go with it. Like the Canon option, you can use older DSLR lenses via an adapter if you already have them.
Available at a mid-range price, it's a good one for those who like to photograph pets, but also like to photograph other things, such as friends, family and travel.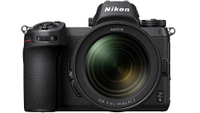 A full-frame mirrorless camera with a good range of specs that make it well suited to a variety of different kinds of subject, including pets.
Panasonic FZ2500
This camera is what's known as a "bridge" camera, which means it's styled a bit like a DSLR / mirrorless camera, but has a fixed lens which offers a great zoom.
There's a 20x zoom available, giving you good scope to shoot from a distance. You can also shoot at 12fps using the burst shooting mode, but more interestingly, you can use the "4K Photo" mode to extract clips from videos shot at 30fps.
Other useful specs include a fully articulating screen, fast focusing and a high-resolution viewfinder.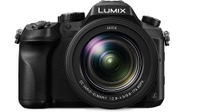 A well-specced bridge camera with a large sensor, 20x zoom and fully-articulating screen. Pet photographers can use 4K Photo to take photographs at 30fps.
Sony RX100 VI
If you want something pocket-friendly that can still pack a serious punch, then Sony's RX100 range is a fantastic option.
The problem is that the newest models are incredibly expensive. We've therefore chosen a slightly older model, which although it will still set you back a pretty penny, is a bit better value.
The RX100 VII offers a set of great features for pet photographers. There's a 10x optical zoom, Eye AF, fantastic tracking focus and the ability to shoot at up to 24fps with continuous AF.
That's seriously impressive for any camera, but for something which can fit in your pocket, ready to snap those spur-of-the moment pet moments, is incredible.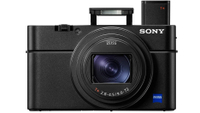 A pocket-friendly powerhouse of a compact camera. Pet photographers will love the 24fps shooting, 10x zoom, Eye AF and the fact that it will slot neatly in your life with minimal effort required.
Fujifilm X-T30
If you're looking for an interchangeable lens camera that sits somewhere between beginner and professional level, the Fujifilm X-T30 is a good choice.
It offers a lot of similar specifications to its more advanced and more expensive sibling, the X-T3, many of which are particularly appealing to pet photographers. There's fantastic autofocusing, up to 30fps shooting, and a tilting touch-sensitive rear screen.
There's a good range of lenses available for Fujifilm cameras, so although you might start with a basic kit lens, it'd make sense to invest in a longer lens for pet photography at some point.
To top it all off, the X-T30 is nicely sized, making it not too cumbersome to carry around, and with its retro design, it also looks lovely too.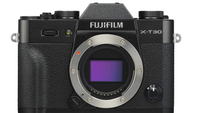 A mid-range mirrorless camera with some great specs for pet photography, including 30fps, a tilting screen and excellent tracking focus. It also handles well and looks lovely too.
Get the best advice, tips and top tech for your beloved Pets
Amy Davies is a freelance writer and photographer with over 15 years experience. She has a degree in journalism from Cardiff University and has written about a huge variety of topics over the years. These days she mostly specialises in technology and pets, writing across a number of different titles including TechRadar, Stuff, Expert Reviews, T3, Digital Camera World, and of course PetsRadar. She lives in Cardiff with her dog, Lola, a rescue miniature dachshund.