Much Love Animal Rescue: The California-based shelter that won't rest until euthanasia is a thing of the past
Much Love Animal Rescue are on a mission to save animals from shelters with kill-policies and they've rehomed over 3,500 dogs and cats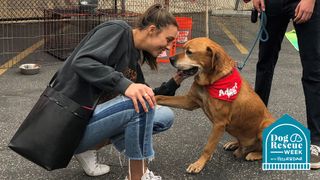 (Image credit: Much Love Animal Rescue)
There are many great shelters and adoption charities across the US (and the globe) doing fantastic work. One such shelter which has caught our attention is Much Love Animal Rescue, based out of California. Its fantastic ethos to rescue animals slated for euthanasia is as admirable as it is heart-warming. We spoke to volunteer Lisa Klick to find out more about the invaluable work that Much Love carries out.
Founded in 1999 by Nikki Wor, a swimsuit designer who worked in downtown Los Angeles, Much Love has rescued over 3,500 animals to date. Mostly, these are animals that are found on the streets that might have otherwise ended up at shelters with a euthanasia policy.
Much Love's humble beginnings started with Nikki Wor recruiting friends to help capture street dog, get them medical treatment and then to local dog pounds in an effort to find them their forever homes.
Over the years, the organization has grown, with weekly mobile adoption events taking place in Santa Monica (until recently), as well as also expanding to rescue cats. Now, the ethos of Much Love is pretty much the same as on day one, but it goes beyond just helping street dogs. Much Love will also take animals that have been long-term residents of shelters and are scheduled to be euthanized. They also work to rehabilitate animals, particularly those that have proven hard to adopt.
Much Love promotes the importance of spaying and neutering pets to drastically reduce the number of unwanted animals who end up on the street. Educating owners on how to be better pet parents is also part of the mission.
The reason why MuchLove has these goals is down to some pretty harrowing and sobering stats. Figures show that an estimated two million animals are euthanized each year in the United States. Breaking that down, that's 168,000 a month, or a shocking 5,500 every day. Much Love refuses to rest until that number reaches zero.
As if meeting those goals was not challenging enough, the past year has been particularly difficult – as it has for so many – thanks to the impact of Covid. As Lisa explains, "Adoption events have had to be put on hold, but they [Much Love] continues to rescue dogs and cats from shelters and spread the word about its work via personal networks and social media. Much Love has kept going thanks to the efforts of its loyal volunteers, including some of the original founders from 1999. Everyone in Much Love genuinely loves animals, and wants to do their part to help reduce the suffering of homeless dogs and cats.
There's one huge reason why potential pet owners should think first about adoption before working with a breeder – simply, it saves lives. "Far too many dogs and cats in shelters are euthanized for no other reason than not having a home," Lisa explains. "Every animal someone rescues from Much Love means they can save another one from a local shelter."
Raising income for Much Love is by no means an easy feat. Funding primarily comes from a mixture of adoption fees for the animals and fundraising events, such as the annual Strut Your Mutt event hosted by Best Friends Animal Sanctuary. Much Love also gets some income from grants and private donations, while online fundraising is naturally incredibly important too. The organization is currently running a GoFundMe campaign to raise funds for two new rescues, Poppy and Jackie.
MuchLove works with fosterers while dogs and cats are searching for permanent adopters. Fosterers come in all forms, but one particularly special example is the York Healthcare and Wellness Center, a senior living center. York's fostering of Dove – a senior dog herself, showered with attention from the centre's residents – even made the local TV news. It's the perfect example of just how wonderful rescue dogs can be, and how much love they have to give when matched with the right person.
Anybody interested in volunteering, fostering or adopting animals can visit the Much Love website for more information, or emailing directly to info@muchlove.org.
Get the best advice, tips and top tech for your beloved Pets
Amy Davies is a freelance writer and photographer with over 15 years experience. She has a degree in journalism from Cardiff University and has written about a huge variety of topics over the years. These days she mostly specialises in technology and pets, writing across a number of different titles including TechRadar, Stuff, Expert Reviews, T3, Digital Camera World, and of course PetsRadar. She lives in Cardiff with her dog, Lola, a rescue miniature dachshund.