My dog hated going to the vet until I tried these tips
There are many ways you can make an essential medical trip easier for a fearful dog or a pet in pain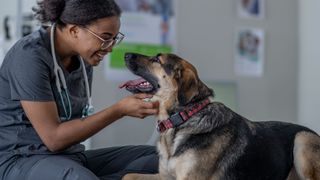 (Image credit: Getty)
Taking your dog to the vet isn't always a walk in the park. Past visits have caused stress and pain. A busy waiting room can be over-stimulating with unfamiliar smells and noise. As an owner, it's important to find ways to make a trip to the vet practice as stress-free as possible. For me, it became essential.
My seven-year-old rescued Lurcher Ziggy is a large dog that loves gentle pats, but he can be a bit sensitive. Over the years, he has become dog selective. He shies away from over-enthusiastic large dogs and occasionally limps. Taking him to the vet for examinations and tests to find the underlying cause became problematic. He didn't want other dogs in his space, and he'd learned these things might hurt.
A CT scan showed that he had disc issues in his neck. With a recent painful flare-up, more tests, and a potential operation on the horizon, I realized it was time to address the issue. This is how I did it…
1. Positive associations
When I first discussed with my vet that the small waiting room was a stress factor for Ziggy, the practice was understanding and explained it was happy for me to drop by for short confidence-building visits with a nurse. This should help him associate the vets with good things as well as bad.
Behaviorist Caroline Wilkinson says that allowing our dogs both time and space to feel comfortable in stressful environments is 'vital in changing any emotional response they already have'. She recommends ensuring your dog is allowed to choose how to interact, throwing the best dog treats rather than forcing them to approach staff. She also suggests using simple trick training or sniffing opportunities with a snuffle mat or scattered treats. This allows your dog to move from 'feeling' mode to 'thinking' mode, lowering blood pressure, reducing the stress hormone cortisol, and releasing happy hormones like dopamine. Caroline says, 'negative experiences impact the brain more than positive ones - so having lots of short and sweet experiences at the vets is needed to overcome any history of fear'.
I set up regular short visits with Ziggy to allow him to build happier associations.
A Certified Animal Behaviorist (ICAN), Caroline is a Full (assessed) Member of the APDT and INTODogs as well as a Registered Training Instructor (ABTC). Caroline is the Founder of the digital pet coaching service Barket Place, which offers courses, consultations, and webinars alongside a subscription-based club. She is also a contributor to Edition Dog magazine, a Certified Real Dog Yoga Practitioner, and an Applied Canine Zoopharmacognosist.
2. Timing is everything
Another hack I discovered was thinking about timing when I booked an appointment, ideally getting the last slot before lunch or at the day's end so the waiting room wouldn't be as busy. Behaviorist and trainer Gavin Muldoon agrees that this is a good idea; 'with no one else in the room, he gets a chance to sniff around before any procedures.'
Gavin advises owners to be aware of 'trigger stacking', a term used to describe the combination of multiple stressful events or 'triggers' in a short period of time, which can lead to an overreaction. 'Think of it as a bucket, and for some dogs, if they're in discomfort then their bucket is already starting to fill', says Gavin, 'for many dogs going to the vets is triggering'. Gavin suggests taking familiar items, such as a blanket, and using a calming spray on a bandana. I'm going to put these ideas into practice for our next trip later this month.
Ziggy certainly benefitted from my careful appointment planning and knowing what to expect also helped me to relax. And less stressful visits meant more positive memories.
Gavin had his first taste of training dogs at a young age, helping his dad train the family gun dogs using positive reinforcement. He has since trained professionally with the IMDT and IMDTB, is a UKCSD Scent Instructor and a Mentor for the Victoria Stilwell Academy of Dog Trainers. Gavin specializes in Gun Dog and Tracking, using his own dogs to find missing dogs and people. He runs dog training and behavior company The Family Dog Club in the New Forest, UK.
3. Choose your company
Ziggy lives with a cat, so meeting a cat contained in a carrier when we go to see the vet is less stressful and stimulating for him than coming face to face with a big, bouncy Labrador. When I book appointments, I ask to be 'sandwiched' between cats or small dogs.
Caroline says ensuring dogs that can react to other canines don't have such interactions prior to a vet visit 'will allow them to feel more relaxed when they enter', meaning a more pleasant visit all round. 'Even if your dog likes other dogs, they may pick up on the stress hormones, their well-developed sense of smell means they can sniff out the fear of animals around them'.
For Ziggy avoiding large dogs at close quarters before a vet visit means we can both greet the vet in a more relaxed state.
4. Work on waiting patiently
Another approach was to simply leave Ziggy safe in the car while I checked in, asking reception to let me know when the vet was ready. This avoids spending time in the waiting room where I may not be able to manage the situation. We simply walk into the exam room when the vet is free.
Gavin says 'This is my preferred approach; the dog is in their own safe space with their own scent ahead of the visit and you can then walk them into the practice where everyone is aware the dog can be nervous'.
For Ziggy, this has also meant being observed walking outside so the vet can assess his physical limitations, something that, given his size, would be harder in a small room. I found it a quick and easy tip to put into practice and Ziggy certainly benefits from staying calm in our vehicle ahead of his appointment.
5. Take time choosing a vet
Don't be afraid to ask if your vet practice can accommodate a dog that needs extra time or space – and find one that suits you. In the past, I've opted for a mobile vet and home visits, a vet with a large waiting area, asked to be met in the car park for exams, as well as requesting to enter through a rear door. The specialist we have been referred to proactively sends a questionnaire to you to learn about your pet's likes and dislikes and asks if your pet requires anything to feel relaxed. It also has a separate cat and dog entrance and some private cubicles.
Caroline says you should approach choosing your vet in the same way as you would any service provider. 'You'll want to hear them discussing ways they can provide the best support emotionally for your dog, as well as any practical measures' she says. Consider the clinic layout to check if your dog can enter the consultation rooms without going into the waiting area, a separate seating area for cats and dogs, and enough physical space. 'You can also check if there is a Fear Free Certified vet in your area', which means that they will be trained to help your dog.
The last time I took Ziggy to the vet he showed no signs of anxiety. We were able to use a cubicle away from other patients and he happily walked past other dogs. The process of managing the environment, encouraging positive associations, and advocating for Ziggy means our trips are now less stressful. And seeing Ziggy relaxed means I can relax too.
Find out more about your pooch, discover more content where our vet answers; why is my dog always hungry? Or find food treats to entertain your furry friend in our vet's guide to safe dog chews.
Get the best advice, tips and top tech for your beloved Pets
Vanessa Holburn is an established author, journalist and animal welfare campaigner with decades of industry experience.
Brought up with working and showring HPR dog breeds, Vanessa's very first publishing job was at Dog's World newspaper, where she also worked on an aquarist magazine. Since then, she has written pet content for The Daily Telegraph, Wunderdog, Woman's Own and Dogs Today. She has also written for The Daily Express, The Sun, The Mirror, Private Eye, Bella, and Fabulous magazine and spoken at universities, literary festivals, podcasts, and on radio and TV.
Vanessa's part in the successful #LucysLaw campaign at both a grassroots and national level informed her books 'How To Be An Activist' and 'How To Pick A Puppy'.
Vanessa shares her Berkshire home with a rescue Lurcher called Ziggy and an adopted cat called Saffie, plus her human family who share her love of animals.