Biden's dog Major sent back to family home after 'biting incident'
President Biden's dog Major has reportedly returned to Delaware after aggressive behavior towards a member of White House staff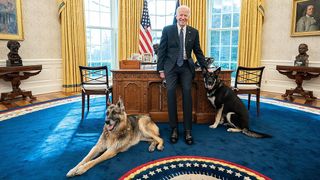 (Image credit: Wikimedia)
Just over a month into his role as the White House's first rescue dog, President Joe Biden's dog Major has been sent back to the family's home in Delaware. Along with Biden's other German Shepherd Champ, Major left the White House last week. Reports suggest the three-year-old had been barking at staff since moving in and ended up in the doghouse after biting a security guard.
The Bidens adopted Major from a shelter in 2018. The pup joined Champ, who is 10 years older. Major's incident is unfortunate, and the condition of the staff member is as yet unknown, but it's not uncommon for a dog's behavior to change or intensify after moving into a new home. Many dogs become fearful or agitated in unfamiliar surroundings, and it can take time for them to feel safe and confident again. Some display this uncertainty through aggression, while others revert to attention-seeking, puppy-like behaviors: chewing, barking, digging, or having 'accidents' in the house.
Speaking in an interview on The Kelly Clarkson Show last month, First Lady Dr Jill Biden said that helping the dogs feel comfortable in the White House was a priority: "I've been getting obsessed with getting our dogs settled because we have an old dog and we have a very young dog". Major and Champ have had more to get used to than other pets; getting around the White House involves the use of elevators and there are large numbers of staff constantly keeping an eye on the family, even when they're playing on the South Lawn.
As a mature dog, Champ has met a lot more people and seen more change in his life. He probably also lacks the energy to act on any nerves caused by the relocation - German Shepherds have a shorter lifespan than the average dog, and a 13-year-old is considered very senior. Major, as a much younger and stronger dog, may even have felt additional stress on behalf of his older companion. Shepherds are known for their loyalty, and Major can likely sense that Champ is slowing down and becoming vulnerable.
The White House has not yet commented on the incident. Whether the dogs have been sent home permanently or are to return to the White House some time in the future, it serves as a reminder that pets – even presidential ones – can be deeply sensitive to big life changes.
Get the best advice, tips and top tech for your beloved Pets
Victoria is a writer, author and communicator with a background in science and has recently completed an MSc in Science Communication. She also has a degree in Evolutionary Biology and has written for magazines including World of Animals, How It Works and Science+Nature. She grew up with rabbits and a spaniel, and has had her horse, Bernie, for 11 years.