Follow Champ and Major on Instagram and Twitter for pawsome updates
Champ and Major now have their own social accounts so you can follow the adventures of the Biden dogs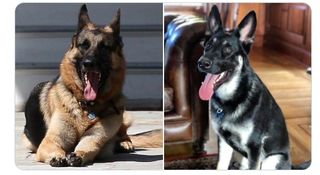 (Image credit: @TheOvalPawffice Twitter)
There's been a lot of talk about the new First Dogs of the United States, Champ and Major recently. Joe Biden's two German Shepherds have been a hot topic amongst the public, with animal lovers excited to see some new four-legged friends in office.
Now, much to their fans' delight, Champ and Major have their very own social accounts, including Twitter and Instagram, so followers can keep up to date with their adventures and official duties as DOTUS. There is even an official website for The Oval Pawffice, where you can buy dedicated merchandise and see the great work being done to raise awareness for shelter dogs.
♥️🤍💙 When we wake up and realize we're in the Executive Residence, in the WH:We're so excited And we just can't hide itWe're about to lose pawntrolAnd we think we like it! pic.twitter.com/CkqLxpCKn9January 27, 2021
Jill Biden officially moved into the White House on Sunday, bringing Champ and Major with her, and it seems that both the Biden dogs have settled in quickly to their new roles, as she posted on her Instagram account a photo of a very happy Major running around the South Lawn, and an official statement said: "Champ is enjoying his new dog bed by the fireplace, and Major loved running around on the South Lawn".
Champ has been a part of the Biden family since 2008, and was a gift to Biden from Jill for his vice-presidency victory, but Major later joined the family when he was adopted by the Bidens from the Delaware Humane Association. Major is officially the first rescue dog to live in the White House, and animal charities everywhere have been celebrating this victory for both Champ and Major.
Biden's dogs are the reintroduction of a long-standing tradition of pets in office, with all but three US Presidents having furry friends living with them in the White House. Trump did not have any pets during his time in office, but now Champ and Major have moved in, we're already certain that they'll go down in history with the White House dogs and cats of past and present.
There is also talks of the Bidens introducing a cat into the White House. No specific details have been shared just yet, but if and when they do, it will be the first cat in office since 2001, since George Bush's cat India held the title of First Pet of the United States.
Get the best advice, tips and top tech for your beloved Pets
Sarah is a freelance writer and marketer, covering a variety of topics from lifestyle and fitness to sustainability and travel. When she's not writing for PetsRadar or other websites, she can be found looking after her pet chickens or relaxing with a cuppa and a cute doggo snoozing on her lap!