Top five presidential pets: The White House dogs and cats of past and present
Which White House dogs and cats have left their mark on the nation's history? We take a look at some of the presidents most memorable pets.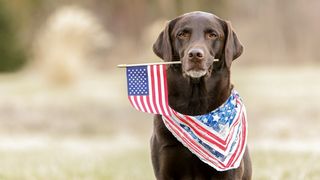 (Image credit: Getty Images)
As Joe Biden gets inaugurated as the 46th President of the United States, there's been lots of talk from America's animal lovers about the "furry friends" that will be moving into the White House along with him. As well as the soon-to-be "White House dogs", two German Shepherds called Champ and Major, Biden's presidency will see the first cat in the White House since India, the cat who lived there with George W. Bush. While Major will be unique as the first rescue dog to reside in the White House, Presidential Pets are certainly nothing new.
In fact, the White House has seen all sorts of animal residents, from horses to parrots and even goats, over the years but it's dogs that have most commonly held the post of "America's First Pet". Although there have certainly been instances of internal tensions between dogs and cats in some administrations. To mark the arrival of Champ, Major, and the as-yet unnamed cat to office, we thought we'd take a look at some of the most memorable pets that have shared the role over the years.
PetsRadar's favorite White House pets from history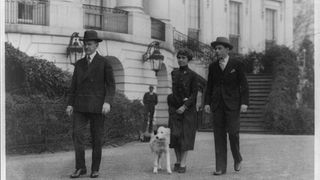 1. Calvin Coolidge's Collie: The best dressed dog in the White House
Coolidge was one of the earliest American Presidents to bring animals to the White House. In fact, he and his wife had so many pets there it was almost like a zoo. They had dogs, birds, cats and even a hippo, a bear and lion cubs! But by far the most-loved of them all was his white Collie, Rob Roy. The First Lady loved dressing him up and showing him off around the grounds, possibly making him the best dressed dog the White House has seen to date!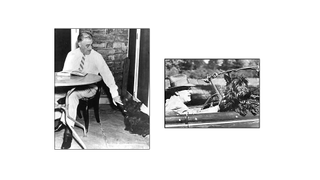 2. Franklin D Roosevelt's Scottish Terrier: The President's travel companion
Roosevelt was gifted this pup by his cousin while he was President during World War II. The Scottish Terrier, Fala, was named after his Scottish ancestor John Murray of Falahill and became Roosevelt's top travel companion. The little dog was loved by the press and even took the starring role in his own movie in 1943.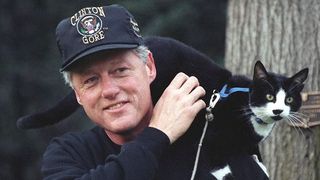 3. Bill Clinton's cat Socks: The First Pet of the United States
Bill Clinton had one of the most famous presidential pets, his cat Socks. Socks was an adopted stray cat, and became something of a media star as the face of the children's White House website. Clinton also had a dog, a chocolate Labrador Retriever named Buddy, with whom Socks did not care to share his title. Socks would often make appearances with Clinton, presumably to ensure everyone knew that he was indeed the official First Pet of the United States.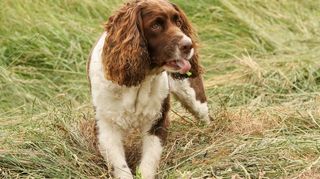 4. George H.W. Bush's Springer Spaniel: Expert pup in foreign affairs
Millie, Bush's springer spaniel was a well-established part of the White House, and indeed Bush's Administration. He even went so far as to mention her in one of his speeches, stating "My dog Millie knows more about foreign affairs than these two bozos" when referring to his opposition Bill Clinton and Al Gore. Millie made several appearances in TV shows and even had her own book, making her possibly the most famous Whitehouse dog ever. Millie also gave birth to puppies during her time in office.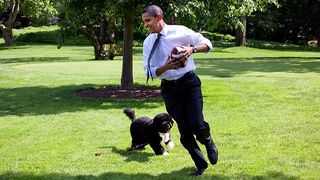 5. Barack Obama's dog Bo: The White House Puppy
When Barack Obama was running in the 2008 presidential election, he promised his daughters a dog whether he won or not. In his victory speech, he said "I love you both more than you can imagine. You've earned the puppy that is coming with us." Bo, a male Portuguese Water Dog, joined the Obama family in the Whitehouse in 2009, who was later joined by Sunny, a female Portuguese Water Dog in 2013.
Get the best advice, tips and top tech for your beloved Pets
Sarah is a freelance writer and marketer, covering a variety of topics from lifestyle and fitness to sustainability and travel. When she's not writing for PetsRadar or other websites, she can be found looking after her pet chickens or relaxing with a cuppa and a cute doggo snoozing on her lap!