Pit Bull parent leaves dog owners blubbing with her adorable bedtime ritual
Simba the Pit Bull goes to sleep in style every night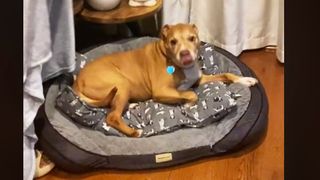 (Image credit: TikTok)
A Pit Bull named Simba has captured the hearts of social media users everywhere after a video of his adorable bedtime ritual went viral on TikTok.
The clip, posted by an account called @enchantress.noir, has been watched nearly 10 million times in just two weeks, amassing more than 740,000 likes from doe-eyed dog-owners the world over.
In the short video, captured on Simba's 10th birthday, his owner calls "bedtime" and the well-trained pup trots merrily over to his (incredibly cosy) dog bed before settling himself down for the night. But that's not all.
His owner then lays a blue blanket over him, gives him one final scratch of the cheeks for good measure, then leaves him to get his beauty sleep with a parting, "goodnight sweetheart… love you". Simba, being the good boy that he is, settles straight down (aside from his tail, which peeps out from the end of the blanket and continues to wag slightly).
Describing the scene as heart-warming doesn't do it justice in our eyes, and it appears many TikTok users agree. Some commenters kept it simple, with one simply professing, "I love dogs". Others were less reserved with their reactions, with one person writing: "I feel like crying. This is the best video on the internet - so sweet!" Many more were also quick to point out how lucky Simba was to have such a caring owner.
However, some sleep-deprived dog-owners couldn't hide their envy at Simba's well-drilled bedtime routine. And, in a separate video (below) showing him sleeping while snoring lightly and clutching a cuddly rabbit toy, his owner revealed that he does in fact stay in his bed "all night long".
Echoing the sentiments of many people who own energetic pets, one follower said his dogs "wouldn't be able to comprehend bedtime" and another commented: "Man, I wish my dogs would do this."
If you are wondering how to get a dog to sleep, our handy guide might be able to teach you a few tips and tricks. Although, on this video's evidence, it appears Simba and his owner are doing just fine without our advice.
Get the best advice, tips and top tech for your beloved Pets
Having grown up on farms in rural south west England, there has rarely been a moment in Harry's life when his home hasn't been filled with a cacophony of animal noises. From dogs, cats, hamsters and rabbits to chickens, goats, tortoises and a particularly mischievous lamb, he has always enjoyed being surrounded by a wide variety of pets. Currently, he enjoys living in the (comparatively quiet) company of his one-year-old cavachon, Archie. As a writer, he started his journalistic career in 2018 as a reporter earning bylines in more than 70 regional and national UK newspapers over the next three years. After this, he began writing for magazines, producing features and reviews for titles including Men's Health, Good Housekeeping, Elle and Esquire.