Puppy Bowl adoptable dogs - Four big breeds in need of a loving home
Could you give a home to one of these four, Puppy Bowl adoptable dogs? They'll grow up fast!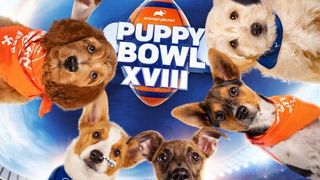 (Image credit: Animal Planet/Discovery)
The list of Puppy Bowl adoptable dogs in 2022 featured 11 pups in need of a home but these four are the ones likely to grow up to be canine Aaron Gibsons! Take a look and see if you could give one a home.
Puppy Bowl is staged every year by TV network Animal Planet to aid animal adoption and to highlight the great work done by America's Animal Shelters. In the 18th competition televised yesterday Team Fluff beat Team Ruff by a slim margin of 73-69 in a game that lasted some three hours. Alongside the 105 pups that took part were 11 that were available for immediate adoption but we've picked out four that are likely to grow into heavy hitters to rival the giants of NFL. Who knows, maybe you'll be watching next year's Puppy Bowl with one of these guys next to you on the couch…
Charlie - Rhodesian Ridgeback
Oregon Humane Society
Charlie is a 10-week-old Rhodesian Ridgeback mix who came from a litter of 12 puppies and currently resides in a shelter in rural southern Oregon. Although he's a cute lil fella right now, be warned that this breed will grow to an average of around 27 inches tall and weigh in at some 88lbs! The shelter anticipates a lot of interest in Charlie but if he's found a furever home already they'll have lots more pets looking for adoring owners.
Trex - Pit Bull Terrier Mix
Animal Welfare Society of Jefferson County
Trex lives in Jefferson County and is a fun-loving, 9-week-old Pit Bull mix. He comes from a litter of seven siblings and was brought to the shelter with his mom just a few days after being born. He currently weighs in at around 8lbs but will grow into a solid 60lbs canine powerhouse! Favorite activities include playing, snuggling and napping and he'd suit single people or families alike.
Fitzy - American Pit Bull Terrier mix
Fitz is named after Larry Fitzgerald, legendary Wide Receiver for the Arizona Cardinals. He's a sweet little pup who was born in an AHS Foster Hero home after his mom was transferred there through its Project Reachout program. After medical check-ups the AHS veterinarians discovered that poor Fitzy is blind in both eyes so this specially-abled pup will require a special home to care for him. Despite his challenges, Fitzy enjoys playing ball with his siblings and learning how to navigate his way around.
Gumdrop - Husky/Shepherd mix
Gumdrop is a ten-week old shepherd-husky mix puppy with a playful personality who comes from a litter of eight siblings who are also up for adoption. The litter have been cared for by foster families since arriving at the humane society as newborns just prior to Christmas and all of them have fun, candy-based names including Nerds, Taffy, Pop Rocks and Milk Dud. If you want to see more of Gumdrop and her brothers and sisters visit the link above.
Get the best advice, tips and top tech for your beloved Pets
Dave has over 20 years experience in publishing during which he launched many successful magazine titles including How It Works, All About Space and All About History. He's also pet parent to a retired police dog called Rebel, who can't work anymore due to a health condition. When's not busy trying to amuse a boisterous, three-year-old German Shepherd, Dave's the Editor on PetsRadar.