Rescued fighting dog learns to bark and wag his tail after six years
Scooby's traumatic story has a happy ending thanks to the hard work of his new owner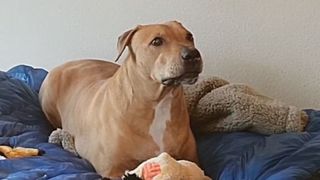 (Image credit: TikTok / @juicemorph)
Dog fighting is a horrific form of animal abuse that sees many dogs severely injured and killed, and sadly many of the canines rescued from dog fighting rings are left so traumatized by their experience that they're simply unable to settle into a normal life afterwards.
Fortunately for one such dog there's much more of a happy ending. Scooby, a mixed-breed dog, was rescued by police from a dog fighting ring in California back in 2016, and was subsequently adopted by Chris, an IT consultant from Montana.
Chris describes Scooby as a good dog who needs bit of extra work, and notes that he's extremely fearful except when it's just the two of them together. And that's not at all surprising; when the police raided the fighting ring and rescued the dogs from their kennels, they found the room eerily silent, full of dogs too traumatized to bark.
Scooby spent a year in a shelter after being rescued and was in danger of being put to sleep, as most people don't want a dog that was used for fighting. But Chris clearly isn't most people, and he took it upon himself to bring Scooby home and give him as normal a life as possible.
And the good news is that Chris's work has – eventually – paid off. While Scooby remained resolutely silent for the first few years of living with Chris, just last year he finally became relaxed and confident enough in his new home to bark.
It wasn't much of a bark at first – more of a squeak – but it was a great start, and Chris has encouraged Scooby to work on his bark by treating it as a game and giving him lots of praise and positive reinforcement (and the best dog treats) whenever Scooby lets out a little bark. And the encouragement's paying off; Scooby will now occasionally do a proper bark, and he's even started wagging his tail too!
While Chris accepts that Scooby's unlikely to ever be what we might think of as a normal dog, the progress that he's made after years of training and encouragement is truly heartwarming. If you want to see more of his progress, you can find him on Chris's TikTok page.
Get the best advice, tips and top tech for your beloved Pets
Jim is a writer, performer and cat-wrangler based in Bath, who last year adopted a pair of sibling rescue cats who turned out to be effectively feral, and has spent a lot of time since then trying to get them accustomed to people (some success) and each other (ongoing project).