Bill proposed to make torture of cats and dogs a major felony in Kentucky
Pet Bill proposed to strengthen the law to ensure animal abusers are held accountable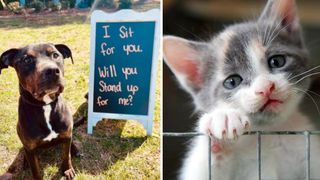 (Image credit: Facebook / McCracken County Humane Society / Getty Images)
A new animal rights bill is to be presented to the US House of Representatives that will ensure that animal abusers in Kentucky will be held to account for their crimes.
Currently, even if a person is found guilty of torturing animals, the punishments that can be given out can be very lenient as the crime is only classed as a misdemeanor.
Kentucky State Representative Chris Freeland believes this has to change. He is presenting House Bill 20 to try to prevent animal abuse and to punish perpetrators appropriately.
The Bill defines torture as "The infliction of or subjection to extreme physical pain or injury to a dog or cat, motivated by an intent to cause, increase, or prolong the pain or suffering of the dog or cat." It covers deliberately hurting cats and dogs, cruel imprisonment and deliberate starvation.
If passed, the Bill will make it a class D felony to torture a cat or dog, making the torture of an animal equitable to crimes such as arson, burglary, armed robbery, voluntary manslaughter and murder. There will be exceptions such as humanely putting down an animal and licensed hunting.
Freeland says the idea isn't to put more people in jail, but to provide a proper deterrent against animal torture. As he explains to WPSD Local, "Anyone who would intentionally tie up an animal and find pleasure in watching it starve to death or all the things that the poor dog or cat would go through, I think that rises to what a felony is considered."
He adds, "Just take the animal to the shelter or give it to someone else. Don't tie it up or put it in a cage that it can't even stand up in or turn around in just to watch it suffer and die and go through all that agony."
The bill has been years in the making and has over 50 co-sponsors meaning it is likely to pass in the House. However, this will be the third time the bill has been presented, as it hasn't got heard due to other Bills being deemed to have a higher priority. Let's hope this time it is given the due consideration it deserves.
Get the best advice, tips and top tech for your beloved Pets
Jamie Middleton is a freelance editor and writer who has been editing and creating content for magazines and websites for over 20 years. As well as writing about the pets he loves, he has helped create websites about tech and innovation like TechRadar.com, Innovate UK and TechSPARK, written programmes for music festivals, books on inventions and architecture, TV listings magazines, and edited publications about cars such as Lexus, Toyota and Jaguar. In his spare time he writes fiction books and poetry - or at least he does when he is permitted to by his cat Pirate, who enjoys the warmth of laptops too much to allow being creative to get in the way.