Are rescue dogs free? 8 useful things to know
Find yourself wondering, 'are rescue dogs free?' Here's what you need to know before adopting one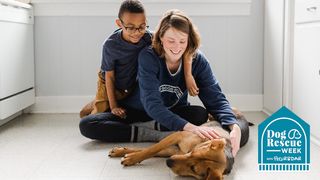 (Image credit: Getty Images)
Do you find yourself wondering, 'are rescue dogs free?' Rehoming a rescue dog is the perfect way to give a dog a second chance in life. But there are some important things to know before welcoming your new pooch into the family.
Once you know how to adopt a dog, welcoming a newly adopted rescue dog into the home is an exciting time for the family – especially when it's a pooch from a challenging background, and in much need of love and affection.
Compared to buying a dog 'new', a rescue dog can often come with a different set of challenges. Many rescue dogs have led sad lives, neglected or from tough backgrounds, so it can be rewarding to give a rescue dog a fresh start in life. In fact, The Dogs Trust estimate that there are around 110,000 rescue dogs in need of a loving home.
However, if you're thinking of rehoming a rescue dog, there are some important things to consider. After all, 'a dog is for life' and rehoming a rescue dog is a huge commitment. So it's important to do all the preparation to make sure the process is smooth and stress-free for both you and your new canine companion!
Here are some of the common questions asked, and key things you need to know before giving a rescue dog a home...
1. Do you have to pay for a rescue dog?
While the answer is essentially no (for your chosen pooch) when it comes to the question, 'are rescue dogs free?', you DO have to pay rehoming fees to the center to cover care costs. Each rescue center sets their own fees, so confirm first with your chosen center. Typically, these costs help to cover your pooch's medical, food, and transportation costs incurred over time. This also contributes to medical cover for other rescue animals.
2. How can I apply for a rescue dog?
Each rescue center has their own procedure, but usually you would need to register your details, and fill out an application form. Based on your application, staff from will be in touch to arrange for you to meet and get to know your chosen dog. This is often followed by home visits to advise on any adjustments to your space and practical care tips. Once everyone (including your pooch) is happy that your new dog will be in the best care, you can officially take him home.
3. What is the best age to adopt a rescue dog?
It is suggested that the best age is eight weeks old and above. The first eight weeks tend to be a critical time in a pup's development, whether they tend to be with their mother and litter. However, rescue for senior dogs is still a worthy and rewarding task.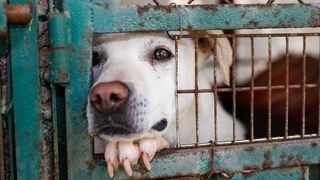 4. Are rescue dogs harder to train?
Training a rescue dog is a little different to training a puppy, and many rescues may have had some previous training, so the question, 'are rescue dogs free?' might not be your primary concern. On the plus side, trained dogs may be easier for first-time owners, as they can eventually be left at home. Untrained canines will often need to be taken out every two hours until they are fully house-trained. You could always complement your training routine with the best dog treats as a reward.
5. How do I get our new dog settled?
Having a new home can be daunting for rescue dogs, especially if they are not yet used to different environments. It's important to provide consistency, as well as love. Establish daily routines to help your new pet understand their new environment, so go for walks at the same time, stick to regular mealtimes, and keep their bed in the same place.
Playing is also an important part of getting to know your pet and bonding. The best dog toys are fun options to keep them entertained with.
6. How long will it take my rescue dog to adjust to our home?
That all depends on the dog and their background. For a well-adjusted and friendly pup, this should take anywhere between two weeks to a few months. However, for dogs not yet used to people or different environments, this may take up to a year, possibly longer.
7. Is it ok to rename our new rescue dog?
Yes. In fact, it's highly recommended to change the name of your new pup, particularly if they've had a rough upbringing and may have negative associations with it. Best of all, if you decide on a name as a family, it will help you bond.
8. What other things will I need for my new dog?
Beyond asking, 'are rescue dogs free?' it's worthwhile considering dog insurance, especially for rescue ones. Rescue dogs tend to be older, and are seen as more high-risk than a puppy. The best pet insurance will cover your pet's medical needs, ailments, and veterinary treatments. Other safety aspects to consider include microchipping, and displaying a dog ID tag on your pup's collar.
Get the best advice, tips and top tech for your beloved Pets
Cynthia Lawrence is freelance lifestyle journalist. Starting off her career in national magazines, she moved to digital and e-commerce publications. When she's not reviewing exciting products, she is obsessed with home interiors and her neighbour's cat!