Meet Cletus Spuckler, the cute as fluff rescue dog that's found his forever home
This tiny dog is unique in looks but has the biggest heart of gold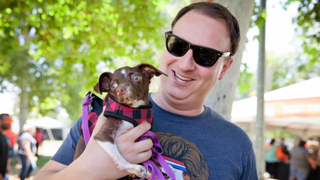 (Image credit: Future)
Cletus Spuckler didn't always have such a happy home. Cletus was homeless on the streets of LA before being found and taken in by the animal shelter Best Friends Animal Society. At this time the poor little thing was famished, not having had a good meal in a long time. The shelter nurtured Cletus and helped him build his strength back up, also treating him for a respiratory infection at the time.
Cletus is certainly unique in looks, with his crooked nose, hunched back and large overbite, which sadly gave him a difficult start in life. But when Mark and Summer saw Cletus on Instagram, he won their hearts and they knew they had to adopt him!
Mark and Summer headed down to Best Friends Animal Society where they say it was love at first sight for both them and Cletus. The couple has pet cats at home and Cletus gets on beautifully with them too. While his unique looks make some other dogs a little wary of him, Cletus has a huge heart that is bursting with love, and he loves to try to make friends with other dogs.
Mark said "Because of his physical condition, some dogs just aren't sure how to play with him" but he confirmed that Cletus still makes many friends and has a great time mixing with other dogs.
Cletus does have some unique needs due to his physical condition, meaning his walks have to be quite short, and Mark and Summer need to watch what he eats due to his crooked esophagus, which means he has trouble swallowing all of his food.
But the pair don't regret a second of it, and say that everyone should consider adopting a dog, as it could not only save their life but yours too!
Get the best advice, tips and top tech for your beloved Pets
Sarah is a freelance writer and marketer, covering a variety of topics from lifestyle and fitness to sustainability and travel. When she's not writing for PetsRadar or other websites, she can be found looking after her pet chickens or relaxing with a cuppa and a cute doggo snoozing on her lap!