Arrests made after dogs shot at a canine training facility
Dogs were found to have been killed and buried at a training facility for potential military and police canines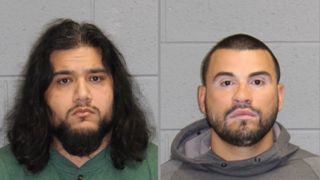 (Image credit: Naugatuck Police Department | Pictured: Daniel Luna and David Rivera Jr. )
A suspended K-9 police officer and the general manager of a canine training facility have been arrested after at least 10 dogs were found fatally shot and buried in Naugatuck, Connecticut.
Officer David Rivera Jr, aged 34, and David Luna, the 33-year-old general manager of Black Rock Canines, were apprehended following an investigation into the incident by the Naugatuck Police Department.
"It is alleged that numerous canines of all ages and breeds, including German Shepherds, Belgian Malinois and Labrador Retrievers have been abused and injured during their time at Black Rock Canines," a police spokesperson said in a press statement posted on Facebook.
"More specifically, that at least 10 canines have been killed by employees with a firearm. The canines that were shot and killed were then buried on the property by the owner/operators of the business."
Police said investigations pointed towards Luna having mistreated and abused the animals, including the shooting of dogs deemed no longer viable for the business which trains potential military and police canines.
"Witnesses also stated that Daniel Luna's lack of adequate care led to the death of puppies who had been left exposed to harsh weather elements," the statement continued, adding that military-grade high explosives were also found unlawfully stored at the property in Tupperware containers.
Rivera Jr, who owns Black Rock Canines, turned himself into police after a warrant was issued for his arrest. He was charged with conspiracy to commit cruelty to animals, reckless endangerment in the first degree, and conspiracy to commit euthanization of a canine. He was released after posting a $150,000 bond and will attend court on May 18.
Luna also turned himself into the police and he was charged with four counts of cruelty to animals, four counts of conspiracy to commit cruelty to animals, reckless endangerment in the first degree, four counts of unlawful euthanization of a canine, four counts of conspiracy to commit euthanization of a canine and identity theft in the third degree. He was held on a $225,000 bond and arraigned at Waterbury Superior Court on May 3.
The remaining 31 dogs at Black Rock Canines have since been removed in a joint effort by police and State and Local Animal Control Officers.
They have been placed in another shelter but, following pleas from members of the public, police were forced to clearly state the dogs wouldn't be available for fostering or adoption any time soon given they are being considered evidence in the investigation.
"The allegations outlined in these affidavits are not only illegal but disheartening," the police spokesperson said. "As a police agency with three working canines that serve our community to their highest capability, we are appalled at the treatment that other dogs of the same caliber were given while under the care of Black Rock Canines."
Get the best advice, tips and top tech for your beloved Pets
David Crookes has been a journalist for more than 20 years and he has written for a host of magazines, newspapers, websites and books including World of Animals, BBC Earth, Dogs and Canines, Gadget and The Independent. Born in England, he lives in a household with two cats but he's also keenly interested in the differences between the huge number of dog breeds — in fact, you can read many of his breed guides here on PetsRadar. With a lifelong passion for technology, too, he's always on the lookout for useful devices that will allow people to spend more time with their pets.