Final Black Friday pet deals: PetSmart, Walmart, Petco and more!
By PetsRadar
Don't miss out on these Black Friday pet deals on pet food and equipment from leading retailers like Petsmart, Walmart, Petco and others! The bargains won't last forever!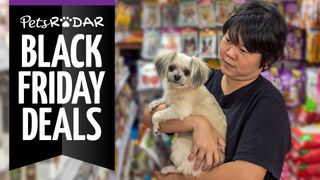 (Image credit: Future)
There's still some great Black Friday pet deals to be found at the leading pet supply retailers but they won't last forever! Take a look at our list below for some great deals from Chewy, Petco, Walmart, Entirely Pets and others which we'll keep updating until new deals are released for Cyber Monday on November 30.
We're fully expecting the year's sales season to continue after Monday and run all the way up to Christmas. This means retailers will be offering some super-competitive deals over the Thanksgiving weekend in order to keep ahead of the pack, so we wouldn't recommend delaying any purchases. When they're gone, they're gone!
You'll find the best deals from the biggest retailers including Petsmart, Walmart, Amazon, Chewy and Petco listed right here so you can get straight to the best bargains before they go. Be sure to bookmark the page in check in often... when they're gone, they're gone!
Best Black Friday Petsmart deals
Best Black Friday deals at Petco
Best Chewy Black Friday deals
Black Friday deals at Entirely Pets
Be aware! Adding the code BLACKFRIDAY can get you even larger reductions on some of these products
Black Friday deals at Amazon
Black Friday deals at Walmart
When is Black Friday?
Black Friday is a traditional sales day held the day after Thanksgiving. In 2020, Black Friday will be held on November 27th, with Cyber Monday - an online sales day first celebrated in 2005 - following on November the 30th. Both days typically deliver some of the best pet deals you will see all year.
When will Black Friday pet deals begin?
It depends on the pet supplies retailer, but many have turned Black Friday into a month-long event. This means deals start popping up at the beginning of November.
For this reason, you should see Black Friday deals which let you treat your pet for less beginning to appear after Sunday the 1st of November. In other words - now!
How long do Black Friday deals last?
It's worth taking advantage of any Black Friday deal you see straight away, as there is no guarantee how long they will last. Typically Black Friday deals remain on pet sites until the end of Cyber Monday - November 30th. However, with the huge demand for pets and pets products seen this year, and with each deal only lasting as long as the typically limited products are available, it's not worth hanging around!
How to get the best Black Friday deals
From pet supplies to sound systems, if you want to bag the best Black Friday deals then you need to be prepared, and this short guide to getting the best savings will help you do just that.
This year, Black Friday shoppers might have a tougher time than ever when it comes to landing the top deals and savings, and there's a couple of reasons why this is the case.
Firstly recent research has shown that consumers are increasingly using Black Friday to bag bargains on Christmas gifts. As more people abandon the traditional Christmas shopping period, so the number of shoppers hunting for the best Black Friday deals increases.
The second factor increasing competition is the Covid crisis, this has negatively affected both individual spending power and the economy as a whole leading to more people trying to score the big, money-off deals than ever before.
However, 2020 sees an extra factor that may well significantly affect Black Friday this year, Amazon Prime Day. Last year Amazon Prime Day was "the largest shopping event" in its history and saw sales which surpassed 2019's Black Friday and Cyber Monday combined. As a result of this, expectations for Amazon's sales over 2020's Black Friday event are higher than ever. Other retail giants will be doing their very best to keep up so the forecast is for massive money-off deals and mega-savings for you, the consumer.
When it comes to finding the very best deals on pet supplies, PetsRadar has a great pedigree. We're part of Future PLC, a media company that's a veteran at covering the Black Friday sales across many brands for years, so you can trust us to find the best deals first and pass them on to our readers, pet owners just like you. Be sure to check this page each and every day for the next week, beyond Black Friday and into Cyber Monday. You wont regret it.
PetsRadar is a website dedicated to providing expert advice for happier pets. Whether you're a parent to a dog, cat, reptile, horse or rabbit, PetsRadar offers a pathway to healthier pets and happier owners through our unique combination of trusted advice, expert guides and in-depth reviews.
Get the best advice, tips and top tech for your beloved Pets
Thank you for signing up to Petsradar. You will receive a verification email shortly.
There was a problem. Please refresh the page and try again.