Blind dog finds ball and the video of his reaction is adorable
Hey Arnold: blind dog finds ball and his reaction has broken the internet!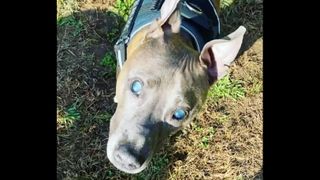 (Image credit: Facebook/apa4dogs)
When a blind dog finds a ball it's proof that dogs are experts at sniffing out treasure, and one particular pup has caught the attention of the entire internet with his excitable march and proud barks after doing just that!
Arnold Ray is living proof of how sensitive and important pooches' noses are, as despite being completely blind, the adorable pit bull is able to discover a ball in the bushes without the use of his eyes. And it's not just that fact that's captured the hearts of humans around the globe (over five million in fact!) – it's Arnold's hilarious reaction to his trainer's comments on him finding his favourite toy that has everyone in stitches.
The video, uploaded to TikTok by apa4dogs – the account for New Hampshire dog care company, A Pawsitive Approach, run by trainer Erin Mahoney – shows Arnold march over to his trainer with a ball in his mouth and a caption that reads:
"So this is Arnold. Arnold can't see. Sometimes Arnold finds treasures in the park all by himself and is very proud of himself."
As Arnold approaches the camera his trainer exclaims "Good job Arnold! Did you find a ball? You find a ball? Did you find a ball? Yes you did."
And it's Arnolds cute response that will warm your heart, he proudly barks and shakes his head in pride, doing a little jig as he does so. What a good boy!
According to Newsweek, the clip's hashtags indicate that Arnold is a rescue, currently being trained by A Pawsitive Approach and being encouraged to have the confidence and opportunities to live his life just like every dog deserves: to the fullest!
In a newer clip posted by apa4dogs, they explain that their superstar pitty is "the happiest boy on earth", and "loves sticks and prancing". Despite being blind, he is an expert at using his other senses to get around – but, he does occasionally run into his trainers! Check out more on Arnold in the video below:
Get the best advice, tips and top tech for your beloved Pets