Heroic Border Collie saves owner's life after 70-foot fall in Tahoe National Forest
Saul the Border Collie led rescuers 200 yards after his human suffers a 70-foot fall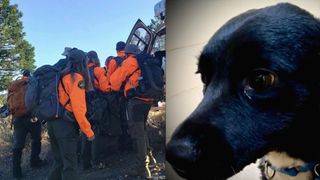 (Image credit: Nevada County Sheriff's Search & Rescue)
The old adage about a man's best friend being his dog is certainly true in this heart-warming story from the Tahoe National Forest in California.
The Nevada County Sheriff's Search and Rescue team report that a 53-year-old man suffered a serious fall while out hiking in the forest; he fell approximately 70 feet off a ridge, and ended up with a broken hip and broken ribs.
But the real hero of this story is the man's dog, a Border Collie named Saul.
The heroic pooch proved he was a rescue dog of a different stripe, as he was able to save the day by helping rescuers locate his owner and get him to safety.
Saul's owner was able to get to an area with cell phone service and call for help, and a 25-strong search and rescue team was quickly dispatched, but it was Saul who helped them find his stricken human.
He ran 200 yards through the forest to find the search and rescue team, and in classic Lassie fashion he got their attention and started running around in circles before leading two of the searchers back to where his owner lay, covered in a camouflage tarp.
Image 1 of 3
The search and rescue team was quick to recover Saul's owner and transport him to a landing site, from where he was subsequently flown by a California Highway Patrol helicopter to an air ambulance a few miles away, but the team insists that the true credit for the rescue goes to Saul.
And while Saul's human was being treated in hospital for his injuries, Saul was taken to a shelter in nearby Grass Valley, where he was treated to a well-deserved dinner.
Both Saul and his owner are now doing well.
Get the best advice, tips and top tech for your beloved Pets
Jim is a writer, performer and cat-wrangler based in Bath, who last year adopted a pair of sibling rescue cats who turned out to be effectively feral, and has spent a lot of time since then trying to get them accustomed to people (some success) and each other (ongoing project).