Hero cat saves the life of 83-year-old-woman who fell down a ravine
This heartwarming tale of a hero cat pulling out all the stops to rescue his owner is bound to leave you misty-eyed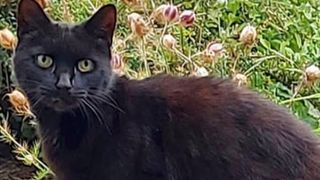 (Image credit: @daily mirror/Twitter)
The words, 'hero cat' don't tend to be uttered very often. They're far more laid back by nature, so it's usually dogs who are more famous for saving the day. But as this heartwarming tale proves, any furkid can be a hero in the right circumstances.
When a 83-year-old-woman in Cornwall, UK fell down a 70-foot ravine at the bottom of her garden, there's every chance that she would have gone undiscovered were it not for the actions of her black cat, Piran.
Upon realizing that his owner was in trouble, Piran sat there yowling, drawing the attention of her neighbor, Tamar Longmuir, who told Sky News, "Without the cat waiting at the gate to that field, it could have been hours later that I or anyone else would have checked there."
Sure enough, rescue teams found Piran's owner, who was rescued by Cornwall Fire and Rescue Service, and airlifted to hospital by Cornwall Air Ambulance.
Bodmin Police confirmed on its Facebook page that the lady is "in good spirits and being well looked after," before adding, "Piran saved the day!"
For Piran's part, his good deed didn't go unpunished, with Longmuir confirming that Piran had received plenty of cat treats for his trouble.
And really, it's the least that he deserves. At such a drop, and in such a well-covered area, it's hard to imagine how his owner would have been discovered, making Piran's deed all the more heroic.
Hopefully Piran will continue to look after his owner for years to come. She's definitely lucky to have this particular cat on her side and there's nothing we love more than a heartwarming story with a happy ending.
Steve writes and proofreads buying guides, news stories and advice for Pets Radar, drawing on his lifelong experience as a pet owner. Currently sharing his house with two cats and a dog, he draws on the many highs and occasional lows of pet ownership he has borne witness to in his writing. He has worked in publishing for 15 years as an editor, sub editor and writer on a range of titles, such as SciFiNow, How It Works, All About History, Real Crime and Horrorville. You can follow him on Twitter @stevewright22
Thank you for signing up to Petsradar. You will receive a verification email shortly.
There was a problem. Please refresh the page and try again.