Watch: Heroic little boy saves his German Shepherd puppy from drowning
This dramatic video of a five-year-old boy jumping into the pool to save his German Shepherd pup will warm your heart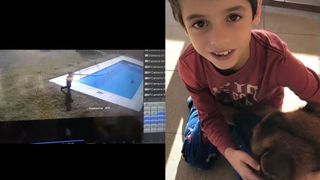 (Image credit: TikTok / @pazcingolani)
A video of a five-year-old Argentinian boy leaping into the pool to rescue his two-month-old German Shepherd puppy has made the child a celebrity since it went viral on TikTok.
Surveillance footage, shown below, captures the devastating event. A tiny little pooch can be seen peering into its own reflection in the family pool only to lose its balance and topple into the water.
The small dog couldn't swim, leaving it floating in the water for fifteen minutes before its noticed by its owner. Luckily, the video is sped up, so we don't have to wait with our heart in mouth until the boy comes along!
The five-year-old boy can be seen realising his pup is helpless and in mortal peril, immediately jumping into the pool despite only recently learning to swim. A lady then notices the pair and rushes over to help them out of the pool and into the warm shelter of the house to dry off.
The footage was posted by the boy's older cousin and dates back to July 2021. Unfortunately the pup suffered with hypothermia following the ordeal. Thankfully, though, thanks to the young boy's heroic act, they are reportedly both safe and well today – and understandably the best of friends.
The boy's cousin, @pazcingolani, posted the video to TikTok with the caption: "hagan viral a mi primo que se lo merece🥺 hoy el perro esta sano y salvo y muy feliz #perro #heroe #cachorro" which translates to "Make my cousin go viral, he deserves it. Today the dog is safe and sound and very happy."
The video has since been liked by almost 500K TikTokers, with many commenting in praise (and in Spanish) for the young boy, labelling him 'brave' and a 'hero'.
@pazcingolani has since posted an update to show the boy's new fans that their story hasn't ended, and that he and his pup are still best buds and now, hopefully, always at each others sides!
Get the best advice, tips and top tech for your beloved Pets