Cats on Twitter: Ten cute accounts to follow today
Follow these adorable cats on Twitter and add some instant cuteness to your feed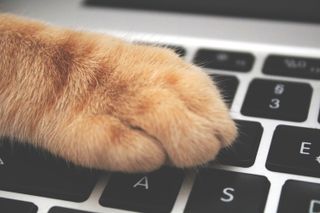 (Image credit: Pexel)
Be it cats on Twitter or the cats of Insta, moggies are undoubtedly the true stars of the internet, whether they're making mischief or making music, so why not add some feline fun to your timeline and follow our top 10 cute cat Twitter accounts? We all need a little escape throughout the day, and we think there's no better way to spend five – or 50 – minutes than scrolling through these accounts. From celebrity cats with hundreds of thousands of followers to sweet 'how we met' stories and rescuers working hard to give cats a better life, we guarantee these Twitter accounts will appeal to all cat lovers out there, and make your day a little brighter every time you scroll.
1. Curious Zelda
@CuriousZelda this boy was soaking wet this afternoon! Channelling his inner Zelda while I was drying him off. 😂 pic.twitter.com/Jvic4ily6nAugust 17, 2020
Zelda is a curious black and white cat who lives in London. She likes to hunt house flies and can often be found staring at her owners. Her Twitter feed is full of photos of her blocking doorways, curled up on the floor and launching jump attacks at her dad. The best updates, however, are 'her' many poems, about everything from catnip to cardboard.
2. Out of Context Cats
If you want a quick feline fix, this is the account to follow. You'll find cats dressed as doctors, cats climbing in cupboards, kittens hogging food and plenty of our furry pals getting up to no good, all with absolutely no explanation, because who can explain why cats are the way they are anyway?
3. Girls and their Cats
CUT MY LIFE INTO PIECESTHIS IS MY CARDBOARD FORT pic.twitter.com/RTzguEYa5YMay 14, 2020
Need something heart-warming to get you through the day? Girls and their Cats is the one for you. Beautiful photos of, you guessed it, girls and their cats are accompanied by the stories of how they came into each other's lives, from chance meetings at the side of the road to rescue tales and cats who simply turned up on the doorstep and 'adopted' their owner.
4. Cinderblock
This fluffy night daemon sitting on the ape-hand creature. pic.twitter.com/uZxXEcre9oAugust 13, 2020
Cinderblock is an adorable, chunky rescue cat who shot to fame as she worked out on a special water treadmill to reach a healthy weight. Now almost halfway to her goal weight and settled in a new home, you can keep up to date with her fitness journey, sunshine naps and trademark 'conversations' every day with this account.
5. Lanai Cat Sanctuary
It's #FurryFacedFriday! Meet Rus, a lovable senior who became a part of the #LanaiLions pack when his owner passed away late last year. 💔 We are thankful to have Rus here at #LanaiCatSanctuary with us so he can enjoy his golden years in paradise. 🌴 #SavingCatsProtectingBirds pic.twitter.com/Eu22ZoFHGuAugust 14, 2020
Lanai Cat Sanctuary in Hawaii cares for over 650 homeless cats, and their Twitter account takes you behind the scenes, allowing you a sneak peek into the idyllic, sunny surrounds of the sanctuary. You'll see where the cats play, hang out, eat and sleep and you'll also get to know each and every one of the residents thanks to the weekly #FurryFacedFriday tweets.
6. Poorly Drawn Cats
Run by artist Heloísa from Brazil, the Poorly Drawn Cats account is as charming as they come, driven by the sheer love of cats. Don't let the name fool you - while the illustrations are simple, they somehow manage to capture the essence and personality of each cat within just a few lines. And you can even submit photos of your cat for your very own portrait.
7. Bodega Cats
With nearly half a million followers, this NYC-based account has garnered fans around the world. Documenting the headstrong cats who've decided to make New York's bodegas their home, this account is a joyful gallery of cats laying on boxes, sleeping on weighing scales, chilling (literally) in fridges, napping on shelves, and sprawling out wherever they see fit, regardless of whether they're in the way of customers or not.
8. Moet the Blind Cat
Happy #Caturday and big floofy huggies. xox pic.twitter.com/bDVuaVndYbAugust 15, 2020
Pure white and extremely fluffy, Moet sadly went blind from neglect in the pet shop where she was born, but now she's living a life of luxury with owners who love her. Moet's Twitter feed is full of adorable photos of her playing, sleeping, daydreaming and living the kind of life every cat deserves.
9. The Cat Reviewer
@thecatreviewer New addition to the neighbourhood cat crowd. One of our neighbour's two kittens. I'm yet to see her sibling. Timid little girl who stayed well out of reach and eventually fell asleep where she's pictured. No fuss yet, but 10/10 anyway. pic.twitter.com/gq7DP5ZySoAugust 16, 2020
Finding a cat to fuss over is the best part of any walk and this Twitter account collates people's reviews of the cats they meet. Always generous, reviews cover all the essential characteristics: friendliness, chattiness, how handsome, how fluffy, how soft… the list of good qualities could go on forever. A happy, positive feed to appreciate everything that's great about cats.
10. Rolf the Warwick University Campus Cat
@RolfatWarwick got back from campus wet, demanded food, and is now nodding off. Sleep tight Rolfie! 😴🐈 #RolfSaysRelax pic.twitter.com/PPMIh3ef5qAugust 17, 2020
While some cats like a sunny spot on the sofa; Rolf has a more adventurous spirit and has become an "ambassacat" for student wellbeing at Warwick University. His official account follows him as he ventures to campus each day in his trademark hi-vis vest, greeting staff, exploring the lecture theatres, eating the many treats he's given and helping busy students de-stress.
Get the best advice, tips and top tech for your beloved Pets